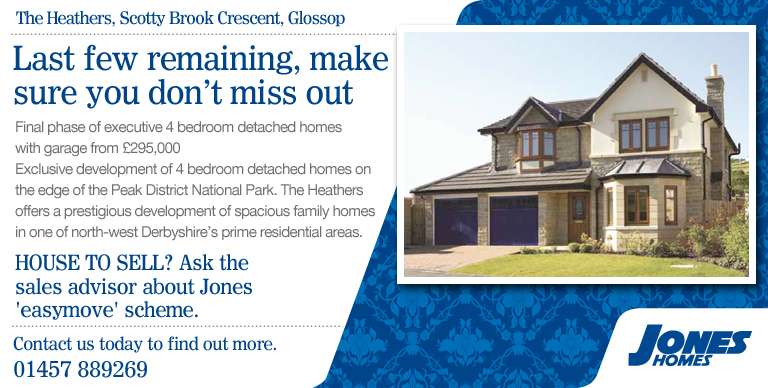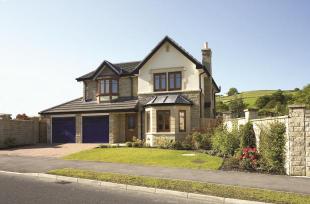 Description
Brand new 4 bedroom detached homes on the edge of the Peak District National Park are few and far between, but with The Heathers, Jones Homes offers a prestigious development of spacious family homes in one of north-west Derbyshire's prime residential areas.

Adjacent to the established Shirebrook Park, The Heathers offers a variety of detached house styles, and thanks to different external treatments and finishes each new home is given individuality and appeal.

With open moorland just a stone's throw away and the amenities of a vibrant tourist town centre less than a mile away, residents can enjoy the best of both worlds.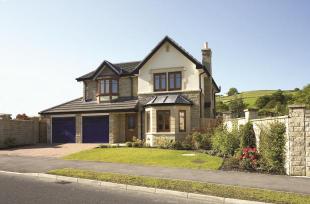 Leisure facilities
The town has a fine selection of shops, bars and restaurants, which are further complemented by the choice in nearby Hyde, Ashton and Stalybridge. It is home to the celebrated Glossop Victorian Weekend, one of several annual events staged by the townsfolk. There are many clubs, societies, sports and leisure activities to enjoy, of which Glossop & District Sailing Club at Torside Reservoir, the Partington Player's Theatre, Manor Park, Glossop Victorian Swimming Pool and Glossop North End FC are just a few. Skirted on three sides by the rugged moorlands of the Peak National Park , Glossop welcomes thousands of ramblers every year, who use it as an ideal base from which to explore the great outdoors.
Schools and education
Glossop and surrounding districts offer good educational opportunities for people of all ages, including an impressive range of nursery, primary and secondary schools plus Glossopdale Adult Community Education. Public Libraries are available in Glossop, Hadfield and Gamesley.
Nearest schools:
Duke of Norfolk CofE Primary School

(0.7 miles)

All Saints Catholic Primary School

(0.7 miles)

Saint Mary's Catholic Primary

(0.8 miles)
Transport links
Glossop has good transport links which provide easy access to other towns and cities in the surrounding area and beyond. The trans-Pennine A57 and the M67 offer speedy and efficient routes to the national motorway network and, with its own railway station, regular local bus services and Manchester International Airport , just 20 miles away, residents have a variety of transport options.
Nearest stations:

Glossop
(0.8 miles)

Dinting
(1.7 miles)

Hadfield
(1.9 miles)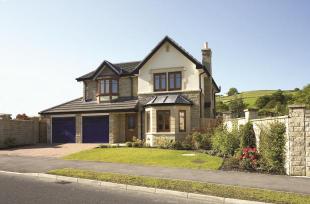 Opening hours
Our showhome is located on:
Scotty Brook Crescent, Glossop SK13 8UG

Opening Times:
Saturday & Sunday : 11am to 5pm
Monday to Friday : 10am to 5pm

Call directly
Tel: 01457 889269 Local call rate
Main Development Enquiry Line: 01457 864329 Local call rate
Site plan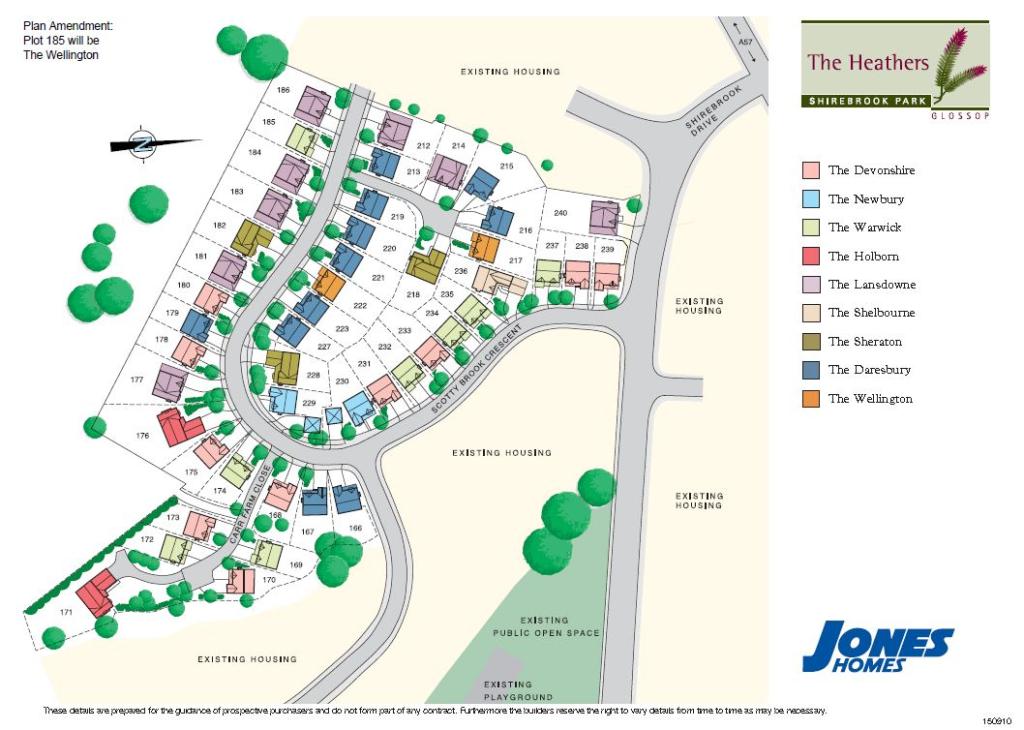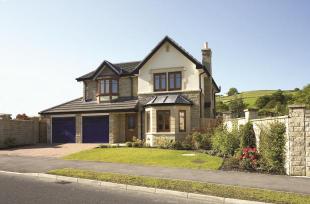 The story so far

Jones Homes is one of the UK's leading housebuilders. Established in 1959, Jones Homes has more than 50 years experience, building quality new homes in desirable residential locations.

The company's Head Office is based in Alderley Edge, Cheshire, which is supported by regional offices in Kent, Yorkshire and Lancashire. The Jones Homes team is talented in a number of fields, including land acquisition, planning, architecture, construction, marketing, sales and customer service.

Jones Homes currently builds more than 600 homes a year in the UK, offering a pleasing portfolio of apartments, mews, townhouses and detached homes. The company is well versed in restoration projects, converting listed buildings, and through its experience has diversified into the retirement homes sector and social housing.

Over the years, Jones Homes has enjoyed impressive build success and has forged an enviable reputation for building homes of character and individuality.

What makes a Jones Homes so special?

The hallmark of Jones Homes is luxury accommodation. Jones Homes provides quality new build homes which incorporate high standards of design and specification while its developments offer homebuyers a choice and value.

Renowned for excellent customer service, Jones Homes ensures the process for buying a new home is as simple and straightforward as possible, starting the moment you make an enquiry on site through to handing over the keys.

Jones Homes is an award-winning housebuilder, receiving many prestigious accolades over the years for the properties it builds, design and landscaping of its developments as well as its talented team.

• National Housing Building Council (NHBC) Pride in the Job Awards
• NHBC/Department of the Environment/RIBA Housing Design Awards
• GreenLeaf Awards
• What House? Awards
• Tree Council Awards
• British Housebuilder Awards
• New Homes Garden Awards

Our success depends on your satisfaction

The on-going success of Jones Homes ultimately depends on customer satisfaction.

Jones Homes works hard to maintain traditional values yet as a company it continually adapts to the changing needs of its customers. Through listening to buyers and researching new products, Jones Homes is able to deliver the latest luxury accommodation focusing on appearance, layout and style.

From its sales advisors to the dedicated customer care department, the Jones Homes team works exceptionally hard to provide buyers with a friendly, helpful and responsive service.

High standards are essential and the cornerstone of the company's success is personal recommendation and repeat business, a record it is exceptionally proud of.

What makes Jones Homes different?

Jones Homes is committed to going much further than just building new homes and with every development ensures the environment is enhanced.

The company is well versed in restoration projects, converting listed buildings and sensitively refurbishing them, not only preserving the history and heritage but also securing the future use of the property.

Jones Homes often embarks upon schemes reclaiming redundant land, transforming its usability and improving the appearance of the local environment.

The dedication of large areas of open space for public use and the implementation of substantial landscaping adds to the appeal of all Jones Homes developments, as well as significantly contributing to the overall appearance of the neighbourhood.

By investing in the environment, Jones Homes is forging a position at the forefront of the housebuilding industry, making a significant difference to the local communities where its developments are located.

Jones Homes is part of a remarkable success story...

Jones Homes is part of The Emerson Group, a private family owned property development company which has three principal operational divisions: Residential, Commercial and International.

Jones Homes was the founding member of The Emerson Group and since its start in 1959, is now one of the UK's leading housebuilders.

The remaining two divisions of The Emerson Group are equally as successful, with the company retaining a substantial portfolio of commercial properties throughout the UK and boasting considerable expertise in leisure, commercial and residential developments in Europe and North America.

Industry affiliations
| | |
| --- | --- |
| | NHBC is the standard setting and leading consumer protection body for new UK homes. NHBC's 10 year Buildmark warranty covers over 80% of new UK homes |
See it? Scan it!
this QR code for this agent's
new homes for sale