Description



Doune Riggs
Set within the wonderful village of Doune, surrounded by countryside and the beautiful Doune Castle close by, this attractive development brings high quality housing into a pleasant and peaceful community. Just 10 minutes from the M9, these homes provide an excellent base for travel to both Glasgow and Edinburgh.
Outdoor activities
In addition to easy access to the surrounding countryside for walking or cycling, the nearby recreational facilities include the magnificent Doune Castle. Dating back to the 1300's, many people will recognise it from its feature appearance on "Monty Python and the Holy Grail". It is a fascinating place and visitors can get a real sense of a living, working castle with its labyrinth of rooms, interconnecting passageways and staircases. Alongside Doune Castle, outdoor activities are plentiful in Doune. Argaty Estate which lies just a mile north-east of Doune is home to the magnificent Red Kites and is open all year round to the hide or guided walks. Doune Ponds also provides a lovely woodlands area to enjoy leisurely strolls.
Sport and Leisure
Doune is home to the River Teith which provides excellent facilities for fishing. The river flows through delightful scenery and boasts 26 pools providing beautiful runs, streams and glides, offering wonderful fly fishing. Blair Drummond Safari and Adventure Park is great for all the family. With an adventure playground complete with pirate ship, giant astraglide, game reserve and boat trips to chimp island, its packed with activities perfect for a day out, located around 2 miles away. Nearby Dunblane is home to the local leisure centre which includes facilities such as swimming pool, sauna and Jacuzzi, sports hall, fitness suite and indoor climbing wall. There is also a wide choice of good golf courses within a few minutes drive of the development including Gleneagles hotel which boasts a world class golf and tennis club and equestrian services.
Entertainment
One of the highlights of the year in Doune, is the Doune Rabbit hole. A two day tea party situated just a short distance from the development in beautiful countryside surrounding Doune Castle. Diverse musical tastes are well catered for, with other features including dancing, theatre, comedy, face-painting, local ale and cider, lovely organic food and much more. It is a wonderful annual festival where you can take part in the community spirit of this delightful village. Scotland's green city, Stirling is just under 15 minutes away with its exciting choice of shopping, history and culture, all within easy reach for days and evenings out.
Shopping
Doune is a delightful, quaint village full of history, as well as being home to a selection of high quality shops, services and eateries. Doune is around 8 miles from Stirling, an area which offers a wide selection of high street brands. Located a short distance from the development are major supermarkets including one in Dunblane and four in Stirling, alongside the numerous independent retailers which give this village its character. The Scottish Antique and Arts Centre by Doune, is a particular point of interest, offering a shopping experience which inspires and delights all tastes and budgets, offering an unrivalled selection of antiques, collectibles, gifts and homewares. The local shops such as greengrocers and local cafes intermingled with cottages makes shopping in the village picture perfect.
Transport
Doune is well served by the motorway network, making travel and commuting easy. Located off the A84, just 10 minutes from the M9, the development is only a short distance to Stirling, around 15 minutes, and under an hour to Glasgow or Edinburgh. The development is also convenient for travel to Glasgow and Edinburgh International Airports. The train station in nearby Dunblane with its park and ride facility makes it easy for commuter services.
Education
Doune has a very good primary school. Complete with seven classrooms, a fully equipped gym, an open play area for early stages education, dining hall and servery kitchen, three asphalt play areas and a 1.5 acres playing field, Doune Primary is a lovely community school. The school is also home to its own garden where children are encouraged to grow fruit, vegetables and flowers. Doune nursery is situated beyond the school garden, enjoying close links with both the primary school, playgroup and the local secondary schools, McLaren High and Dunblane High. Private education is also available at Beaconhurst School in Bridge of Allan, the Queen Victoria Boarding School in Dunblane and Dollar Academy in Dollar.
Health Care
Doune Health Centre is a full-time GP service with three doctors and a practice team comprising of practice nurses, a health visitor, district nurses and midwife. It also offers a wide range of specialist clinics. Convenient dental practices include surgeries in Dunblane and Stirling.



Nearest schools:
Doune Primary School

(0.2 miles)

Deanston Primary School

(0.9 miles)

Kincardine-in-Menteith Primary School

(1.8 miles)
Nearest stations:

Dunblane
(3.5 miles)

Bridge of Allan
(4.4 miles)

Driving directions
From the South
From Stirling take the M9, at the Kier roundabout take the 1st exit onto the B824 and continue along until you reach the T-junction and take a left. This leads you straight into Doune. Continue along the Main Street bearing right at The Cross onto Balkerach Street (still the A820).  Take the second right turn into Station Wynd. Continue ahead on  Station Wynd to enter the development.

From the North East
Heading south westerly on the A9 from Perth, leave the A9 at its junction with the A820 signposted Dunblane and Doune, follow the slip road down to the T-junction. Turn right at the T-junction to join the A820, signposted Doune. On  entering Doune bear right at The Cross onto Balkerach Street (still the A820). Take the second right turn into Station Wynd. Continue ahead on Station Wynd to enter the development.

From the North West
Heading southwards on the A84 from Callander, turn left onto Balkerach Street (A820). Turn first left onto Station Wynd. After a short distance you will enter the development.

Satellite Navigation Reference
FK16 6DT

Opening hours
Thursday - Sunday
11:00am to 6:00pm
Call directly
Tel: 01786 289003 Local call rate
Site plan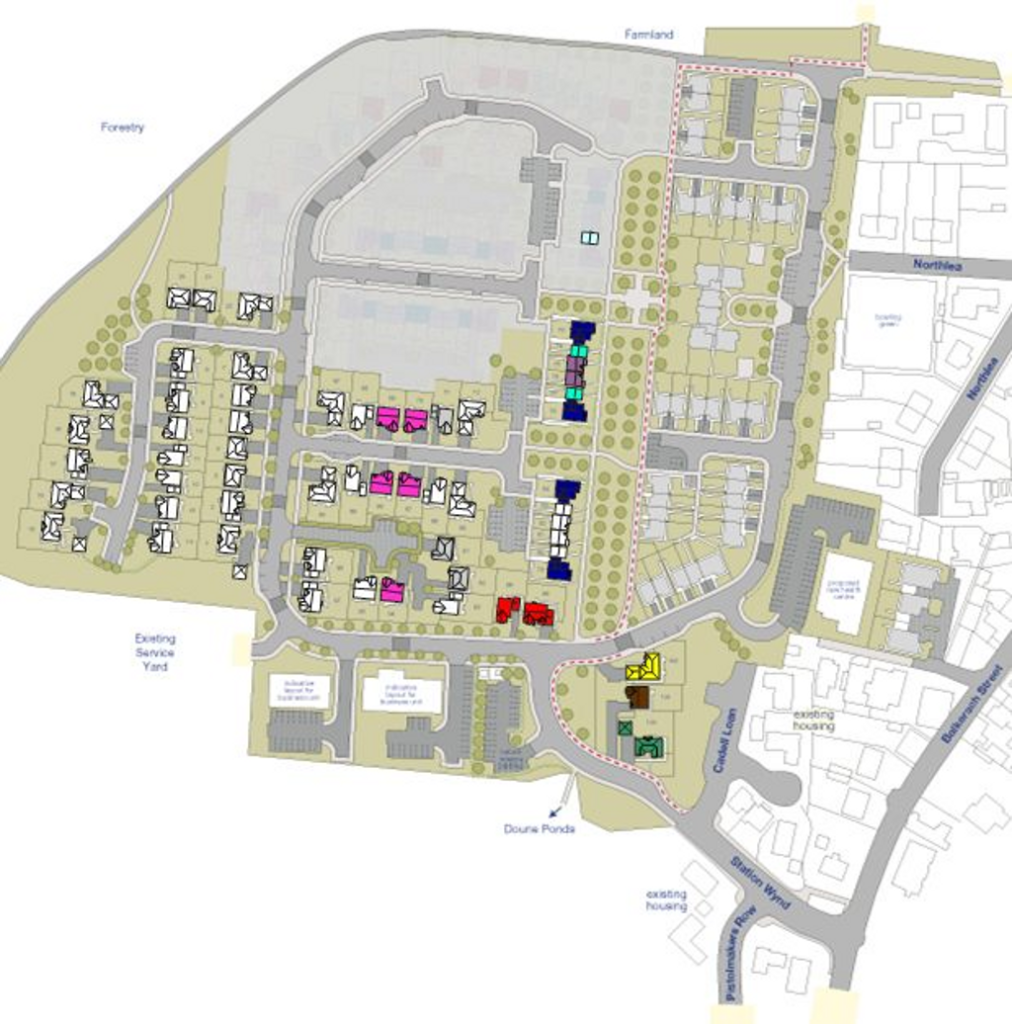 Our Background

We'll keep it brief, because a lot has happened over the past seventy-five years. Around 100,000 new Miller homes, for a start. A lot of new ideas in building technology. Loads of awards, like Major Housebuilder of the Year, Large Housebuilder of the Year, Best Sustainable Development, and Private Housebuilder of the Year. That last one's important because it's from First Time Buyer magazine, so it's about real people and their experiences. We won that one last year. Oh, and the year before.

But awards are about the past. The important thing is what you can expect from us in the future.

Listening to you

Four times every year, we ask an independent research company to find out whether our customers would recommend us to friends. Our current rating is 97% positive (2011 average).

That's about more than great houses. It's about keeping in touch, helping you find what you want, helping you buy it once you've found it, telling you how the building's coming along (by email, SMS, or the post). It's about listening, and being there if you have a question or a problem. It's about our incentives, offers and assistance schemes (please check them out), and dedicated websites that help people in a new neighbourhood to get to know each other. Yes, we get excited by new ideas and technologies, but essentially we're just old fashioned, home loving people.

Quality homes. In quality places.

Building homes is what we do, and we do it exceptionally well. Over the past 75 years, we've seen what people really like about the homes we build and, well, we build on that experience.

So you know that behind the kerb appeal there's a structure that meets the highest professional standards. You know that the beautifully proportioned rooms are impeccably finished and decorated. You know that every detail has been checked, inspected (and admired). You know all that because of the way the door feels when you open it, the crisp clean edge of the paintwork, the way your whole home just works. That's experience.

What you may not realise, at least until you have the pleasant surprise of seeing your fuel bills, is that we are also absolutely committed to the most environmentally friendly movements in homebuilding. This means we use low-carbon construction methods (even zero carbon on occasion) but it also means that our homes are highly energy efficient in everyday life.

And finally, location location location. Some people want country quiet, some want urban convenience. All we can do is try to find the very best spot for every taste. So we try to put urban where it's also pretty quiet and rural where it's also pretty convenient. And the views? Well, we can't move mountains (and wouldn't if we could) but we will try to make sure your new home is pointing towards one if there's one available, and something else nice if there's not.

Service is too small a word.

We think of it as a relationship. Even if it never gets beyond the electronic stage we'll do our very best to help you find what you're looking for, and do it as unobtrusively as we can. You choose the channels, and we go away when you ask us to.

When you visit one of our developments, though, we have a chance to meet properly and talk. We enjoy that. We'll show you homes we think you might like (or ones very like them if they're not finished yet) and tell you about special offers that might interest you.

If you decide to buy, we'll help in every way we can. We can give you information about mortgages and lawyers if you want it, although we're careful not to become too close to anyone working on your behalf because we don't want any conflicts of interest. Then we'll keep you informed as your new home is being built, and invite you round at the appropriate time to choose things like kitchen worktops and bathroom tiles. If you want to measure up for carpets and curtains, we'll do our best to arrange things.

When you get your keys, there's a meeting to go over all the important stuff like stopcocks and thermostats, and we'll also leave you full instructions. But here's the best part. We don't go away. We'll leave you in peace, of course, but if you need help or advice we'll be on hand for as long as you need us. That's the kind of relationship we like.
See it? Scan it!
this QR code for this agent's
new homes for sale