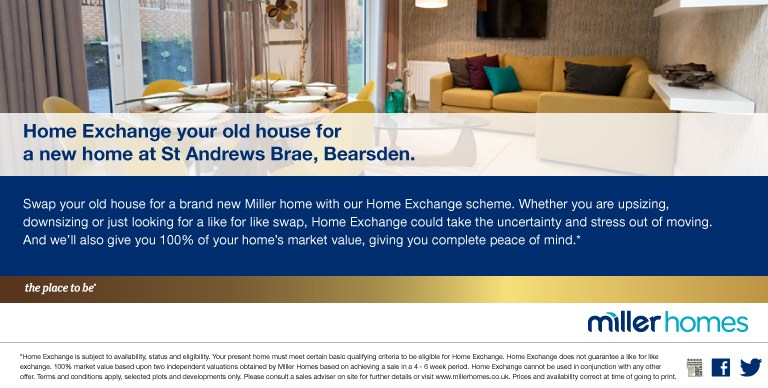 Description
Miller Homes and Muse Developments are two of the UK's most trusted and innovative property companies and their first joint venture creates a genuinely dramatic development in the heart of Bearsden.
At St Andrews Brae, contemporary exteriors reflect living spaces where neither modernity nor quality have been compromised. The 2 bedroom apartments and 4 & 5 bedroom detached villas bring new and exciting living spaces into the hub of a highly sought after location.
Come in. Make yourself at home.
Buying a new home is a big deal. We know. At Miller Homes we help thousands of homebuyers like you to make the move every year. Maybe this will be your first home. Maybe you're making a new start in the area. Or maybe you're moving up to a family home. Whatever your circumstances, we're here to make the process of buying a home easy, and even enjoyable. So, if you're ready, we'd like to show you around your new place.
Make yourself at home at St Andrews Brae, Bearsden
Quality of life is about the details of everyday living. From the little things, like knowing the nearest place to pick up a pint of milk, to more important matters like finding the right school or having a health centre nearby, you need to know that the community you're moving to will support you and your family, as well as be a pleasant place to live. So here's some useful information about the area around St Andrews Brae.
Outdoor activities
St Andrews Brae is well situated for escaping from the hustle and bustle of the City Centre. There are parks and open green spaces within easy reach and Glasgow Botanic Gardens are located a few miles away. There are also Sport & Leisure facilities close to the development itself including Bearsden's artificial Ski slope and an enormous variety of other activities close by. There is a ski club, bowling club, leisure centre and golf clubs. The Roman Antonine Wall runs through the town and the remains of a military Bath House can be seen near the town centre. The Bath House lies well-preserved 150 metres from the town centre.
Sport and leisure
There are two gyms located near St Andrews Brae, the Allander Leisure Centre, Bearsden and LA Fitness, Milngavie. Allander Leisure Centre offers a comprehensive range of indoor and outdoor facilities designed for all levels of ability and dedication, including Swimming pools - 25m main pool and teaching pool, Large multi purpose sports hall, Indoor pitches, Fitness gym, Spin studio, Squash court, Sauna and Bistro.
Transport
St Andrews Brae is conveniently situated for both the A809 and on to the A81 to Glasgow City Centre and the M8, making it an excellent base for travel throughout the central belt as well as to the centre of Glasgow. There are nearby train stations at Bearsden and Hillfoot, Bearsden is on Milngavie Line from Glasgow Queen Street station (low level platform) with a regular service. There is also a regular bus service to the City Centre, giving access to a wide network of local and national routes. Glasgow airport is approximately 10 miles away.
Entertainment
Bearsden and the surrounding area offers a stimulating variety of bars, cafés and restaurants, ranging from traditional pubs to international cuisine, and there are cinemas in Glasgow, Clydebank, Xscape at Braehead. There are excellent Theatres, in the City Centre presenting a wide spectrum of live entertainment, from touring rock and pop shows to professional and amateur drama in the Theatre.
Education
There is a good selection of both non-denominational and Roman Catholic schools within walking distance of the St Andrews Brae development.
Shopping
There is an abundance of good quality shops located at The Cross in Bearsden. This has been the central shopping area for over 100 years. Bearsden Cross is situated approximately 6 miles north of Glasgow city centre. There are a couple of free car parks adjacent to the shops. There is an excellent choice of convenience stores, off-licences, supermarkets and other retailers to meet all everyday needs within easy reach of the St Andrews Brae development. For a wider choice of high street names and shopping malls, there are excellent shopping facilities in the City Centre, Braehead Shopping Centre and Silverburn which are all within easy reach.
Health care
There is an array of convenient GP surgerys close to St Andrews Brae. There are also several dentists nearby.
Nearest schools:
Bearsden Academy - Secondary

(0.2 miles)

St Andrew's Primary School

(0.3 miles)

Baljaffray Primary School

(0.4 miles)
Nearest stations:

Bearsden
(0.8 miles)

Hillfoot
(1.0 miles)

Milngavie
(1.4 miles)
Driving directions


From Glasgow City Centre


Leave George Square by taking the 1st left onto N Hanover St, turn left onto Cowcaddens Rd, continue onto W Graham St, continue onto Great Western Rd, turn right onto Queen Margaret Dr/B808 - go through 1 roundabout, turn left onto Maryhill Rd/A81 - go through 1 roundabout, slight left onto Maryhill Rd/A739, at Canniesburn Toll, take the 2nd exit onto Drymen Rd/A809, continue to follow A809, turn right onto Stockiemuir Rd/A809, turn left to stay on Stockiemuir Rd/A809, Development will be on the left.

Satellite Navigation reference
G61 3RS

G61 3RS
Opening hours
Open daily from 10am to 5pm excluding Monday which will be open 1pm to 5pm.
Call directly
Tel: 0141 381 2049 Local call rate
Site plan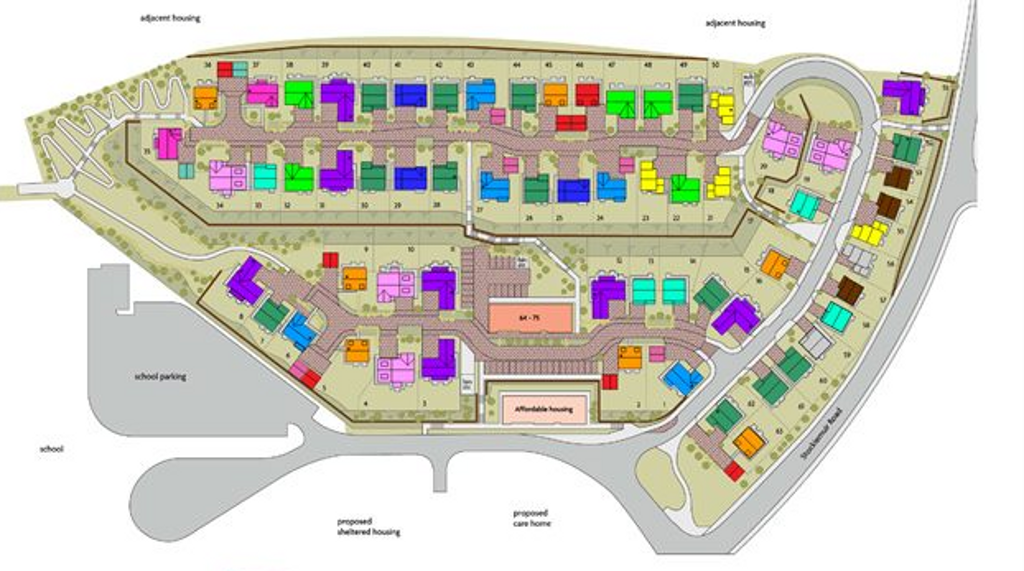 Our Background

We'll keep it brief, because a lot has happened over the past seventy-five years. Around 100,000 new Miller homes, for a start. A lot of new ideas in building technology. Loads of awards, like Major Housebuilder of the Year, Large Housebuilder of the Year, Best Sustainable Development, and Private Housebuilder of the Year. That last one's important because it's from First Time Buyer magazine, so it's about real people and their experiences. We won that one last year. Oh, and the year before.

But awards are about the past. The important thing is what you can expect from us in the future.

Listening to you

Four times every year, we ask an independent research company to find out whether our customers would recommend us to friends. Our current rating is 97% positive (2011 average).

That's about more than great houses. It's about keeping in touch, helping you find what you want, helping you buy it once you've found it, telling you how the building's coming along (by email, SMS, or the post). It's about listening, and being there if you have a question or a problem. It's about our incentives, offers and assistance schemes (please check them out), and dedicated websites that help people in a new neighbourhood to get to know each other. Yes, we get excited by new ideas and technologies, but essentially we're just old fashioned, home loving people.

Quality homes. In quality places.

Building homes is what we do, and we do it exceptionally well. Over the past 75 years, we've seen what people really like about the homes we build and, well, we build on that experience.

So you know that behind the kerb appeal there's a structure that meets the highest professional standards. You know that the beautifully proportioned rooms are impeccably finished and decorated. You know that every detail has been checked, inspected (and admired). You know all that because of the way the door feels when you open it, the crisp clean edge of the paintwork, the way your whole home just works. That's experience.

What you may not realise, at least until you have the pleasant surprise of seeing your fuel bills, is that we are also absolutely committed to the most environmentally friendly movements in homebuilding. This means we use low-carbon construction methods (even zero carbon on occasion) but it also means that our homes are highly energy efficient in everyday life.

And finally, location location location. Some people want country quiet, some want urban convenience. All we can do is try to find the very best spot for every taste. So we try to put urban where it's also pretty quiet and rural where it's also pretty convenient. And the views? Well, we can't move mountains (and wouldn't if we could) but we will try to make sure your new home is pointing towards one if there's one available, and something else nice if there's not.

Service is too small a word.

We think of it as a relationship. Even if it never gets beyond the electronic stage we'll do our very best to help you find what you're looking for, and do it as unobtrusively as we can. You choose the channels, and we go away when you ask us to.

When you visit one of our developments, though, we have a chance to meet properly and talk. We enjoy that. We'll show you homes we think you might like (or ones very like them if they're not finished yet) and tell you about special offers that might interest you.

If you decide to buy, we'll help in every way we can. We can give you information about mortgages and lawyers if you want it, although we're careful not to become too close to anyone working on your behalf because we don't want any conflicts of interest. Then we'll keep you informed as your new home is being built, and invite you round at the appropriate time to choose things like kitchen worktops and bathroom tiles. If you want to measure up for carpets and curtains, we'll do our best to arrange things.

When you get your keys, there's a meeting to go over all the important stuff like stopcocks and thermostats, and we'll also leave you full instructions. But here's the best part. We don't go away. We'll leave you in peace, of course, but if you need help or advice we'll be on hand for as long as you need us. That's the kind of relationship we like.
See it? Scan it!
this QR code for this agent's
new homes for sale