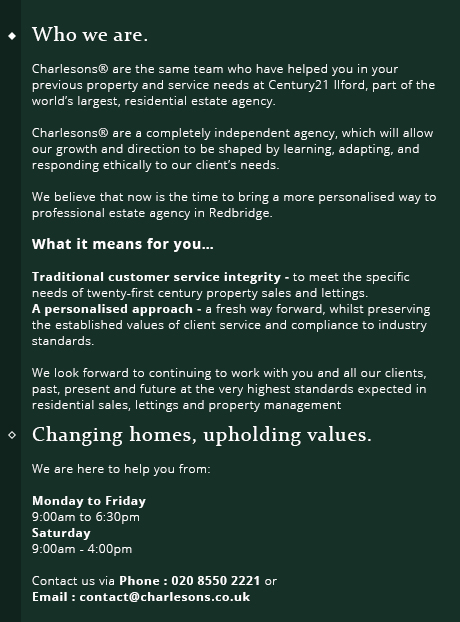 paragraph

Century 21 has over 8,000 independently owned and operated offices with over 147,000 professionals worldwide, established in more than 50 countries and territories. We truly are the brand you will find in every major city.

Century 21 UK has been established since 2005 and has quickly gained a reputation for providing unparalleled customer service excellence. We not only aim to be different, we are different. We have a commitment to service and regularly assign independent companies to audit our operating procedures.

We thrive in ensuring that you always receive professional advice, honest appraisals and constant consistent communication. You'll find our response quick, courteous and reliable.

Century 21 UK is an estate agency unlike any other. From our highly trained Lettings professionals to our proven marketing strategies, Century 21 UK is dedicated to making the process of renting your home as easy and rewarding as possible.

paragraph

Century 21 invest an immense amount of time and devotion into educating all employees across the organisation. As a tier run company we ensure all employees are monitored, quarterly tested and further educated on common Property law, Housing Act 1988, Tenant & Landlord Act 1985. Our highly knowledgeable team will not only shock you with the extent of their knowledge but also advise you on the most safest ways of protecting your property interests and investments.

paragraph

Hosting a dynamic approach to marketing places us as a market leader. We find being diverse, technical and investing in updated software caters to our marketing approach. This is achieved by market exposure on all major online portals such as Right move, Zoopla, Glowbrix, Prime location as a few along with our unique World Wide Century21 website. To further add to our strategies, we have a in house specialist team working on creation of property brochures to pin point between 1,000-5,000 clients at a click of a button. This technique is effective with those Landlords who wish to have a level of choice in tenancy selection, using our brochures, SMS messaging we can create viewings up to 30 potential applicants within 24 hours. Century 21 provide a free board service to maximize marketing exposure for all Landlords. We work smarter, bolder and faster.

Sponsors Century 21 are one of the founding official sponsors of the U.S Soccer Federation. Our global presence has also attracted sponsorship for many Hollywood blockbuster movies. Yes, those Century 21 boards you see in the movies belong to us.You will notice us in Karate Kid, Evan Almighty, Minority Report, What to expect when expecting, Identity theft.

paragraph

Century21 select a diverse team from all walks of life. Our multi cultural team speak more than 18 combined different languages to ensure all Landlords and Tenants are offered a comfortable experience. We have the ability to comprehensively communicate through a number of different languages overall producing a comfortable, clear, family orientated service.

paragraph

Century 21 is a member of the National Approved Letting Scheme (NALS) with our team being qualified members of the Association of Residential Lettings Agents (ARLA) and SafeAgent Scheme. We have a active membership with the Property Ombudsman and strive to have the highest of regulatory bodies at the core of our business progression. Protecting our Landlords investments is our priority.

Service & Property Management

Century 21 present its Landlords with specialist services ranging from Introductions & receipt of rental service to full Property Management packages. Meaning, if you're a international client, first time landlord, property investor with a large portfolio, we have the correct tools readily available to tailor a package to your specific requirements.

Records

Century 21 is renowned for our diverse approach in providing different services catering to different time scales. We can be the agent that rents your property in less than 12 hours and we can also be the agent who will take a slow market approach and achieve you a rental above the market rate offering you a selection of clients to choose from. We are adaptable to our clients needs and whilst adapting, we ensure we maintain the highest level of professionalism. As always, securing the right tenant for your property is always our aim.
Contact us