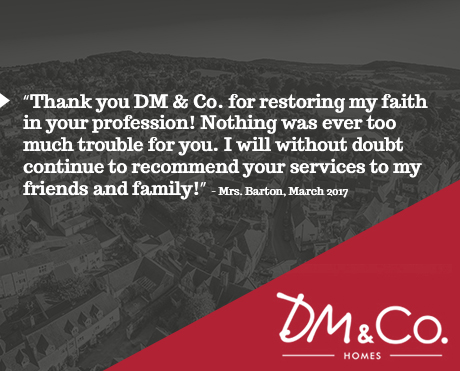 paragraph

DM & Co. Homes

offer an exciting and different approach to selling your property, launched in January 2014 ' DM & Co.' are on hand to take your calls 7 days a week.




Our unique and different approach allows us to focus on the things that are important to you and continues to set us apart from our competition.




DM & Co. Homes are Solihull's fastest growing independent estate agency.




FOR A FREE MARKET APPRAISAL CALL US NOW ON 0121 775 0101




At DM & Co. Homes we offer a service that is above and beyond that of our competition. We cover Solihull, Knowle, Dorridge and the surrounding areas.




If you want to work with a forward thinking estate agency that puts YOU at the heart of everything they do then look no further. CALL US NOW ON 0121 775 0101

paragraph

In just 12 months have we built a reputation for providing an excellent service based on our core values of professionalism, honesty and integrity. At DM & Co. Homes we offer a personal service at time convenient to our clients and customers alike. DM & Co. Homes are members of The Property Ombudsman, we adhere to a strict code of conduct, so our clients are able to rest assured that they are in the hands of a true professional Estate Agent.

paragraph

We are available from 7.00am - 9.00pm, 7 days a week. DM & Co. Homes are here you when you need us, whether vendor or purchaser. We are the only agency in Solihull that offer this service and we are proud to do so. If you are serious about selling your property then you need an agent who are on hand when you need them. If you are serious about buying then your need an agent that conduct viewings outside of the standard 'nine to five'.

paragraph

Free Professional Photography

Whether your property is worth £100,000 or £1,000,000 we believe professional photography fundamentally helps set your property apart from the competition on Rightmove. It is the first thing potential buyers see and at DM & Co. Homes we can't emphasise the importance of getting it right first time.

paragraph

We are very proud to declare that our asking prices are the sale prices that our clients achieve. DM & Co. Homes don't inflate asking prices to win business, only to reduce them a few months down the line when the property hasn't sold. Between Jan '14 and Sept '14 DM & Co. Homes achieved an average of 98.6% of all asking prices. You can rely on DM & Co. Homes to give you an honest guide price - the correct guide price.

paragraph

At DM & Co. Homes we complete one community based challenge every month. We believe in not only serving the local community but giving back when we can. We are proud to have worked with The Brain Tumour Charity, Hockley Heath Football Club's Under 9's, The Birmingham and Solihull Bees to name but a few.
Contact us