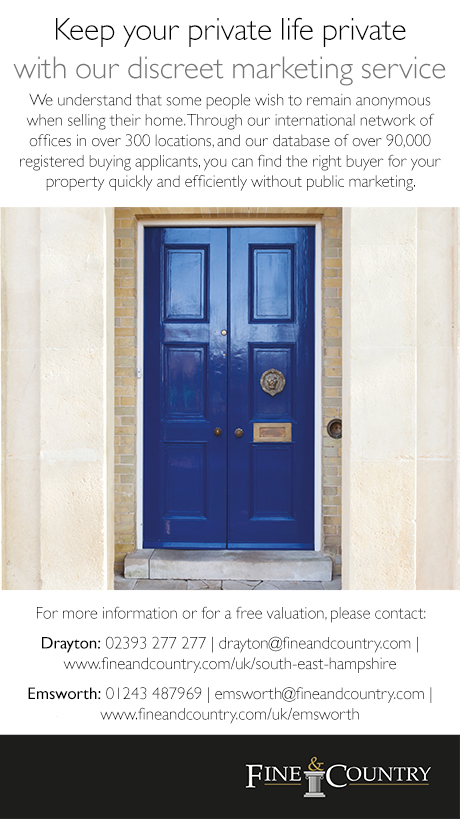 Title
'Making Your Property a Bestseller'
paragraph

Fine & Country Property Consultants

At Fine & Country we offer a refreshing approach to selling executive homes, combining individual flair and attention with local expertise (independent estate agent) yet within a strong international network, with powerful marketing capabilities. We dedicate ourselves to customer services as we understand that moving house is one of the most important decisions you make, your house is both a financial and emotional investment. Having many years experience selling exclusive properties we are aware that they require a tailored approach to marketing, so our bespoke service adopts a lifestyle approach to the promotion of your property, combined with effective and efficient sales process and award winning customer service.

The more prestigious property, the smaller number of potential buyers, with this in mind we create a marketing strategy to target a suitable geo-demographic profile of potential buyers around the world, supported by our international network over 300 offices worldwide. Our Emsworth office was opened in August 2014 and is complimented by our extensive showrooms in Drayton, covering the South East Hampshire and West Sussex locations, out head office situated in Park Lane, Mayfair, London is arguably one of the most prestigious locations in Europe, reaches markets other agents cannot reach.

We know from our extensive experience, people buy as much into the lifestyle of a property and its location, as they do the bricks and mortar, therefore our on-line and off-line marketing is both dedicated and extensive, with a range of publications including exclusive homes worldwide, 'Refined' our national publication and 'The Collection' are regional publications, with coverage in the Chichester Observer, Hampshire Chronicle and Portsmouth Evening News as well as The Sunday Times, Saturday Telegraph, Times 'Bricks & Mortar' and the Evening Standard. We have a dedicated media centre, which ensures that our properties appear in many national and international publications, not only those listed above but also the Wall Street Journal and Epoch Times, to name but a few. With the ever increasing importance of new technologies, in the way people read the news, the media centre has become increasingly active on-line animating our comments on social network sites such as Facebook, Twitter, Pin-interest, Google Plus and Linked-in pages.

We take a great deal of pride in making sure that all properties marketed through ourselves are done so with extensive and award winning marketing materials which are designed to highlight the most desirable features of your home and our philosophy to achieve the best possible price for the property whether it be for sale or letting, to the time period you require.

We are members of the National Association of Estate Agents (NAEA), the Association of Residential Lettings Agents (ARLA), the Hampshire Association of Estate Agents Association (HAEA) and the Portsmouth Property Association (PPA), as well as The Property Ombudsman (TPO).

If you are looking for a professional, honest estate agent (letting agent) then please do not hesitate to contact us and we will be happy for one of our Property Consultants to discuss your marketing requirements and create a marketing strategy.

paragraph

If you are a Landlord with a property to let or you are reviewing your management options, why not talk to us, free of charge, in order to obtain and honest appraisal for the best way to utilise your investment. Our marketing strategy includes, colour sales particulars with internal images, accompanied viewings by experienced, mature reliable staff, regular local advertising, property matching with prospective tenants, distinctive and eye catching To-Let boards and regional wide marketing coverage. We subscribe to the major property websites and are members of The Property Ombudsman Scheme for Lettings Agents (TPO), the National Association of Estate Agents (NAEA), The Association of Residential Lettings Agents (ARLA), Client's Money Protection Scheme and the Tenant's Deposit Release Scheme (TDRSA). Your property will be in good hands.

Whether you are a landlord, tenant, seller or buyer, to benefit from excellent service, please contact your local office.

paragraph

Our staff have an excellent local knowledge and experience, our Director, Colin Shairp, has been an Estate Agent and Letting Agent in the area since 1985 and was (2007 - 2011) the Chairman of the NAEA Solent Region, he is currently the South East Regional Executive and sits on the NAEA Board, a Fellow of the NAEA and Fellow of ARLA. Colin is one of 7 national representatives on the Fine & Country National Advisory Council.

If you would like to deal with friendly, forward thinking and reliable staff, we would be delighted to help you through all stages of the moving process. We are committed to making, what is considered to be one of the most stressful transactions, easier and less time consuming for you.

Specialising in sales of homes in the upper quartile, Fine & Country offer a proactive and innovative approach to the marketing of exceptional property through the use of sophisticated on and off line strategies. Our Park Lane office provides direct access to the lucrative London market and frequently hosts property exhibitions displaying distinctive homes from across the country.

Fine & Country Drayton are holders of the 'Southern Home Counties' Office of the Year Award. 'Best Fine & Country Office in Europe for Customer Services Experience' 2013 / 2014. We were shortlisted for two recent awards at the national conference, Best Marketing and Best Overall office.

At Fine & Country we pride ourselves on a genuine commitment to personal service delivered by experienced professionals. Combined with our creative approach to marketing, we have a full understanding of homes in the upper quartile with an impressive track record, which is second to none and a growing reputation as estate agents that consistently perform to the high standards that our clients demand. We pride ourselves on knowing the local market intimately. Our property experts live within the local area so are best placed to advise about market trends, the local economy, transport links and of course the best private and state schools in the region. To compliment the expert local approach, we have an extensive network of offices across the world, with Fine & Country branches located as far away as New Zealand and several more, closer to home, in key locations across Europe. This extensive coverage and local expertise has been recognised at the International Property Awards, where we have been awarded The Best Real Estate Marketing for an astonishing 5 years in succession.

paragraph

Fine & Country Foundation

The Fine & Country Foundation was launched in July 2014 to help combat one of the largest social issues in the UK, homelessness. The causes of homelessness are misunderstood and disregarded and the people become homeless for a whole range of complex and overlapping reasons such as family breakdowns, mental and physical health reasons or debts. The Foundation is dedicated to bring together all Fine & Country agents to raise awareness to the cause of homelessness, whilst supporting the homeless charities.

For more information on the work of the charity is doing or to see how you can help please visit www.fineandcountry.com/foundation.
Contact us
Check out our available properties
You can see the properties we're currently marketing for sale by clicking the button below:
View properties