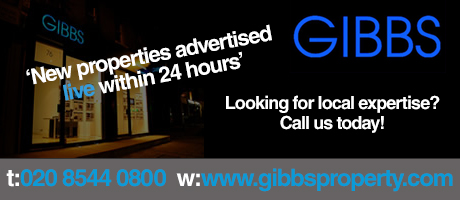 paragraph

Welcome to GIBBS

If you are looking for a property for sale or to rent, we can help.

Alternatively if you are considering selling, renting or having your investment property managed we would like to help you with deciding on the agent you choose.

Choosing the wrong agent can be very costly, time consuming and frustrating.

Since the Estate Agent industry is unregulated, anybody can open an estate agent, which is not good news for the consumer.

Rather than tell you how good GIBBS is, we would like to give you some facts about us so you can make your own judgement.

*GIBBS were recently Shortlisted for the Sunday Times 2013 Best Single Letting Agent out of all our competitors in the 32 London Boroughs

*Merton Business Awards 2013 Finalist

*Gibbs are a Licensed ARLA Member -The Association of Residential Letting Agents

*Member of the Client Money Protection Scheme (CMP)

*Covered with Professional Indemnity Insurance

So what does that mean?

You can have peace of mind in the knowledge that you are dealing with a qualified professional who has chosen to adhere to a strict code of conduct.

You will be consulting with a qualified and trained agent who can give you professional up-to-date advice and guidance.

When it comes to marketing your property for sale we use the professional services of Photoplan, a professional media specialist who will provide floor plans and high quality property photography.

We believe in investing in a range of prestigious advertising including the latest search engine marketing which will drive more traffic to your property than our nationwide competitors can. All GIBBS "For Sale" properties are advertised as "Premier Property Adverts" on Rightmove, which attract 35 % more traffic than the standard Rightmove advert. As standard all our properties will appear in a Full Page Advert in the Local Guardian Newspaper.

Greg Gibbs Director/ Landlord has over 20 years' experience in the business, he is MARLA qualified. GIBBS is a Family Business that is very proud, and believes in offering a professional and friendly service.

GIBBS retains 95 % of its landlords. Recently GIBBS was joint agent with another Wimbledon multi- agent on an instruction to sell 11 flats. GIBBS out sold the other agent by selling 8 of the 11 flats for sale.

Testimonials

So here's what a few of our recent customers have to say about us........

"GIBBS are an extremely professional and efficient estate agency who have provided us with a seamless service from start to finish. Their staffs are friendly, knowledgeable, proactive and most important, work and negotiate with integrity. I would have no hesitation in recommending their services - in fact I already have! - and know I'll be using them again in the future." –

Mrs G.D. of Clapham, London "Gibbs have been managing our mixed development of 1, 2 and 3 bedroom flats, for four years. We have found them to be invaluable and would recommend them to any other landlord." - Mr P.S of The West End, London

We hope you found this page helpful in making a decision on choosing the right agent for your property.
Contact us