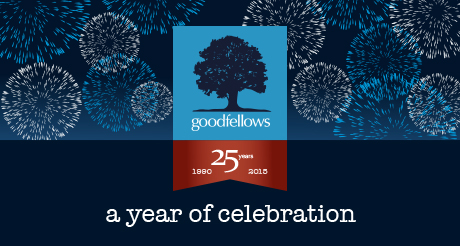 paragraph

In 2015 Goodfellows celebrates our 25 year anniversary. From 1990 to 2015 we've seen a multitude of change - not least in the area of technology and how it has enhanced the way we work, but one thing remains constant - caring about moving people and their homes; finding the right house for you to create your perfect property.

Roll back to 1990 and the only way to communicate was during office hours via the landline, face to face or by letter. Today, we're available 24 hours a day, 7 days a week - emails, texts and mobiles mean that communication is more efficient, immediate and effective.

We know you have a choice, we believe we offer a unique service; people skills and the personal touch which is what sets Goodfellows apart from other agents. Our staff are fully trained to deal with your property sale, let and purchase whilst ensuring that you are guided through the whole process with care and consideration. Why not see why we've stood the test of time?
Contact us