Properties to rent

View
all properties to rent
from James Griffin Lettings & Sales Ltd, Bracknell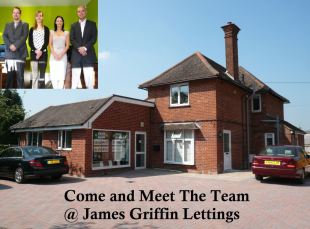 James Griffin Lettings is an Independent Company
with an extensive knowledge of the area and experience
in comprehensive letting and management services for
landlords at home and abroad. Whether our Landlords are
owners of a single property or multiple properties we pride
ourselves on offering a professional yet personal service
with our Landlords' needs foremost at all times.

"A personal one-to-one service from first instructions to the end of the Tenancy"

Owner and Director James Griffin has been in the property business for the last 27 years,
starting as a trainee, and has run his own Lettings and Management business since
1989. James lives in Camberley where his three young children attend local schools.
James is also heavily involved in junior and adult sport within the local community.

"Unlike nearly all other letting agents there is absolutely zero centralisation
in our company. Our clients are able to build trust and confidence by
dealing with the same person all of the time."

Every member of staff at James Griffin Lettings has been industry
trained and passed The Association of Residential Letting Agents (ARLA)
competency examination. We work within a robust code of practice, which
cover all of the key stages in letting and managing a property.
The utmost care and attention to detail is applied when matching tenants
to properties. The latest software technology is used in the initial marketing,
monthly accounting and management of your property.
We are constantly updated with changes in legislation to ensure we operate a
professional lettings practice and our Landlords are updated on a regular basis.
We trust that our capable and committed team can be of service to you.

INCOME TAX

Income from letting UK property is subject to UK income tax. If a Landlord is UK resident James
Griffin Lettings are not required by law to make any tax payments to the Inland Revenue.
If a landlord is not UK resident we are legally required to deduct the basic rate of tax from the monthly
rent and pay this tax quarterly to the Inland Revenue (a quarterly charge will be levied for this extra
service). However this particular method of tax collection is not only labour intensive but now totally
unnecessary. A non resident landlord can apply directly to the Inland Revenue for exemption from the
deduction of tax at source. If approval is granted by the Inland Revenue, this will enable us to release the
monthly rental without making a tax deduction. Inland Revenue application forms for this scheme are
available through ourselves. These tax issues can be dealt with on the landlord's behalf by a qualifi ed
accountant. Should you require tax advice we will be happy to recommend a local company to you.

LANDLORDS EXPENSES
1. Ground rent and service charges if applicable
2. Insurance of buildings and contents, but not to include tenants' eff ects
3. General maintenance, repairs, or urgent works will be carried out and charged to your account after
consultation where possible

TENANTS EXPENSES
1. Monthly rent
2. All service bills i.e. gas, electricity and water charges, council tax and telephone
3. Tenants own contents insurance

UTILITIES
Gas, electric, water and the local authority will be advised by James Griffin Lettings of the
change of occupancy at the commencement and the expiry of the tenancy. British Telecom or associated
companies will not accept instructions from a third party. It is therefore the responsibility of the tenant
and landlord to deal direct with the service provider.

MORTGAGES
Where the property to be let is subject to a mortgage, permission is normally required from the
mortgagee. Failure to do so is a serious contravention of the mortgage deed and could result in your
mortgage being foreclosed. It is strongly recommended to obtain permission as soon as possible to
avoid any unnecessary delay once the tenant has been found. We are happy to communicate with the
mortgagee on this subject if necessary.

RE-DIRECTION OF MAIL
This should be arranged with the Post Office by the Landlord prior to departure. Tenants cannot be held
responsible for the re direction of mail sent to the property, although their assistance is expected initially.

OTHER SERVICES
Should you require additional property related advice James Griffin Lettings are associated
with a wide range of property service organisations including estate agents, insurance companies and
mortgage/financial planners, who work under FSA regulations.

FINDING TENANTS
Our comprehensive database of corporate clients and relocation companies provides access to high quality
tenants in the UK and overseas. This, coupled with local market and extensive national advertising via our
own website and over 20 property portals including RIGHTMOVE, FINDAPROPERTY, PRIMELOCATION,
ZOOPLA and , affords landlords the most extensive coverage possible.

REFERENCES
Once prospective tenants have confirmed their interest in a particular property, they are required to
provide full particulars including bank, employer, previous landlord (if applicable) and other relevant
references. Only when we are satisfied with verified replies, do we proceed to contract stage. In addition
all prospective tenants are credit checked.

TENANCY AGREEMENTS
James Griffin Lettings will draw up the tenancy
agreement. This is a standard Law Society approved document
prepared by our solicitors and normally for an initial six month
or annual fixed term period. The tenancy agreement is based
on up to date housing legislation to provide each client with
maximum legal protection. This documentation is tailored to
suit the individual requirements of the landlord, copies of
which are available for you and your solicitor to peruse.
A charge is levied for this agreement. In the event of a new
let or subsequent renewal, a further lease fee will be due.

INVENTORY SERVICE
James Griffin Lettings will instruct an independent Inventory Company to compile an inventory,
which is not only a record of the property contents, but also a schedule of condition.
The tenant is formally checked in and signs the inventory at the commencement of the tenancy as a
true record. When the tenant vacates the property, the Inventory Company formally check the
inventory to ensure that the contents and premises are returned in the same state and condition
as at the commencement. The cost of this service varies depending on the size of the property and
the number of rooms.
All inventories include gardens, garages, sheds and outbuildings (subject to accessibility).

DEPOSIT
The tenant pays a surety deposit which will be held by James Griffin Lettings as agents for the
Landlord. The deposit required is generally six weeks rent and will be returned to the tenant at the expiry
of the tenancy, subject to any deductions for damage or unpaid accounts. In the event of a dispute then
James Griffin Lettings, all Landlords and all Tenants must abide by the new tenancy deposit
legislation and abide by the decision of the appointed independent arbitrator. Interest will not be paid
on client's balances held by us.

(1) TENANT FIND ONLY
For supplying a tenant we charge a percentage of the rent for the full term of the tenancy.
The fee is payable for the entire term of the tenancy, (normally 6 or 12 months initially) and is due as soon
as the tenancy agreement has been signed and the first month's rent paid.

(2) RENT COLLECTION
All rents are paid monthly in advance, collected on your behalf and transferred to a designated account
via BACS secure banking system. James Griffin Lettings will collect the rent, then remit the
rent direct to a Landlord's bank or building society. A monthly statement will then be forwarded to you.
Because of the bank clearing system we would suggest that you allow between 5 and 7 working days for
your payment to clear.
(3) FULL MANAGEMENT SERVICE
In addition to collecting the rent James Griffin Lettings can fully manage the property on
the landlord's behalf. This service is designed for those who wish to leave all maintenance, supervisory
and administrative tasks in our hands, and includes:

• Twelve weekly inspections to ensure the required standards are being maintained.
At this time Landlords will receive a condition report from us.
• Payment of ground rent and service charge (if applicable)
• Payment of insurance premiums out of available funds
• Arranging any maintenance repairs or obtaining estimates where necessary
• Arranging for relevant utility safety certificates

Should you wish us to use the service of a particular maintenance firm or individual, full details must
be provided to us.
Alternatively we will be pleased to arrange these matters using suitable contractors whose work and
competitive costing are familiar to us.

RENT GUARANTEE
& LEGAL EXPENSES
INSURANCE COVER
James Griffin Lettings are able to offer our
Landlords total peace of mind with our legal expenses
and rent guarantee insurance. Please speak to our
representative for full details.

TENANT RENEWALS
Before the end of the tenancy we will discuss with both parties whether they wish to extend or renew
their current agreement.

LANDLORDS' LEGAL SAFETY REQUIREMENTS
THE GAS SAFETY (INSTALLATION AND USE) REGULATIONS 1994
These regulations place a duty on landlords to maintain all gas appliances in their property through
annual inspections and safety checks, which must be carried out by a registered CORGI engineer.
If a fault is found, the installer must inform both the landlord and tenant in writing. Continued use is an
offence. If no remedial action is taken, the engineers are required to use their statutory powers to switch
off the apparatus. The regulations define appliances to include gas, pipe-work, valves, meters, fittings,
apparatus and appliances. Tenants entering into a tenancy must be provided with an annual certificate of
safety, prior to occupation. Non-compliance with the Gas Safety Regulations could result in a substantial
fi ne or even a custodial sentence.

THE ELECTRICAL EQUIPMENT (SAFETY) REGULATIONS 1994
& PART P OF BUILDING REGULATIONS JANUARY 2005
These Regulations apply to all persons, who in the course of business, let accommodation which
contains electrical equipment. If Landlords are supplying the electrical installation and any connected
appliances it is essential that they are compliant. Trading Standards are concerned a Landlord must be
able to demonstrate that electrical appliances are safe before the property is let. Should any piece of
electrical equipment have a fault, which results in injury or fatality the person responsible for supplying
the equipment could be prosecuted. Therefore, James Griffin Lettings strongly recommend an
annual check of all electrical appliances by professionals. Failure to comply with these regulations may
constitute a criminal offence under the Consumer Protection Act 1987.

THE FURNITURE AND FURNISHINGS (FIRE AND SAFETY) REGULATIONS
1988 (AS AMENDED IN 1989 AND 1993)
These regulations state that all filling material used in furniture, furnishings and re-upholstered items
MUST be fi re resistant and carry the appropriate label as evidence of compliance.
Furniture manufactured prior to 1950 is exempt from the regulations on the basis that combustible
materials were not in use prior to that date. As a general guide only, it is considered that most items
purchased after 1st March 1990 from a reputable company, will comply. Failure to comply with these
regulations can again result in a substantial fi ne or custodial sentence.
If you are in any doubt as to the composition of the furnishings at your property, you should arrange
for the replacement or removal of these items.

ENERGY PERFORMANCE CERTIFICATES
From 1st October 2008, all rental properties with a new tenancy will be required to have an Energy
Performance Certificate (EPC).
What is an Energy Performance Certificate? EPCs look similar to the energy labels found on domestic
appliances such as fridges and washing machines. The energy efficiency and environmental impact of
your property will be rated on a scale from A-G (where A is the most efficient and G the least efficient).
Current running costs for heating, hot water and lighting will also be shown on the certificate, together
with a list of recommended energy saving improvements.

Local Map
Note: The pin shows the centre of the branch's postcode, and does not pinpoint the exact address.