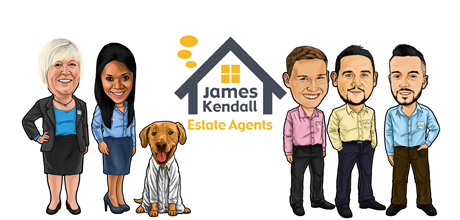 Title
Feel at home, whilst we sell yours.
paragraph

Thanks for checking our page out I'd like to tell you a bit about who we are and what we do! - Differently!

At James Kendall we specialise in getting the best possible price for our clients and delivering outstanding customer service!




I formed the business in 2011 having worked in the industry for 13 years, I was fed up with the way things were - I knew there was a better way to do things.




Lets be honest with each other here, when you think of that word "Estate Agent" you're probably visualising a slicked back haircut, wide boy attitude dressed like they're about to shoot a few games of snooker... Am I Right?




I banished suits here as I believe our customers much prefer our smart casual approach and friendly, down to earth attitude.




Take a look at the points below and see why we really are different!

paragraph

Stay with us because you want to, not because you have to.

Most agents expect you to sign up for a long period of sole agency with them.

Whilst there is no doubt that a sole agency is far preferable to asking two agents to market your property, particularly in terms of accountability, many agents insist on a sole agency tie-in period of 12, 14 or even 20 weeks! Our question is....why?

In our opinion, a long period of sole agency suggests a lack of confidence on the agent's part, and it's a way of preventing the seller from sacking them if they fail to deliver!

What sort of accountability is that?!

It means that the agent can say whatever the seller wants to hear in order to secure the property on their books, and then wait for the property to sell itself. Indeed, some agents take on properties under a long-term sole agency agreement, only to recommend a price reduction shortly after the initial marketing period. Sole agency periods protect agents not sellers!

We are breaking the mould in this area, as we believe property sellers deserve better. We feel that if, at any time, you no longer enjoy working with us, you should have the right to fire us! We simply ask for two weeks' notice and we find that our clients really appreciate this transparent approach. It certainly keeps us on our toes, and ensures you get the commitment we promise at the outset.




paragraph

State of the art technology to sell your home.

What is it?

Think Google Street View....Inside!

Why?

In real life, we experience things spatially. Our brains are constantly calculating distances, sizes, and volumes to understand the world around us. Our 3D Spaces give users more than visuals - they provide the feeling of being in a physical location.

Real 3D data is the only way to give your audience a true sense of presence - the feeling of being in a place. That's why our 3D Spaces are the most immersive way to experience a physical location online.

Try it for yourself - www.jameskendall.co.uk/rosary5

paragraph

Property descriptions in Plain English.

Many Estate Agents write long room by room descriptions detailing how many Radiators there are, frosted glazed window to front aspect, coving to textured ceiling, carpeted hallway blah blah blah!

At James Kendall we believe in "less is more" so we make sure every property has at least 8 good quality photos, a floorplan (with the room sizes on!) and a short description on where the property is located with it's own individual benefits.

We are able to offer an A6 double sided tri-fold brochure if required, we previously used to offer an A3 option but found after research it was very big and bulky for viewers to carry on a viewing and take away with them.

Our beautifully crafted brochures fit perfectly into a small handbag or pocket and offer superb information following or preceding a viewing.

paragraph

Selling the lifestyle.

We produce stunning videos to show your property off to its best (not a few badly taken photos with some cheesy music + ken burns effect!) we ensure they're short and dynamic for todays consumer.

Lets face it, if your property backs on to fields or has acreage, a photograph of the front of the building isn't going to show it off to potential buyers.

We make sure we tailor each individual video to every property and get the experts in with drones for those breathtaking aerial shots.

Designed with handheld devices and social media in mind these portable adverts allow people to view them from anywhere in the world!

paragraph

Maximise your chances of finding a buyer with a floorplan.

Rightmove research suggests that floorplans are one of the most important aspects of property presentation to buyers.
Buyers are less likely to enquire about a property without a floorplan!

Over a third of buyers surveyed said that they were less likely to enquire about a property without a floorplan.

They stated that they want to see the room layout, to see where rooms fit in relation to others rooms and to understand the flow of the property and a floorplan is undoubtedly the best way to gather this information.

Every property we market gets a floorplan included Free of Charge

paragraph

Your property in immersive Virtual Reality.

We digitally reconstruct real-world spaces for use in Virtual Reality with ease.

This amazing technology enables us to offer clients one-of-a-kind, immersive experiences that give viewers a realistic sense of actually being there.

What does this mean for you?

We want to ensure every viewing of your property is of the highest quality by qualified buyers, it also means overseas investors are able view your property from anywhere in the world.

The more high quality viewings we conduct, the more likely we are to get the best price for your home.

Interested? Ask us for a demonstration.
Contact us