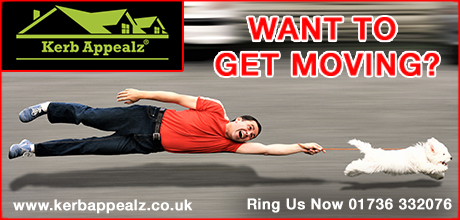 paragraph

'Moving' the people of Cornwall

Simply the best service for one of the LOWEST commission rates around. Ring us for your FREE valuation. 2016 Award Winners for Business Excellence & Industry Leaders in our Field. We offer a FREE £650 package for every property - whatever the size. Our unique package gives you tips & advice from the experts, showing and helping you to present your house to buyers in a way which will then sell it quickly and for the highest price. Then comes a FREE premium listing worth £250. We reach buyers all over the world so that you get the biggest audience to view your home. We have constantly remained in the top 3 companies for CTR in the last three months in our area. This means for you that more people will be looking at your details above your competition, and ultimately gain you that footfall over your threshold to view. You will be assigned your own personal agent who can show you what to do from start to finish and they will be available out of hours.

(stats taken on 19/12/2014)

paragraph

Then we will spend the time taking the best photography so that you can get the best results. If you need help to clean, garden, maintain & property enhance your property ready to sell we have all those services under our roof at competitive prices so you won't have to worry about all that either. During your sale you will get a weekly report of statistics on how your property is comparing each week along with many other free features. Your property will be shown on all major portals and many more.

paragraph

Once we have successfully sold your house and got the highest price possible for your house, we will then offer you independent mortgage advice so you get the best advice for you. We can then get your sale through with one of the cheapest and quickest conveyancers in the country, and then we can organize your removals at that price you want too! We really do 'move' the people of Cornwall, let us take the stress. To speak to a personal agent at Kerb Appealz call: 01736 332076, where we can answer any questions you may have.......It's not for sale.......It's SOLD!
Contact us