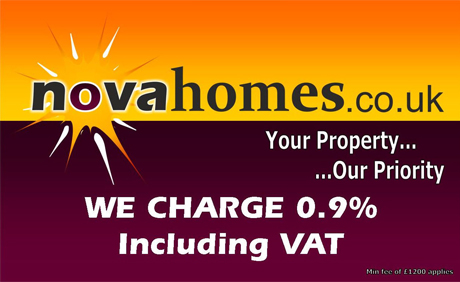 Title
Welcome to Novahomes...
paragraph

Buying and selling a home is a busy and exciting time, and we have dedicated ourselves to helping that process run as smoothly as possible for you!

As a locally based, full service estate agent we offer decades of experience in the industry and through clever use of the latest methods and technologies available ensure that your home is promoted to the entire market.

Searching for your perfect new home can seem daunting but our motivated and friendly sales team are on hand to make your search easier and use your specific requirements to match you to your dream home.

Novahomes is a community of local independant agents who cover a wide range of areas including, Plymouth, Plympton, Plymstock, Ivybridge, Tavistock in Devon and Saltash, Callington and Liskeard in Cornwall and compared to many agents you will note we openly publish our highly competitive fee.

Our agents are experienced property professionals who all delight in being able to be great estate and lettings agents working their own local markets without any of the 'patter' and lofty promises many of our competitors give. We believe in being honest and open from the first handshake to the last, which is why since Novahomes begun we find customers referring so many of their family and friends to us. Quite simply we sell and let houses and we do it well!

The Novahomes agents prefer to spend their time speaking to people or meeting them to show them properties. By spending time in this way we use our customer facing time to show potential buyers and tenants more homes - because being there and getting immediate honest feedback helps us to direct viewings into better targeted houses.

Our agents provide free home valuations for sale and letting and excel at offering a great service at a great low fee.

paragraph

Started from humble beginnings in a garage/office conversion in 2010 we had no idea Novahomes and our concept would grow into the hugely successful and respected local Estate Agency that you see today. Proud owners Lee Whitelaw and Andy Davis have many years experience in the industry locally and joined Novahomes in its infancy to help drive the business and its core values, which initially started selling homes in one postcode district of Plymouth and now presently offers sellers, buyers, tenants and landlords expert advice covering everything from market valuations, mortgage advice, to advice on which local lawyer to use. Novahomes has now grown into a knowledgeable, well respected and established local market leader which continues to focus on its core values of offering unrivalled customer service and value for money which is at the heart of everything Lee & Andy deliver.

paragraph

Rather than having one company which simply extends into other areas, we have created partnerships with respected and experienced local area agents and brought them into the fold under the Novahomes concept. This way you get all of the service, standard and quality you expect from Novahomes, the great fee, but you deal directly with someone who specialises in your local area, and runs that area as their own business. This means your agent is personally invested in the company they represent, and the company is personally invested in them. Its this unique ownership, and concept which has seen so many sellers and landlords, buyers and tenants keep recommending Novahomes, because every customer is 'our' customer, and not just another number!

paragraph

The growth of Novahomes throughout the South West has been nothing short of phenomenal. Within months of opening, the first office was competing on a par with many of their established local competitors and, as a result of their success, they were receiving enquiries from other long-standing agents, who agreed with the concept and were keen to break the "corporate shackles" imposed on them by their employers and introduce Novahomes into their communities. Franchises soon opened in other cities and towns, quickly mirroring the initial success and now, with further branches extending throughout South Devon and into South-East Cornwall, Novahomes' colourful branding, great service and low fees are now instantly familiar across much of the region.

paragraph

Don't take our word for it, please take a moment to view some of the many testimonials and recommendations which appear on our agent's pages from the sellers, buyers, landlords and tenants, who have all had the opportunity to take advantage of our fees and service during recent times. In fact, Novahomes' fast growth and success has made such an impression within the property industry that there are now many similar "non-traditional" agents opening-up across the country, who are keen to establish a share in the fast growing future of Estate Agency.

paragraph

With such an ever evolving industry Novahomes has already taken advantage of the times ahead of many of its competitors, and that is something which we will keep doing. We often look at other areas of the country, and indeed other countries and consider what they are doing, how it can be done better, and will our clients benefit from it. Careful to only move into any area when we already have the right people on board has often meant we expanded slowly where we could have flew, however for us it's all about the people. Lee and Andy decided early on that having someone based in an area, is not as important as having the right people, and that's why our business has continued to do well. We look forward to offering a great service in your area as we continue to excel, or if we don't offer a service in your neck of the wood, we look forward to meeting the next Novahomes family member who will be able too!
Contact us