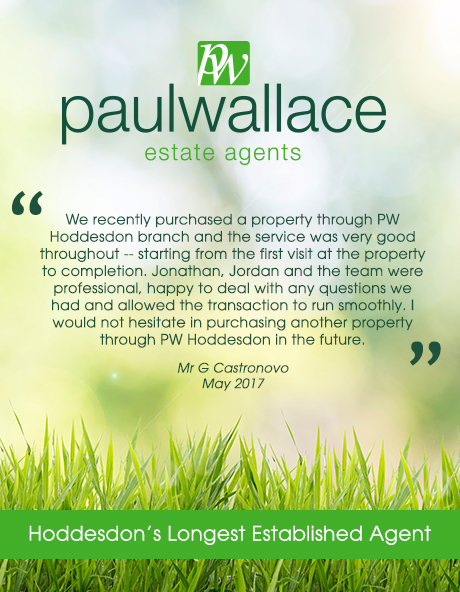 paragraph

Paul Wallace Estate Agents have been helping people successfully buy and sell homes for over 60 years. Throughout the years we have established a reputation of being knowledgeable, trustworthy and professional.

We are an independent agent who prides ourselves on our friendly and honest approach. All our staff are experienced, helpful and dedicated to providing the best customer service and ultimately aiding to achieving the end goal for all parties. We endeavour to take as much hassle away from the stresses of moving home. Our goal is to ensure everyone is left with a positive outlook of Paul Wallace.

Our 2 offices are based in the Brookfield Centre, Cheshunt and Hoddesdon Town Centre, however our location knowledge ranges far beyond these areas. We have built a prestigious reputation in the local area and thrive on our repeat customers coming back to our agency to sell the property they once purchase from us.

Why not give us a call today for more information on how we can help you achieve your next step with our tailor made, bespoke service.
Contact us