Our webinars are live, online training designed to give agents ideas and advice on a whole range of topics. They're best described as online seminars and are a free service we offer to all our customers as part of their memberships.
Here's an insight into the people behind our webinars, who tell us what they like best about running the webinars and the ones you need to get in your diaries.
Jason Charles – Trade Events and Webinar Manager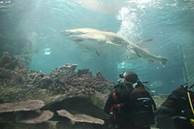 Jason has been working in events and marketing for more years than he'd like to admit. On top of the face to face events we run for agents, Jason helped develop our online events to complement them.
Best thing about webinars: "I love it when agents email in telling us what improvements they have made in their offices after attending a webinar!"
Webinar recommendation: Winning Instructions with Rightmove intel. "Instructions are at an all-time low and competition is hot. This webinar gives agents on the lookout for fresh stock some really useful tricks to have up their sleeves."
Fun facts: Jason's travelled the world more than once, breathes fire, juggles knives and loves to dive with the odd shark or two!
Lisa Gray – Webinar Co-ordinator

Lisa has worked for Rightmove for the last 9 years. During this time she has dealt with agents on a day to day basis whilst in her roles as Account Manager and Relationship Manager. She has since transferred her experience and knowledge into offering training to estate agents through webinars.
Best thing about webinars: "Nothing makes me happier than to see the tweets from agents giving their feedback on the webinars and how useful and enjoyable they have found them."
Webinar recommendation: The Ultimate Listing. "An agent summed it up nicely for me this week.. 'Having used Rightmove for in excess of 10 years you can become complacent'. This webinar is designed exactly to combat this behaviour and is a great refresher for all agents".
Fun facts: Lisa is a keen baker, expecting her first baby in June and has an unhealthy obsession with Peter Andre!
Lois Barton – Project Manager


Lois has worked at Rightmove for 10 years across both the estate agency and new homes channels. More recently her role has been focused on events, content and webinars with much time spent travelling the length and breadth of the country gaining best practice and insights from agents themselves.
Best thing about webinars: "I'm always enthused when agents leave a webinar with renewed focus and knowledge of helpful tools and materials which they then go away and utilise day to day in their business."
Webinar recommendation: Get More From Your Leads.  "A practical, concise webinar which highlights useful tools that can help agents spot and rescue missed opportunity – something we all know can happen in busy environments!"
Fun facts: Lois is in her element channelling her inner David Bowie, running and increasing her already vast collection of trainers.
Check out the full webinar schedule on the Rightmove Hub, or follow us on Twitter @RightmovePro for the latest webinar updates!