Properties for sale

View
all properties for sale
from PC22 real estate Amsterdam, Amsterdam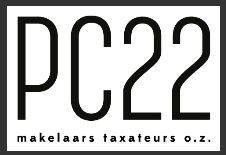 We - Swante boat, Marianne Joan Knecht and Sander Wiegers - are all from leading brokerage houses (Brummer & Boat, Stradmeijer and Broeren and Wiegers), and in 2013 continued as PC22. We are a welcoming, personal and full service firm with a combined 70 years experience in the field of home buying, selling, renting or leasing. By this we know that fluctuations in the market belong, so we keep a cool head.

Thanks to our merger, there are three types of networks come together, allowing our diverse range always stands out and we are quickly informed of new and interesting objects. Our expertise is focused in particular on everything inside the ring, though we will make special housing outside the city like an exception. Like no other, we inform our clients very good about certain neighborhoods, the latest price developments, over the value, the valuation and new construction projects.

As agency we enjoy the benefits of a small office with a lot of personal attention, and we can respond flexibly to the rapidly changing reality. At the same time we have the luxury of a large office with a well-oiled and manned daily back office, and we are always available for questions and to schedule viewings.