6 bedroom detached house for sale
Italy - Tuscany, Siena, San Casciano dei Bagni
like this property?
Call:
03339 395507
Enlarge this map
Key features:
Character
Conservatory
Garden
Heating
Pool
Reception
Spacious
Views
Full description:
Prestigious farmhouse-'Podere Colombaiolo' for sale in Tuscany.
Within a village in the municipality of San Casciano dei Bagni (SI), a prestigious renovated farmhouse, 350 square metres in size, on three levels and internally divided into 3 apartments divided in turn by internal doors. Included in the property consisting of 16 ha of land, are three agricultural outbuildings, a beautiful swimming pool with veranda area, olive groves, vineyards and woodland, all with a wonderful view over the valley.

Location:
The property is situated in an ideal position with respect to the area within San Casciano dei Bagni, and more precisely in the village of Palazzone in the beautiful surrounding countryside, with beautiful panoramic views and with easy access and convenient location in relation to important local amenities. The culture at the Podere. Colombaiolo is to meet people and relax: nearby are the Castle Fighting and the romantic centre of San Casciano dei Bagni, with its renowned spa within easy reach of Montepulciano, Chianciano, and the medieval Città Della Pieve and other towns of art, of great medieval Renaissance significance, only 15 km away, towns you are bound to fall in love for their beauty as well as the local cuisine! Famous personalities of today have even rediscovered it as the setting for the successful TV police fictional drama series, "Carabinieri" as well as for other cinema and TV programmes.
Other natural and cultural pearls are just a little further away, given the closeness to the Lazio Umbrian border, such as beautiful Orvieto, Perugia and the great lakes of Central Italy, such as Bolsena and Trasimeno.
Just 50 km from Perugia and only 130 km from Rome, Podere Colombaiolo is therefore convenient for all visitors to the capital or for those who want to come and visit the sights of central Italy

Description:
Prestigious farmhouse-'Podere Colombaiolo' for sale in Tuscany.
By the 18th century Pod. Colombaiolo is 400 metres above sea level with vineyards and olive groves and the green hills of the Siena province, and, continuing to climb along the side of the hill, protected behind the wood, leading, after one kilometre, to the 12th century medieval Fighine Castle.
This prestigious farmhouse of 350 square metres is currently divided into three apartments, divided further, completely renovated and self-contained with independent, private entrance, each with one or two bedrooms, dining room, kitchen and bathroom) with carefully restored Tuscan arches, lovely masonry and wooden trussed roof and furnished with traditional furniture with fireplaces and bathrooms finished in terracotta and travertine.
On the ground floor there are two apartments below, fully independent and self-contained consisting of entrance hall, dining room with kitchenette, a living room/ two bedrooms. Both with the possibility of the third / fourth bedroom as they are currently separated by closed doors from the apartments above. On the first floor, we have three main accommodation units, one of which is on two levels with a bedroom and bathroom on the second floor in a beautiful turret.
Outside, set in a beautiful well-kept garden, there are three agricultural outbuildings one of which is currently used as a tool shed that is 60 square metres in size and the other, is 50 sqm, used for storing the boiler and water pipes and storage for garden furniture. The third is about 4 square metres and is used as a small storage unit. In addition, there is a 15-metre swimming pool built in harmony with the farmhouse landscape with an adjoining lovely covered area for an outdoor barbeque.
The property is surrounded by 16 hectares of forest divided into woodland, arable land, olive trees and a small vineyard.

State of repair:
Renovation began on this prestigious property in 2003 and was completed in 2007 respecting the Tuscan tradition, using the best materials and achieving the best finishes. Carefully restored Tuscan arches, trussed wooden beamed ceilings and furnished with traditional furniture and furnishings, fireplaces and bathrooms finished in terracotta and travertine. The farmhouse has stone façade walls throughout.

Utilities:
The property is equipped with all the main utilities': water, electricity (with remote controlled electrical operating system) and heating. Water and electricity points are also found externally of the farmhouse. The water is from the local waterworks that supplies drinking water to the house and there is a water spring located on the land that comes with the property. The heating is gas from an independent GPL gas tank.

Land registry details:
The property is registered with both the land N.C.T and urban N.C.E.U registry for the municipality of San Casciano dei Bagni. The original building was built before 1967, believed to be around 1700, and was later renovated and completed in 2007 with the appropriate building permits.

Ownership Details/Contractual Obligations:
A private individual owns the property and the sale is subject to a property registration tax of 9% on the cadastral value of the building (or 2% if the property is a primary residence) and 12% on the declared value for the land.

Potential Land Use:
The location is panoramic, secluded but not isolated, close to all amenities and motorways and rail links, the spacious size of the building along with the land, make it a perfect residence where you can relax and rejuvenate leaving the bustle of the city behind. An ideal solution for those who want to have a tourist accommodation business with the existing subdivided apartments in one of the most beautiful areas in Tuscany.

To see other similar properties, please visit our website www.greatestate.it .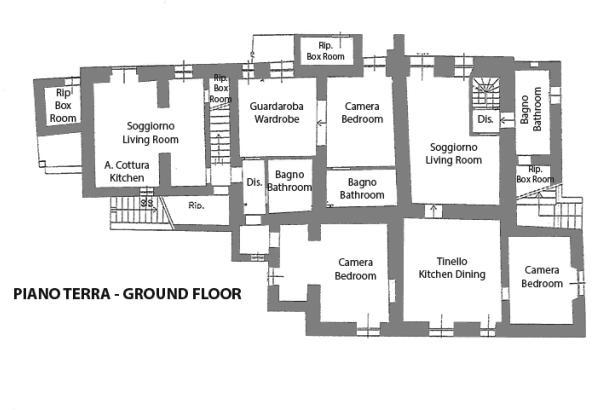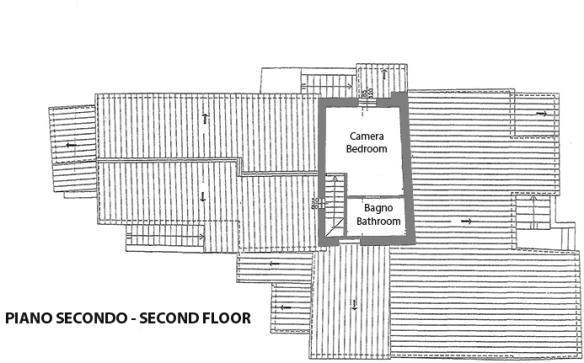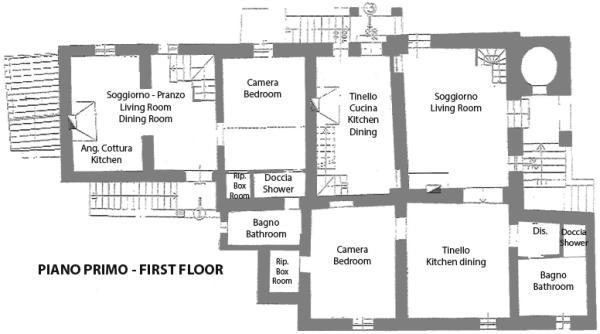 Video tour