4 bedroom flat for sale
Brazil - Recife, Pernambuco
Offers in Excess of

£117,000
like this property?
Call:
03339 390284
Key features:
A tranquil, suburban road and area with local amenities: bakeries, gyms, primary & secondary schools, language schools, restaurants & pubs
Well presented, must be seen. Fully equipped kitchen with gas cooker and utility area.
4 bedrooms (3 air-conditioned and fitted wardrobes), two en-suite shower rooms and two additional shower rooms, all with basin and WC.
Spacious Balcony/patio with adjacent plant gardenTerrace
Rooftop barbecue/party area and communal swimming pool with panoramic views of Boa Viagem district and the sea
Spacious lounge and adjoining dinning area,Curtains, light fittings are included
2 private parking spaces, only 2 apartaments per floor
24HR security/house keeping/365 days maintenance
Close to amenities & schools, beach and theatres
Fully furnished with bespoke fitted wardrobes, cupboards and two main entrance doors. All new pieces of furniture from Italy, England and Brazil are included.
Full description:

Fantastic opportunity to buy your fully furnished property in Brazil

Virtual tour of the apartment on request


AN IMMACULATELY PRESENTED, FOUR BEDROOM FLAT, SET IN BOA VIAGEM BEACH, POPULAR LOCATION, OFFERING FLEXIBLE AND VERSATILE ACCOMMODATION, IDEAL FOR PERMANENT HOME OR LET OUT FOR BUSINESS TRIPS OR TOURISM .

This location is ideal for European owners, having direct flights to and from many major European cities.


Buy direct from the owner with no state agency and no commission, hence the newly reduced price/ £117,000 , for quick sale (Fully furnished: all newly bought furniture and decoration are included) (£30,000 OFF)

Seller: Marcio Santa Rosa
About Golden Tower
Address: Rua Major Armando de Souza Melo, 216
Boa Viagem beach Cep 51130040
Recife
Brazil
Property Basics
:
Private area: 188.52m2 including parking spaces
Living space: 113.00m2
Year of construction: 2000
* 4 bedrooms, 2 en-suites and 2 separate shower rooms
* First floor but (Third floor equivalent from street level)
* Kitchen, through sitting-room and dining-room, terrace, utility area
* Garden, reception area, staffed electronic entrance gates with CCTV
* Two private parking spaces/ two lifts/elevators
* Private communal facilities including playground, large rooftop pool (approximately: 12x24 ft / 3.6 x 7.3m) and barbecue/party area
Interior Finishing
:
* High level dark glass patio doors and windows
* Finished throughout in high quality Portobello ceramic floor tiles
* Bathroom and kitchen finished in floor-to-celing high quality Portobello ceramic wall tiles
* All basins housed in solid granite worktops
* Shower cubicles finished with dark glass
* Tastefully wallpapered throughout, with English design
Walk-through floorplan (attached) for the property
:
Impressive entrance sitting room with full-width, non-rust patio doors, decorated with English wallpaper and sophisticated and solid Brazilian wooden furniture. Well-appointed and breezy dining room. Long hallway leading left to large house shower room; 3 air-conditioned, spacious and well-lit bedrooms with fitted wardrobes and large celing-height windows. 2 of these double bedrooms have en-suites.
Walking back through the hallway towards the right is a well-equipped kitchen with gas cooker, freezer, fridge, microwave and glass breakfast table with two chairs. 16 wall-mounted cupboards, providing plenty of storage space. Behind the the kitchen, you will find a utility room with washer and storage area. Fourth bedroom with local shower room (can be converetd to en-suite) and option to open up this sleeping area main hallway. (Dividing walls can be removed to allow 4 different layouts).
Main Features
Magnificent Lounge: A light and airy room with dark glazed window and dark glazed patio doors.
Terrace: Private and tropical garden, street views and protective net for pets and children
Spacious Dining room: Decorated with English wallpapers and solid Brazilian wooden dining furniture.
Reasons for buying this property
Buy directly from a British/Brazilian owner based in England to give you peace of mind. Reliable assistance and information on Brazilian legal processes with help on matters concerning deeds and purchase.
* No chain involved
* Great Location
* Reduced price offering great value for money
* Improved throughout, resulting in an immaculate, well-maintained property
* Good investment for rental buyers
* Fully furnished with bespoke fitted wardrobes, cupboards and two main entrance doors
* Sophisticated, solid Brazilian wooden furniture throughout property: King beds, dining-room and sitting-room furniture and etc
* English homeware/decoration including: ornaments, lighting, curtains, cushions & spreads
* Kitchen appliances fitted and ready to use
* Spacious, breezy, bright dining-room/sitting-room with floor-to-ceiling, patio door/window
* Enough space to comfortably accommodate owner's family and visiting relatives/friends.
* A proud property to call your own, ready to accommodate you, without any additional rennovation needed
* Cheap cost of living compared with UK. Exceptional value for money
Monthly costs to run your flat:
£200 monthly charge which covers: your flat gas & water and Golden Tower building: security and cleaners
Electricity utility bill not included
Council tax: £45 monthly
About Boa Viagem and the Surrounding Area
Ideal for buyers looking for a permanent holiday destination/seasonal letting or permanent family residence, Boa Viagem beach is a privileged southern zone of the city of Recife, State of Pernambuco, in the North-Eastern part of Brazil and projecting out into the Atlantic Ocean. This makes the area one of the closest to Europe of all South American locations. Its modern Gilberto Freyre international airport, also provides an easy gateway to other Brazilian cities and South American countries and is only 35-40 minutes by car. The neighborhood has one of the most visited beaches in Northeastern Brazil, Boa Viagem beach. Thousands regularly gather on these wide sandy beaches that stretch for 8 km (5.0 mi), the longest stretch of urbanized seafront in Brazil; its coastal reef calms the waves and helps keep the water at 25 °C (77 °F).
The neighborhood of Boa Viagem is the most populated in Recife with 100,388 inhabitants. It had the highest human development index (highest human development index in 2000 with 0.964, (equal to or greater than the indexes of some Scandinavian countries, Japan, and Canada). This upper-middle class district acts as the center of the city's social life. It hosts one of the biggest shopping centers in Brazil and South America-Shopping Center Recife with 465 stores and nearly 2,000,000 square feet (190,000 m2) of area. Boa Viagem's two exquisite shopping venues are Shopping centre Recife and Shopping Rio Mar. There are also other supermarkets and several other stores only a few minutes' drive away.
Nearer to home, there is a selection of restaurants and eateries, offering a variety of different cuisine, from all-you-can-eat-buffets and rodizio barbecues to more sophisticated dining experiences. The promenade is dotted with kiosks, selling anything from Açai smoothies and coconut milk to delicate empadas (delicious savoury pies).Most of Recife's best hotels are in Boa Viagem, as well as many outdoor cafes, restaurants, and a lively nightclub scene. Every night, Boa Viagem beach is lit up, allowing bathers to swim at night and attracting many young people.
Golden Tower's friendly and welcoming neighbourhood will make the new owner feel at home. Located in a pleasant, tarmacked, quiet, safe and well-lit street with easy vehicular access, it is within easy walking distance to buses, trains and taxis and a stone's throw to the beach, Dona Lindu Park, theatres, cafes and restaurants.
Monthly costs for maintenace charges are approximately £200. However, the apartment can be easily rent for £100-150 per day during the low seasons and twice this price during carnaval, eastern and new year holidays. The location is ideal for customers on Holiday or Business trip.
Other Tourism Information
* Climate and long summer make it easy rent out property all year round
* Perfect weather - no hurricanes, no earthquakes, and warm sunny weather all year round
* Summer lasts from November until May. Annual air temperatures between 22º and 32º
* Sea temperatures between minimum 22º and maximum 29º
* Boa Viagem is near to the historical Olinda town and Porto de Galinhas
* Recife hosts the best Brazilian free-street carnival: Galo da Madrugada
* Recife proudly boasts two paradisiac islands: Itamaraca and Fernando de Noronha
Admin / Processing:
Before you progress with the purchase or pay a deposit, it is important to see the contract and have it translated in English. The 'Admin / Processing' fee is to payable to your chosen for your translation services, contract raising and other legal document collecting which may be required. A lawyer can then be introduced and the 10 or 20% deposit paid accordingly.
Associated Purchase Costs
In addition to the listed price for the property investment, the following costs will apply to your purchase- from the buyer:
* Property Transfer Tax (ITBI) of approx 2% (payable at the City Hall).
* UK / Brazilian Lawyer (optional but recommended) - good lawyer around1% of property price.
* Admin / Processing (includes all processing costs) £400-500 through your designated lawyer
* Deed and registering the deed costs is about R$ 2,000
* In some cases there are can be additional tax on purchases, this will be advised by our local Broker.
* Transfer of money associated fees to sellers bank
* You will be required to have a Brazilian CPF number to purchase this property
More information from this agent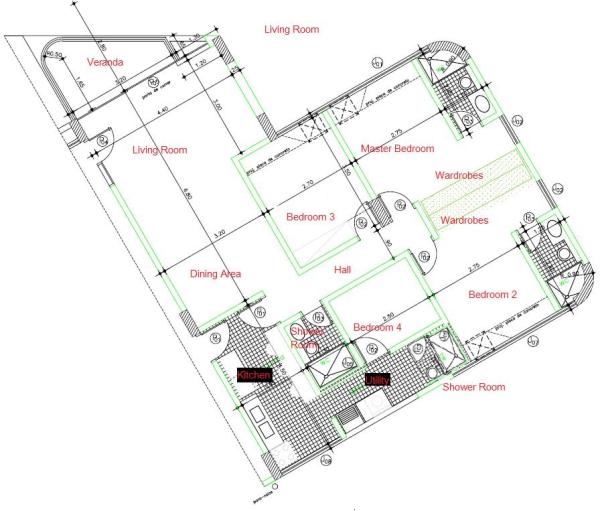 Video tour