2 bedroom apartment for sale
Serbia - Belgrade
like this property?
Call:
03339 391247
Key features:
luxurious fully renovated apartment
Full description:
3. 0, 137m2 (terasa 1m2), 2/3, EG, lift, telephone, intercom, cable TV, video surveillance.

Slavija Square is less than 1, 5 km south of Terazije.

We are able to offer you a luxurious fully renovated apartment with high ceilings on the second floor of a building that has retained the authentic look of the early last century. The building of exceptional inputs which recently was restored, marble staircase, authentic elevator and maintained facade make this immovable property more attractive. Originally four bedroom now works as a spacious three-bedroom apartment.

The apartment itself is oriented (view on Slavija Square on one side and arranged on the side yard on the other side), excellent layout, ceiling height 3, 20m, bright, no noise, with two bathrooms. The current owners have already mentioned excellence achieved by adapting the space, light, comfort, space (large living room and a completely separate sleeping area) and the quality of materials altogether make this area perfect for life.

It consists of a large living room, two bedrooms, a workplace, a spacious kitchen, which blends into a dining area, utility room, two bathrooms.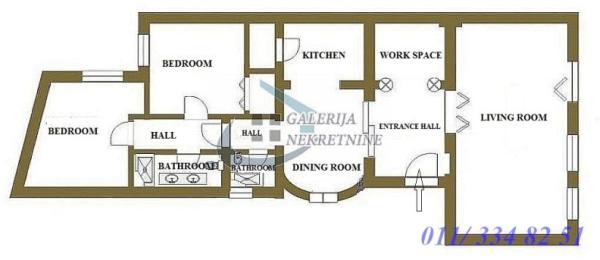 Video tour