The Property List on Rightmove is being updated to make your life easier when uploading and updating properties. To help familiarise yourself with the new look, we've constructed a list of 10 useful tips to highlight the main differences.
We've just added a new, cleaner design, plus there is a new health column feature, so you're able to see which properties need updating at a glance.
The existing Property List:

The new Property List: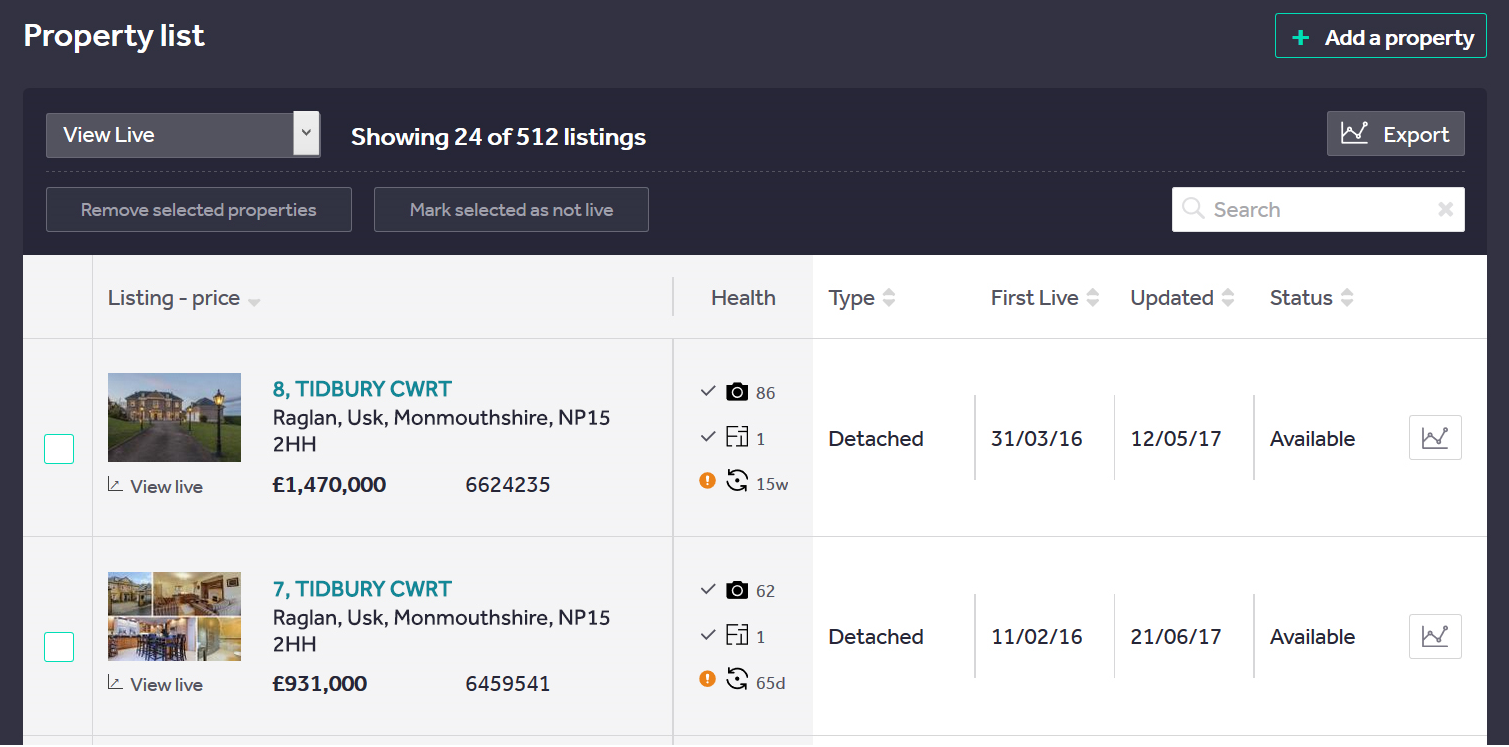 1. The 'Listing' column will filter by price
Our stats showed that this was the most relevant feature for you, so we've made this a priority when updating, meaning the list will now filter by price.
2. Property Summary 
The property summary will show the address, postcode, price and your reference.
3. Property Products
The property summary will show all property products such as Featured Property and Premium Listing applied to your properties.
NOTE: In the near future you will be able to filter out your properties to show only Featured Property or only Premium Listing
4.The Health Column – NEW FEATURE 
The health column is a new functionality working the same way as the Property Performance Report: a quick way to highlight if a property has enough pictures and a floor plan.
This new feature will alert you when a property is in need of updating (less than 2 weeks for EA, Commercial and New Homes; 4 weeks for Overseas)

5. The search box 
The updated search box will allow you to quickly search for the property using the following:
Address | Postcode | Price | Agent ref | Type | Plot (For New Homes Only) | Style (For New Homes Only) | Country
6. Pull your information into a spreadsheet 
When you click on the export button it will download a csv file (Microsoft Excel) with all the properties listed for that branch – both visible and not visible properties.
7. The Marketing Report
There is a display icon in the last column which is hyperlinked to the marketing report (the report for each individual property that you can use to show your customers your success in marketing their property).
8. To copy a property  – for new homes developers and commercial surveyors
If you are marketing a property similar to one you have previously marketed, then you can click on the checkbox next to the property picture and click "copy selected property" as a shortcut. Please note this feature is only available for new homes and commercial members.
9. To add a new property 
The button for adding a new property will now be more visible and be positioned in the top right corner.
10. To edit a property
Similar to the previous version, you can promptly jump straight into editing the property by clicking on the image.
NEW FEATURES THAT WILL BE ADDED SHORTLY AFTER LAUNCH
We're working on displaying the number of bedrooms and in the near future this will be displayed underneath the 'Type' column.
If you have any further questions your Rightmove Account Manager will be happy to help.