We're updating the lead reports so they look better and feel easier to use –  plus we've added in some new features.
We're making these updates to the existing lead reports, so that they look better and feel easier for you to use. We've also added in some new features, so as soon as this goes live, why not try it out?
After carrying out research you told us that your main motivations for using the reports are:
1. To see the amount of leads over time
2. To understand trends and patterns
3. To help train your staff
4. To identify missed opportunities
By understanding the main motivations, we noticed that two main tasks emerged, which are to see a summary of leads and to find a particular lead.
The Lead Report Summary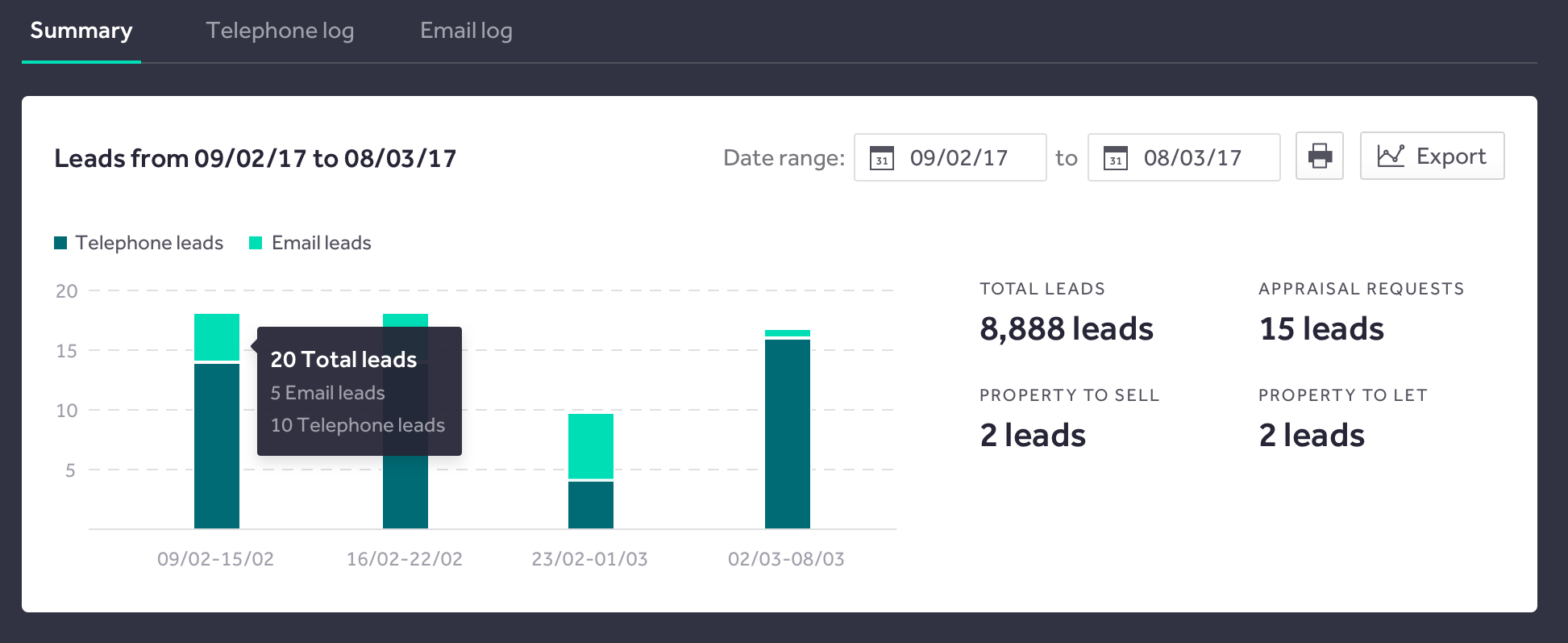 This will be useful for highlighting patterns and trends as well as providing any new data found on an applicant such as Name, Address and Phone number.
Telephone and Email Logs
Telephone Leads Report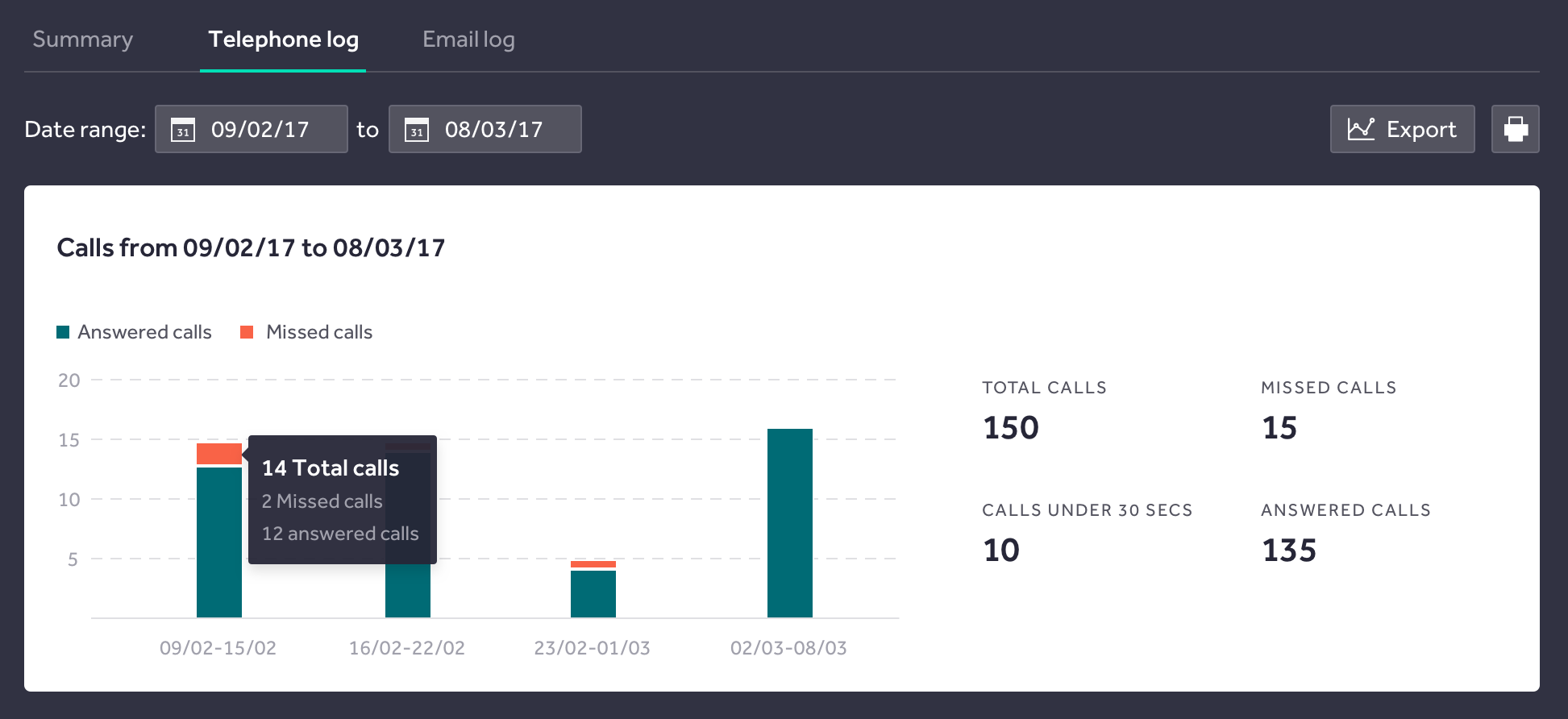 If you already use call recording, then your recorded calls will now be logged in the report, so you can listen back and download the recording of the phone calls.  Don't worry, only the people in your branch that you've given permission to listen to your recorded calls will be able to access this feature.
If you don't already have access, then you can activate Rightmove geographical numbers by filling out a consent form – Here.
By activating call recording you will gain access to the following:
For example:
Spotting trends – this will help you to see when you are taking the majority of calls and how long these calls are lasting.  These trends could help indicate when you might want more staff. You can also spot the average length of your calls – shorter call times could point to when an applicant was not registered.
Call recording will also highlight opportunities that you might have missed – for example, did someone mention that they have a property to sell or let?   By listening to your call recording you could help train your staff to better handle customer queries, register applicants and spot potential valuations.
Email Lead Report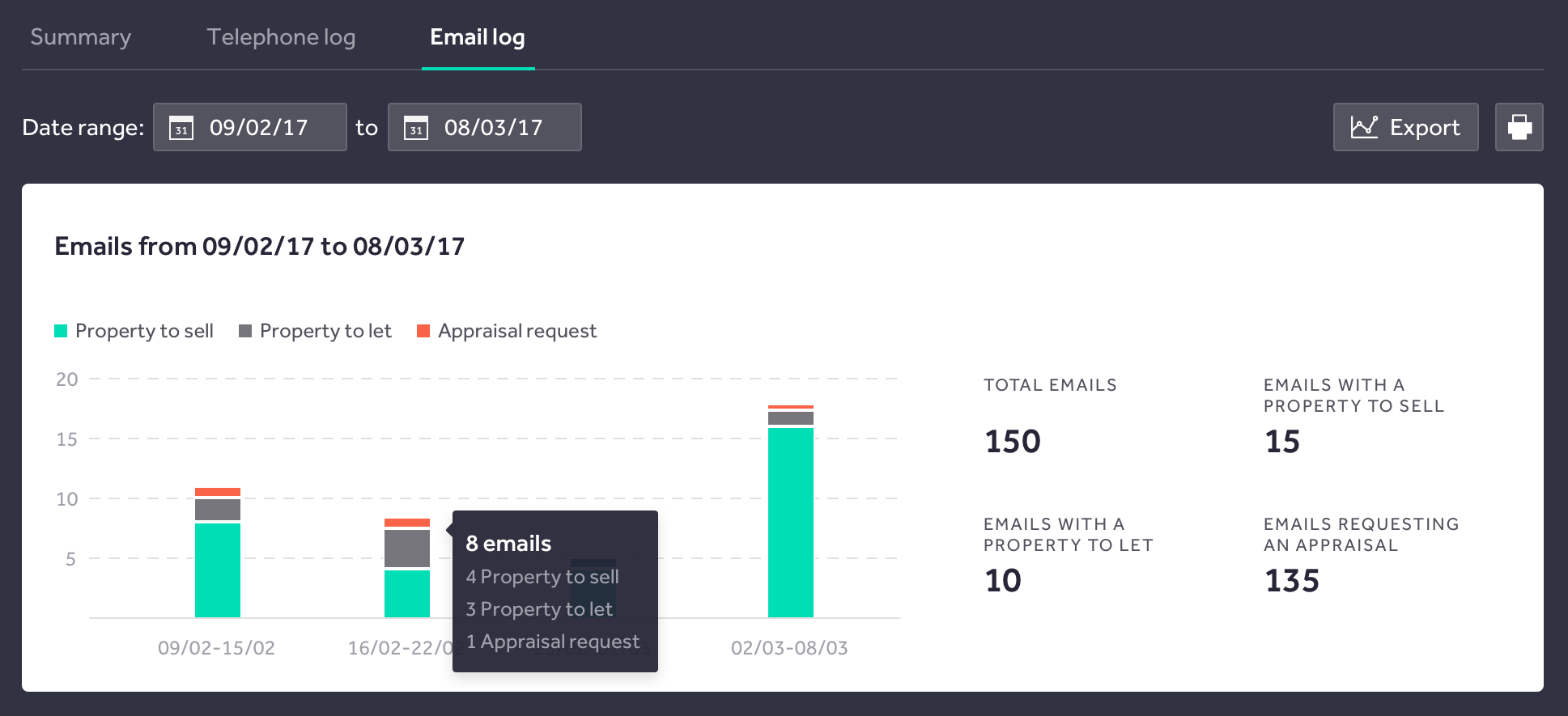 You are able to evaluate your email leads going back 12  months.  Your reports highlight the total number of emails received by the branch about properties for sale and properties to let, as well as the number of emails about general enquiries.
The stats on the right hand side of the graph will offer a quick glimpse of the totals for the desired period of time.
The applicant details are clickable and will open a new view with all the emails received by the branch from that specific applicant.
We'll also be adding a brand new feature which allows you to see if an applicant's address is in the same patch as your office. This will quickly help you find potential vendors/landlords for additional business.
If you have any further questions your Rightmove Account Manager will be happy to help