Rightmove is being updated to make your experience with us far less complicated. Don't worry though, all your reports and insights will still be there, we're just bringing Rightmove to one place with every tool at your fingertips!
Our new update will give you one central place to log in to access all your Rightmove tools and reports.
We're also working through the layout of your reports and updating the design so they look and feel easier to use when you show them to your customers.

Click the button on the above banner to see the landing page for the first time
In upcoming weeks, this gateway page will be the only place that you need to login and access all your reports, bringing the functionality of Rightmove Plus, Intel and Admin to one central screen.
Hello NEW Rightmove Intel
As part of these changes we'll be retiring the Rightmove Plus name and re-branding all your Rightmove tools as the new and improved Rightmove Intel.
You'll still have all the reports and tools you're used to using, but they'll be accessible from a new place with a brand new look and feel.
Over the next few weeks we'll be moving all the functionality in Rightmove Plus (including The Best Price Guide) over to the new Rightmove Intel as well as updating the designs.
But  don't worry, your Account Manager will let you know when you'll see these changes.
What you can expect
Once your branch is switched over you will notice that when you log in to Rightmove Plus a banner will invite you to click a button to get started with the new, improved Rightmove Intel.
One screen bringing together all the functionality of:
Rightmove Plus | Rightmove Admin | Rightmove Intel
The banner you will see when you go live the first time you log in
From here, you can quickly get what you need:
– Get your competitive rankings
– Create a Best Price Guide, run Market Share Reports or see your Property Performance and Marketing reports as usual
– Apply products like Premium Listings and Featured Property
Look out for updated reports:
– Try the updated Lead Reports – see your email and telephone leads plus a new summary report that helps you spot trends and opportunities
For more information on the updated lead reports click here
– Update and upload properties with the improved Property List – a new "Health" column (using information available in the Property Performance Report) will alert you of any of your properties that are in need of updating
For more information on the new Property List click here
Rightmove Intel Click Button
Once you've tried the new Rightmove Intel screen – the next time you go to log in we'll take you through a new way to log in…
– A new button at the bottom of the Rightmove homepage will take you to the new Rightmove Intel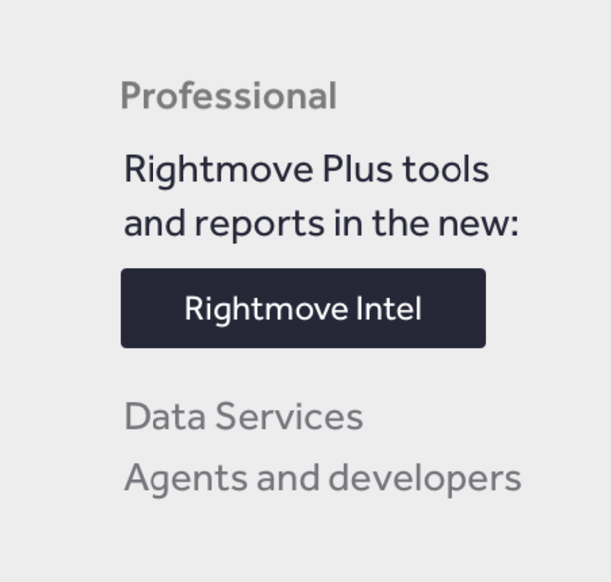 Login to Rightmove Intel
There is a new login page.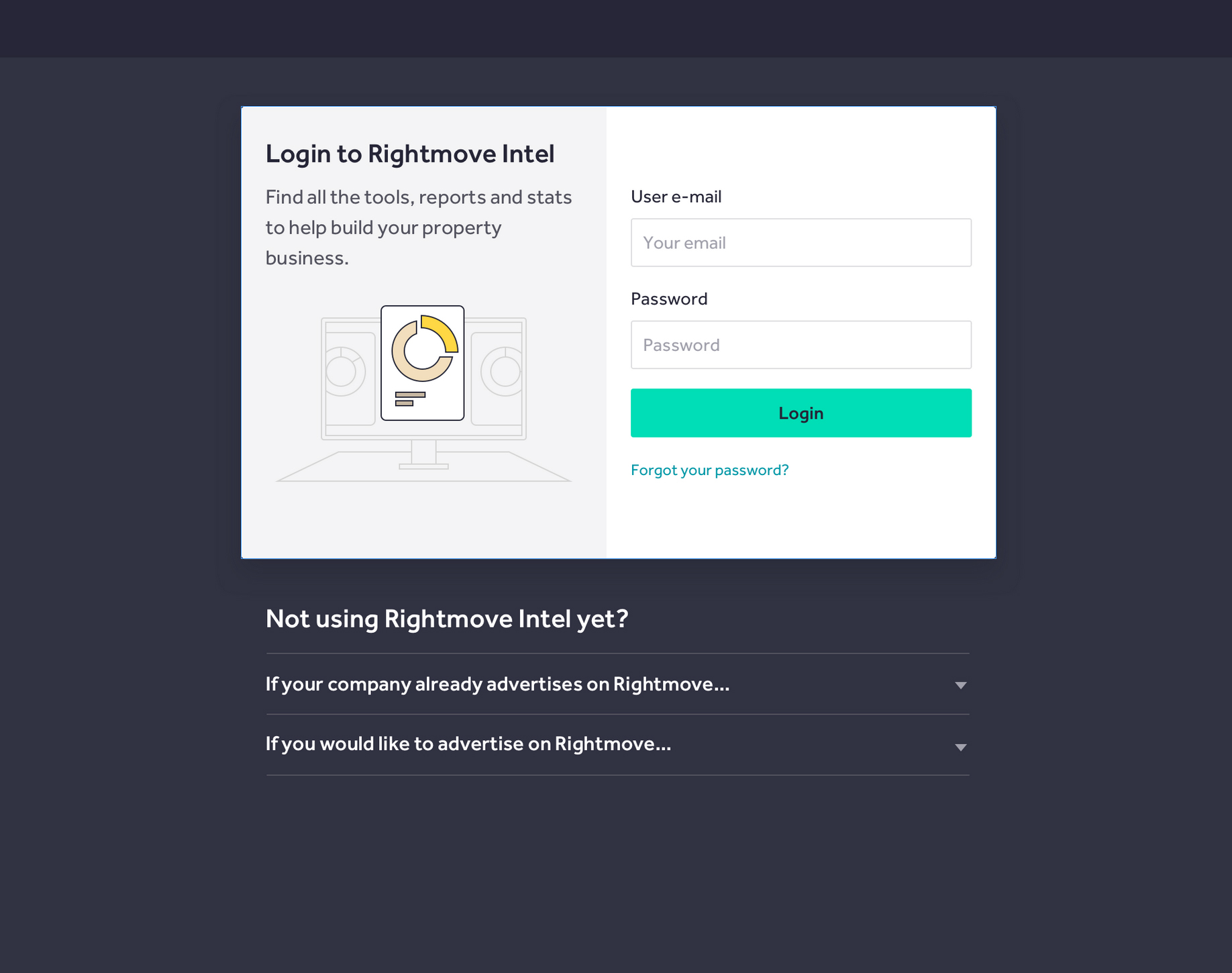 Then, if you have more than one office, select the office from the list.
Once you're logged in successfully, you can access all the functionality you're used to using in Intel, Rightmove Plus and Admin from the new central screen that will look like this:
Your Rightmove Account Manager will let you know ahead of time when we'll be changing your branch over to the new Rightmove Intel, so look out for that email in your inbox over the next few weeks.
If you have any further questions ask your Rightmove Account Manager and they will be happy to help.
One place, all the power of Rightmove.