This property has been removed by the agent. It may be sold or temporarily removed from the market
Farm land for sale
Park Hall, Mapperley

Removed £6,000
Property Description
Key features
Lot Four comprises 10.82 Acres (4.37 ha) Pastureland
Direct road frontage off Park Hall Lane
Suitable for both grazing and mowing
Total of other lots available 47.45 Acres (19.20 ha) of Pastureland and Allotment Gardens
Available in Five Lots of varying sizes
For Sale by Public Auction on Wednesday 26th October 2016 at 3pm at Uttoxeter Race Course
Guide Price £6,000 - £8,000 per ac
Sold at Auction £92,000
Full description
Lot 4 10.82 acres-
Other lots include Detached listed farmhouse for renovation, outbuildings, 48 acres of pastureland and allotment gardens.
For sale in five lots.

Boundaries
The purchaser of Lot 1 must erect a stock proof boundary fence along the northern and western boundaries within 3 months of completion. Minimum standard round posts, sheep netting and two strands of barbed wire. The western boundary must be a clear 5m width from the hedge on the west side of the track which forms part of Lot 2. The track includes the public footpath. The northern boundary must follow the existing dilapidated post and rail fence. If the purchaser of Lot 1 chooses to exercise their right of access along the track in Lot 2 they will need to include a gate in the new fence when it is erected, otherwise they can make a gateway in the hedge between the Croft and the Paddock.
Local Authority
Amber Valley Borough Council, Town Hall, Market Place, Ripley, Derbyshire, DE5 3BT. T: 01773 570222
Council Tax Band
The property is in Council Tax Band D.
Planning
The property is Listed Grade II. The traditional buildings lend themselves to redevelopment but purchasers must satisfy themselves with regard to planning matters and the extent of the Listing.
Development Uplift Clause
For avoidance of doubt there is no development uplift clause on Lot 1. A development uplift clause will be included on Lots 2, 3, 4 and 5 whereby the vendor reserves for the period of 20 years a 40% share of the uplift in value from the grant of planning permission for residential development. For avoidance of doubt the erection of agricultural, equestrian or horticultural buildings will not trigger the uplift clause.
LOT 5: 0.21 Acres ( 0.085 Ha) Allotment Gardens
The delightful central village location of this lot provides a wonderful opportunity to acquire a secluded garden area comprising raised beds, fruit trees and a poultry rearing area. The garden is secured from the road by a wall boundary and access gate, with mature trees and walls forming the other boundaries. NB: The occupiers have the right to remove all structures and some fruit trees if they wish.
GENERAL REMARKS
Tenure and Possession
All lots are sold freehold with vacant possession. Lots 1, 2, 3 and 4 are subject to grazing licences which terminate on 31st October 2016. Lot 5 is sold subject to a Notice to Quit served on the occupier and terminating on 24th March 2017. Completion dates will be announced at the time of sale.
Services
Lot 1 mains electricity and water connected. Soakaway drainage only. Lot 3 mains water connected. No other services connected.
Fixtures and Fittings
Only those fixtures and fittings referred to in the sale particulars are included in the purchase price.
Outside
To the front and rear of the house there is an overgrown garden/courtyard.
Rear Courtyard and Traditional Farm Outbuildings
Concrete yard area with vehicular access from the west side providing access to:
Brick and Tile Single Storey Building (4.46m x 4.03m or 14'6? x 13'2?)
14' 6'' x 13' 2'' (4.42m x 4.01m)
Adjoining eastern boundary wall.
?L? Shaped Range of Brick Buildings Comprising:
5.65m x 15.5m or 18'7? x 50'10? Brick and Slate single storey building, adjoining Mill section leading to 5.23m x 13m or 17'2? x 42'8? Brick, Tile and Corrugated Perspex single storey building.
Paddock
There is a small croft to the rear (north) of the buildings and a further grass paddock extending to 0.47 acre (0.019) beyond. Boundaries to the south and east are formed by a mature hedge, but the purchaser will be required to erect a fence along the north and west boundaries.
LOT 2: 29.70 Acres (12.022 Ha) Pastureland
Accessed via the track adjacent to the outbuildings and paddock belonging to Lot 1. Ideal for both mowing and grazing, the land being gently undulating with views across the open countryside. The land is within the Whitehouse Opencast Site and has been undermined in the past. A public footpath runs through the land from north to south.
LOT 3: 6.71 Acres (2.718 Ha) Pastureland
With direct road frontage and access just before the bend where Main Street and Park Hall Lane converge. The land is gently undulating towards the south east corner, suitable for both mowing and grazing. Mature woodland is included to the eastern boundary, and the land also benefits from a brook on the east and south boundaries. Stock proof fencing separates the pasture from the woodland. An independent mains water connection and trough is located near to the access gate. The land does not lie within the Whitehouse Opencast Site.
LOT 4: 10.82 Acres (4.379 Ha) Pastureland
With direct road frontage off Park Hall Lane approximately 0.6 miles from the crossroads in Stanley Common. The land is suitable for both grazing and mowing, being generally flat with boundaries formed by mature hedgerows. No mains services are connected to this lot. The land is not within the Whitehouse Opencast Site. The purchaser shall be required to close off the boundary by the bridge to Lot 3.
Description
PLEASE NOTE: Inspection of the buildings is at your own risk. Access to the outbuilding adjoining the farmhouse is forbidden as the structure is unstable. The sale of Park Farm provides a wonderful opportunity to acquire a most interesting period farmhouse in need of total renovation and providing scope for improvement and extension to create a desirable residence. The traditional farm buildings can be improved and altered to provide stables or redeveloped for residential use. Purchasers must make their own enquiries with regard to any necessary planning consents. Lot Two adjoins Lot One and comprises an excellent block of pastureland suitable for mowing and grazing whilst Lots 3 and 4 have frontage to Park Hall Lane and are likely to be of interest to a wide range of prospective purchasers with agricultural, equestrian or hobby farming interests. Lot Five comprises a parcel of ground by Mapperley Church and this has been used for Garden Allotments and is sold with the...
LOT ONE ? Farmhouse, outbuildings and paddock
Extending 1.044 Acres (0.422 ha) and hatched red on the plan. The detached farmhouse is constructed of brick with pebble dashed elevations under a part tiled and slated roof. The property is Grade II listed and in need of total renovation, offering an exciting opportunity to create a desirable country home in a pleasant rural location.
Sitting Room
14' 5'' x 12' 1'' (4.39m x 3.68m)
Open fireplace with cast iron surround. Window to front.
AT FIRST FLOOR LEVEL
Landing
Window to front.
Bedroom 1
14' 4'' x 12' 3'' (4.37m x 3.73m)
Open fireplace, window to front.
Bedroom 2
9' 4'' x 7' 5'' (2.84m x 2.26m)
Window to rear.
GROUND FLOOR
Entrance Hall
With doors to both front and rear. Secondary staircase to first floor.
Kitchen
12' 1'' x 8' 4'' (3.68m x 2.54m)
With Belfast sink and old Range cooker. Window to front.
Living Room
15' 2'' x 14' 10'' (4.62m x 4.52m)
Fireplace complete with a Range, cupboard to one side. Tiled floor, windows to both front and rear.
Pantry
9' 10'' x 7' 1'' (2.99m x 2.16m)
Reduced floor level accessed via concrete steps.
Hall
Tiled floor, wooden staircase to first floor. Door to front.
Bedroom 3
15' 0'' x 14' 9'' (4.57m x 4.49m)
Windows to front and rear, door to bathroom.
Bathroom
14' 9'' x 14' 2'' (4.49m x 4.31m)
Bath, basin, lagged heating cylinder complete with immersion heater. Window to front. Access to secondary staircase.
Brick and Tile Two Storey Extension
19' 6'' x 11' 4'' (5.94m x 3.45m)
Attached to the rear of the house is a Brick and Tile Two Storey Extension (Approx 6m x 3.5m or 19'6? x 11'4?) Access is forbidden as the structure is unstable.
Directions
From Ilkeston: Take the A609 west for 2.89 miles, past the first turning to Mapperley and opposite the Mill House Garage turn right at the cross roads into Park Hall Lane. Continue for 0.8 miles (passing Lots 3 and 4) and at the junction with Main Street, the property (Lot One) lies opposite From Derby: Follow the A608 north east towards Heanor, turn right at the Morley Hayes cross roads, by the Rose and Crown Public House onto the A609. Pass through Stanley Common and at the cross roads, opposite the Mill House Garage, turn left into Park Hall Lane and continue as above. Please see the location plan in these particulars.
Basic Payment Scheme
The land is registered for the Basic Payment Scheme, however there are no Entitlements included in the sale.
Solicitors
Mr P Johnson, Geldards, No. 1 Pride Place, Pride Park, Derby, DE24 8QR. Tel: 01332 331631
Rights of Way, Wayleaves and Easements
1: All lots are sold subject to and with the benefit of all rights of way, wayleaves and easements whether or not they are defined in these particulars. 2: The driveway to the side (west) of the buildings in Lot 1 form part of that Lot and provide access for adjoining owners as well as to Lot 2. 3: As previously mentioned the purchaser of Lot 1 shall have a right of access over the track in Lot 2 to reach the paddock. 4: There are footpaths crossing Lots 1, 2 and 3.
Timber, Sporting and Mineral Rights
Timber, Minerals and Sporting Rights are believed to be in hand and any value is included in the sale.
Viewing
Strictly by appointment through the Ashbourne Office of the sole agents on 01335 342201, or e-mail: ashbourne@bagshaws.com. Lots 2, 3 & 4 may be inspected on foot without prior appointment but all prospective viewers must have a set of Bagshaws details with them.
Areas
Please note all areas are based on computer Pro Map plans and are for guidance only. The area in Lot 1 excludes the shared track to the west side of the buildings.
Contract of Sale
The Contract of Sale will be available at the offices of the auctioneers and solicitors seven days prior to the sale but will not be read at the sale. The auctioneers will be in the saleroom fifteen minutes prior to the commencement of the auction to deal with any matters arising from either the contract of sale, the sale particulars or relating to the property generally. At the time appointed the sale will continue and thereafter no further queries will be dealt with and the purchaser will be deemed to have knowledge of the contract of sale and to have satisfied himself fully upon all matters contained or referred to therein, whether or not he has read them.
Conditions of Sale
The Conditions of Sale will be deposited at the office of the Auctioneers seven days prior to the sale and will not be read at the sale. The Auctioneers and Solicitors will be in the sale room fifteen minutes prior to the commencement of the auction to deal with any matter arising from either the conditions of Sale, the Sales Particulars or relating to the auction generally. At the appointed time the sale will commence and thereafter no further queries will be dealt with and the purchaser will be deemed to have full knowledge of the Conditions of Sale and to have satisfied himself fully upon all matters contained or referred to therein, whether or not the purchaser has read them. The Guide Price is issued as an indication of the auctioneer's opinion of the likely selling price of the property. Each property offered is subject to a Reserve Price which is agreed between the seller and the auctioneer just prior to the auction and which would ordinarily be within 10% (+/-) of...
Deposit and Completion
The successful purchaser will be required to pay a deposit of 10% of the sale price upon the fall of the hammer. The signing of the contract of sale and the 10% deposit is legally binding on both parties and completion will occur in 28 days thereafter, unless stated otherwise at the auction. Please contact the auctioneers for further details.
Money Laundering Regulations
Please note that all purchasers must provide two forms of identification to comply with Money Laundering Regulations 2003. This means that a passport or driving licence together with a utility bill for proof of address at the time of signing the contract.
Park Farm Mapperley, Ilkeston, Derbyshire
PARK FARM, MAPPERLEY, WEST HALLAM, ILKESTON, DERBYSHIRE, DE7 6DA
Detached Listed Farmhouse offering a superb renovation project Together with a range of traditional buildings with development potential 47.45 Acres (19.20 ha) of Pastureland and Allotment Gardens. Available in Five Lots Lot One: Farmhouse, buildings and paddocks extending to 1.04 Acres (0.42 ha). Lot Two: 29.70 Acres (12.02 ha) Pastureland Lot Three: 6.71 Acres (2.71 ha) Pastureland Lot Four: 10.82 Acres (4.37 ha) Pastureland Lot Five: 0.21 Acres (0.085 ha) Allotment Gardens FOR SALE BY PUBLIC AUCTION IN FIVE LOTS At Uttoxeter Race Course, Wood Lane, Uttoxeter, Staffordshire, ST14 8BD On...
Situation
Park Farm occupies a very pleasant rural location at the junction of Park Hall Lane and Main Street, Mapperley. Situated approximately 1/4 mile from the centre of the village and 0.8 miles north of the A609 main road through Stanley Common and West Hallam to Ilkeston, which provide a range of shopping and recreational facilities. Shipley Country Park lies to the north of Mapperley Village and is ideal for those with equestrian interests. The property is well placed for commuting being within easy reach of many local towns and cities. Approximate distances to Local Towns and Cities Ashbourne 22 miles Derby 8.5 miles Ilkeston 2.8 miles Ripley 15 miles Nottingham 11 miles M1 J25 8.5 miles East Midlands Airport 15.5 miles

More information from this agent
To view this media, please visit the on-line version of this page at www.rightmove.co.uk/property-for-sale/property-62074640.html
Listing History
Added on Rightmove:
22 September 2016
Show fastest broadband speed at this postcode Top broadband speed within this postcode Finding the fastest speed... Up to Compare broadband deals


Floorplans
View in fullscreen
Floorplan 1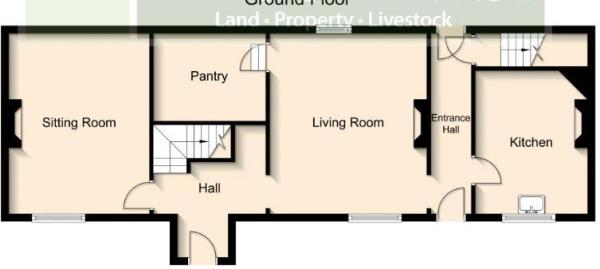 Floorplan 2

---
Map & Street View
View in fullscreenView in fullscreen
Street View is unavailable in this location
Note:
The pin shows the centre of the property's postcode, and does not pinpoint the exact address
The pin shows the exact address of the property
Street View is unavailable in this location
You're in the centre of the property's postcode.

Start exploring the local area from here.
Take me back to the start
Disclaimer - Property reference 7195909. The information displayed about this property comprises a property advertisement. Rightmove.co.uk makes no warranty as to the accuracy or completeness of the advertisement or any linked or associated information, and Rightmove has no control over the content. This property advertisement does not constitute property particulars. The information is provided and maintained by Bagshaws, Ashbourne. Please contact the selling agent or developer directly to obtain any information which may be available under the terms of The Energy Performance of Buildings (Certificates and Inspections) (England and Wales) Regulations 2007 or the Home Report if in relation to a residential property in Scotland.
* This is the maximum possible speed. Broadband speed may be lower at peak times and can be affected by a range of technical and environmental factors. The speed you receive where you live may be lower than that listed above. Fibre/cable services at your postcode are subject to availability. You can confirm availability on the provider's website. The information is provided and maintained by comparethemarket.com
*Guide Price: An indication of a seller's minimum expectation at auction and given as a "Guide Price" or a range of "Guide Prices". This is not necessarily the figure a property will sell for and is subject to change prior to the auction.
Reserve Price: Each auction property will be subject to a "Reserve Price" below which the property cannot be sold at auction. Normally the "Reserve Price" will be set within the range of "Guide Prices" or no more than 10% above a single "Guide Price."
Auction Fees: The purchase of this property may include associated fees not listed here, as it is to be sold via auction. To find out more about the fees associated with this property please call Bagshaws, Ashbourne on 01335 342201.