Securing a property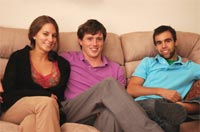 Once you've found a property that you all like and agree upon, your landlord or agent may ask for a holding fee or deposit. This will prevent the property being shown or offered to anyone else for a set amount of time (specified by the agent or landlord). Holding fees are a perfectly normal procedure, so don't worry if you are asked to provide one. Do however make sure that you are provided with a receipt or written confirmation of the payment.
Dependent on whether you are renting as an individual, or as a group, the deposit amount will be variable. It is usually the equivalent of between one calendar month and six weeks worth of rent.
Recent laws have been put into place regarding deposits and it is now a legal necessity that all deposits are paid into a Tenancy Deposit Scheme (TDP). This scheme is a cautionary measure to protect all renters (not just students) and their deposits.
Once you've handed over your deposit, your landlord must ensure that they have provided you with contact details of this scheme within 14 days, regardless of how long it takes for the money to clear in their account or how long they hold onto the money for.
The Government approved schemes for you to look out for are*:
Tenancy Deposit Scheme Ltd
Tenancy Deposit Solutions Ltd
Deposit Protection Services
Don't be surprised if you are asked by an agent or landlord to provide details of a guarantor. This means that if you miss any rent payments, they have a backup from whom they can take the money owed. This is usually a parent, but could be any adult as long as you have their consent.
When providing a deposit, you will also need to ensure you sign a tenancy agreement, which will lay out the terms and conditions that both your landlord and all tenants need to adhere to.
It is advisable that you read through the document thoroughly and ask your landlord/letting agent to explain anything you are unsure about. If you still have questions that have not been answered you can speak to a member of your student union who will be able to assist you further.