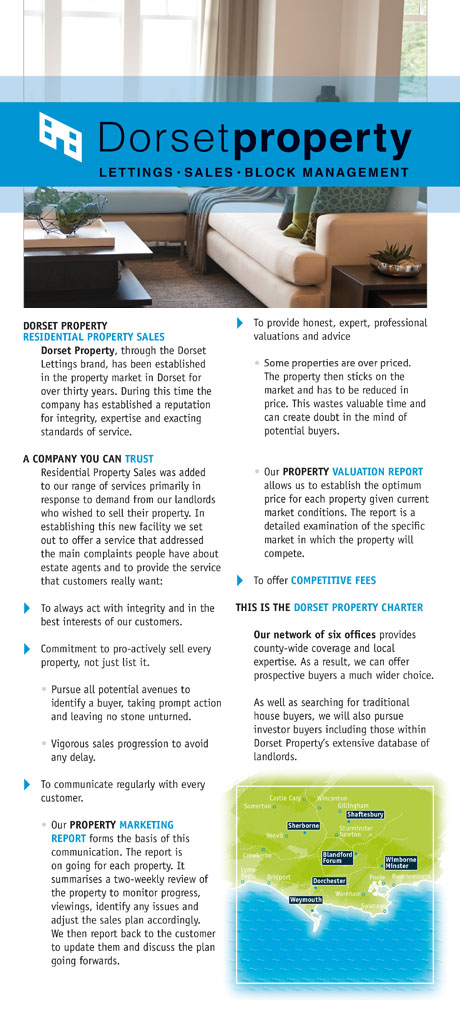 paragraph

Over the last 30 years, Dorset Lettings has established a reputation for Integrity, Expertise and Service Excellence - a company you can trust.

In response to the evolving property market, Dorset Lettings has been restructured.

We have introduced a new full residential property sales service, which will be provided to the same exacting standards you would expect from Dorset Lettings. To accommodate the new service, Dorset Lettings is changing its name to Dorset Property.

How will the new service be different? In short, by applying Dorset Lettings integrity and service standards to the new Dorset Property brand:

Offering a service tailored to meet each client's needs
Following industry best practice
Having a dynamic approach to marketing every property. Being pro-active not reactive; leaving no stone unturned
Providing honest, expert, professional advice
(Less scrupulous agents often overvalue properties to win business)
Being Efficient - monitoring the progress of each sale, having regular dialogue with each of our clients, taking prompt action, being attentive to detail and providing regular communication
Always acting with honesty and integrity in all our dealings
Always acting in the clients' best interests
Being dedicated to service excellence
Following the business principles we have always followed
A commitment to sell your property, not just list it.

This is the Dorset Property charter

As we are sure that you are aware, the current property market is a difficult. It is therefore more important than ever for an agent to be pro-active. Complacent agents will fail. It is no longer acceptable to simply upload a property onto property portals on the Internet and wait for enquiries to come to you. Each property needs to be marketed individually; potential buyers identified and pursued; new opportunities created and no stone left unturned in the quest to find the right buyer.

In the absence of this pro-active marketing, a property becomes stagnant and it's perceived value will fall. A fresh approach with new ideas can be the answer.

Unique Dorset Property Service

As well as pursuing buyers through traditional avenues, Dorset Property will directly market your property to our pool of investor landlords from within our database of some 1500 Dorset Property landlords. No other agent can offer this.

Unlike the majority of agents, Dorset Property does not tie you into a contract. We want you to stay with us because we are doing the best possible job for you.
Contact us
Check out our available properties
You can see the properties we're currently marketing for sale by clicking the button below:
View properties