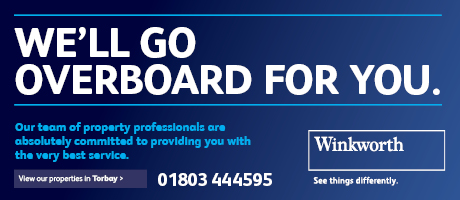 paragraph

The team at Winkworth Torbay, covering Brixham, Paignton and Torquay, pride themselves on providing outstanding customer service and go to great lengths to ensure that all clients are dealt with in the most efficient and professional manner. Established in Mayfair in 1835, Winkworth has been successfully selling property for over 175 years, making it one of the longest established estate agency businesses in the country. Call us to ensure your property gets the exposure it needs. The company ha

paragraph

An Introduction to Dartmouth & Brixham...

Location

Dartmouth is a scenic historic town located by the River Dart in Devon's South Hams, while Brixham is a quaint fishing town located at the southern end of Torbay.

Where to go

Dartmouth's historic sites and outdoor activities make it one of South Devon's most popular towns. The most iconic site in the area is the artillery fort Dartmouth Castle. Visitors also consider Agatha Christie's extensive collections at Greenway National Trust Holiday Home a must-see. Dartmouth also has a plethora of outdoor activities. The South West Coast Path is one of the main scenic paths that provides a view of the coastline. Walking, cycling, and golfing around the River Dart is also a great way to take in the surrounding area.

Brixham harbour is a central location that draws in visitors for its views. Boat trips are regarded as one of the best ways to take in all the sights. Other popular activities include biking or walking on surrounding paths, and taking in the views by taking a trip up to Geopark. Brixham also has several popular sites for those interested in history. The replica of Sir Francis Drake's iconic exploration ship, and a statue to celebrate the landing William of Orange in November 1688 allow visitors to take a step back in time.

What's on

The Dartmouth Royal Regatta in August draws in a large crowd. The festival is a three-day event filled with swimming, road races, tug of war, sailing, rowing, and kayaking. Shakespeare buffs are drawn in by the Dartmouth Shakespeare Week, which runs five nights a week in October. Tourists travel back in time with performances in Dartmouth Castle.

Even the winter months provide entertainment through the Candlelit Dartmouth. The festival kicks off the Christmas season with two nights of market shopping, a visit from Santa, and dog shows.

In Brixham, pirate enthusiasts gather to dress up and enjoy free entertainment. The Pirate Festival takes place around the Bank Holiday in May. The event is known for their world record attempts of creating the longest line of pirates.

September brings an influx of fishing enthusiast for the annual Fishstock event at the Fish Quay harbour. Visitors come to enjoy fresh fish and live entertainment.

Transport

For those wishing to explore Dartmouth by boat, Dartmouth has two passenger ferries that run seven days a week and travel back and forth between Dartmouth and Kingswear. There are also two passenger ferries that run from Easter-October and travel between Dittisham and Greenway.

Buses are the most efficient way to get travel to and from Brixham with 86 local bus services. Ferries in the area regularly depart to Torquay, Dartmouth, Greenway, Slapton, and Totnes. The Express Ferry goes between Brixham and Torquay in just 15 minutes.

Schools

Dartmouth Academy is a small school for children aged between 3-19. Dartington Church of England Primary School and Nursery's teaching is based off their core values of creativity, challenge, empath, compassion, and reflection. Kingswear Primary School is for ages 5-11.

Brixham Church of England Primary is a Christian Values school for ages 3-11. Eden Park Primary School is for ages 2-11, their teaching is based on the core values of independence, teamwork, creativity, and respect. Churston Ferrers Grammar School is for ages 11-18.

The property market

Property prices in Dartmouth range from £109,000 for a studio flat, to £1,750,000 for a 4 bedroom detached house.

Property prices in Brixham range from £84,950 for a 1 bedroom flat to £675,000 for a 3 bedroom detached bungalow.

Trevor Branton, Director of Winkworth Torbay expands:

"The property market across Dartmouth and Torbay is currently very buoyant, with a vibrant mix of house hunters including full time residents, holiday home owners and the local sailing community. Torbay is currently undergoing significant investment with many quality new shops and restaurants opening. Having experienced a very busy summer, the Winkworth Dartmouth and Torbay offices expect the market to continue at a pace throughout the rest of 2017."

Fun fact

Dartmouth has the oldest working steam engine in the world built by Thomas Newcomen in the 18th century.

The hymn, "Abide with Me" was written in Brixham in 1847.
Contact us
Check out our available properties
You can see the properties we're currently marketing for sale by clicking the button below:
View properties