CCS Quarter 1 2011
[ccs-table
this_quarter="Q1 January 2011″
last_quarter="Q4 October 2010″

table1="House price forecast – one year from now"
house_prices_up_this_quarter="24.2″
house_prices_up_last_quarter="-2.7″
house_prices_up_last_year="-29.4″
house_prices_same_this_quarter="38″
house_prices_same_last_quarter="2.2″
house_prices_same_last_year="8.1″
house_prices_down_this_quarter="32.3″
house_prices_down_last_quarter="0.3″
house_prices_down_last_year="19.7″

table2="Is it currently a good time to buy?"
good_time_to_buy_this_quarter="60.4″
good_time_to_buy_last_quarter="0.2″
good_time_to_buy_last_year="-1.6″
better_1_year_buy_this_quarter="25.5″
better_1_year_buy_last_quarter="-1.4″
better_1_year_buy_last_year="-0.5″

table3="Is it currently a good time to sell?"
good_time_to_sell_this_quarter="5″
good_time_to_sell_last_quarter="-1.0″
good_time_to_sell_last_year="-0.7″
better_1_year_sell_this_quarter="29.6″
better_1_year_sell_last_quarter="0″
better_1_year_sell_last_year="-20.8″
"] [appendix-start]
The data presented as part of this release is taken from the quarterly Rightmove Consumer
Confidence Survey. The survey seeks the views and attitudes of home-movers towards a key
British obsession – the housing market. Started in early 2009, more than 120,000 people
responded to the survey in its first year alone.
The Rightmove Consumer Confidence Survey provides a UK-wide picture of home-mover
confidence by collecting opinions on a range of factors affecting the housing market and
perceptions of it.
As one of the Top 20 most visited websites in the UK, Rightmove attracts a wide
demographic and one that very closely matches the working-age profile of the UK. Rather
than purely seeking the views of those currently active in the housing market, Rightmove's
database ensures a much wider, more representative sample.
All responses were completed via an online questionnaire between Monday, 5th July and Monday, 19th of July 2010. A total of 22,010 responses were received from respondents during this time.
Data is weighted using Census data available from the Office for National Statistics to help
ensure the results are representative of the UK and its regions.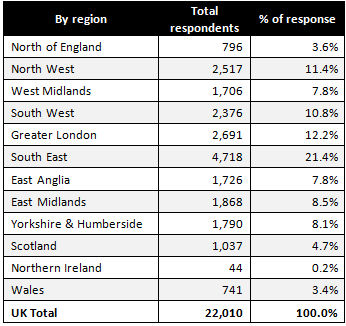 [appendix-end]