When buying property overseas, there's a lot to consider. How will you get there? What type of property do you want? Will I be a tax resident? How will I afford the property? These are just a few questions I've heard from aspiring international buyers like you.
To help make your life a little easier, I've pulled together four essential guides for international buyers that can help provide you with a point of reference.
These guides are written by our long-time partner, Your Overseas Home, a free resource and overseas buying tool that provides international buyers with the tools and connections they need to buy safely and securely abroad.
They host regular webinars on hot topics like; 'How much tax will I pay in Spain' and 'Can I still get the Portuguese Golden Visa?' Browse their upcoming events here.
Your Overseas Home also hosts a biannual Virtual Event. Imagine an international property exhibition, but entirely online. The team invites experts from your favourite overseas destinations to join them for a day of seminars and exciting conversations. See when the next one is here.
The Buyer's Guide to Currency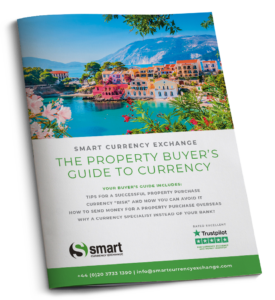 For most of us, our foreign exchange experience is linked to our yearly holiday, when we head to the post office to exchange pounds for euros. However, when buying something as large as a property, you want your money protected from volatile currency fluctuations.
This guide, put together by currency specialist Smart Currency Exchange, includes:
Tips for a successful property purchase.
What is currency 'risk' and how to avoid it?
How to send money for a property purchase overseas.
Why you should use a currency specialist over your bank.
Buying abroad with family
This might not be something you've considered, but buying a place overseas with friends or family can be a clever way to split the cost and double the fun.
The guide includes:
Why buying with family makes sense.
How to get along.
How to sort the legal ownership.
Advice from local lawyers.
How to finance the property.
Read a case study about two business partners who made buying a place in France work for them
How to emigrate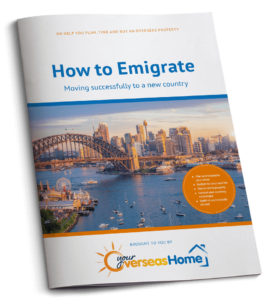 If you're planning to emigrate overseas, there's a whole lot more that you have to plan for. You'll need to transfer a significant sum of money, open a bank account overseas and, likely, make regular overseas payments.
The guide includes:
How to reduce your exposure to the fluctuating currency market.
How to finance your move abroad.
When to open a foreign bank account.
The experts you'll need on your side for a smooth transition.
Your Viewing Trip
Last but not least and perhaps the most exciting guide on our list is Your Viewing Trip Guide. When you've found all the places you'd like to view on Rightmove and it's time to view properties abroad, it can be easy to get swept up in the excitement of being so close to your dream. That's why this guide for international buyers is an essential resource.
It includes:
A checklist of what to look for while viewing homes.
A negotiation guide.
Next steps, how to make an offer.
And most importantly, what's safe to sign abroad?
Then, the three key contacts you need in your phone to secure a home swiftly, safely and securely.
If you are considering an overseas property purchase, whether for lifestyle or investment, opening a no-obligation account with FCA-authorised Smart Currency Exchange will enable you to benefit from their competitive exchange rates and specialist currency knowledge, ultimately saving you money and time. For more information, download Smart Currency Exchange's free report or visit the Currency Zone.
Written by Your Overseas Home for Rightmove