2 bedroom apartment for sale
Italy - Lazio, Frosinone, Arpino
like this property?
Call:
03339 871822
Enlarge this map
Key features:
Beautifully restored 147 sq.mt. 2 bed apartment dating from the 17th century
Salon with a very fine ceiling fresco
Antique floor tiles and lovely oak parquetry
Excellently designed travertine marble kitchen
Panoramic sweeping views
A small courtyard garden may be available to lease or buy
A minute's walk from the main piazza shops & cafes
Excellent road access with adjacent free parking
Planning permission already granted to install a direct access private lift from street level into the apartment
All utilities connected
Full description:
Casa Giuseppe Cesari

Built in the early 1600's this beautiful 2 bedroom, 2 bathroom, 147 sq. mt. apartment is located on the 3rd (top) floor of one of Arpino's most prestigious and historically important palazzos.

The famous artist Giuseppe Cesari, called "the Cavalier of Arpino" because he was created Cavaliere di Cristo by his patron Pope Clement VIII, was born in Arpino in 1568. At 14 years of age he moved to Rome to study painting where he later enjoyed an illustrious career. Amongst many other works he designed the fine mosaics on the cupola of St Peter's Basilica in Rome and he was also Master to the young apprentice Caravaggio.

By 1600 Cesari had become the most famous painter in Rome and early in the 1600's he bought this unfinished palazzo at the entrance to Arpino, which he commissioned the great Flaminio Ponzio, architect of the Villa Borghese in Rome, to complete. Today Arpino is very fortunate to have some of Cesari's beautiful, religious-themed works in its many churches.

Recently restored and tastefully renovated, the apartment occupies the 3rd (top) floor of this historically important palazzo. It features vaulted rooms, one decorated with a beautiful restored fresco, which scholars believe was most likely painted by Cesari's son, Muzio, as well as old terracotta and elegant oak parquetry flooring throughout.

Located at Fuori Porta, one of the original gates to the town of Arpino, there is ample car parking in the street below, and the apartment enjoys direct access via a romantic cobbled stone entrance lane and stone flight of stairs. In the plans of the apartment, there is also a designated space for a installation of a private lift opening directly on to the street adjacent to the car parking. Planning permision has been granted and the project is costed at around €45,000. The meeting hub of the town, Piazza Municipio, is only 150 meters away, and there are shops, cafes & bars very close by. There could be the possibility to lease or buy (from the owners of the other floors of the palazzo) a stone-walled courtyard with a covered area within the palazzo grounds to create a private outdoor garden and/or to purchase an additional unrestored room to create an additional bedroom should this be desired.

The front door leads directly into an entrance room, with a high vaulted ceiling and an original 17th century plaster cornice centre-piece. There is ample space here to create a second sitting room or a lovely breakfast room with a magnificent view seen to advantage through wood and glass French doors.

The spacious main salon, currently configured as a living/dining room, has a stunningly decorated vaulted ceiling depicting the mythological tale of Thetis dipping her baby son Achilles in the waters of the River Styx. Blue silk upholsters the walls and there are two sets of French doors leading to a long balcony, making it possible to enjoy unsurpassed views across the entire valley and mountain ranges. The floor of this elegant room is tiled with 17th century maiolica (hand-painted terracotta) tiles.

A compact but well designed travertine marble kitchen can be closed off by oak and glass doors.

The large master bedroom also features a vaulted ceiling, old terracotta floors and a very handsome marble ensuite.

A few wooden steps lead up from the salon into a smaller room with wood beamed ceilings with built-in cupboards, ideal as a study or TV room. Another full marble bathroom opens off this room, as does a small flight of curving wooden stairs up into the second small bedroom, beautifully private and secluded, also with a wood-beamed ceiling.

A laundry and wine storage area complete this exquisitely-finished apartment.

The final photograph in the gallery shows the juxtaposition of today's building with how it appeared centuries ago in an antiquarian drawing. You will see that the near end of the L-shaped palazzo has been reduced in size - from three windows on each floor in the old drawing - to today's two windows in order to create a road into Arpino suitable for cars instead of donkeys.

Energy classification G

ARPINO AND THE CIOCIARIA

Arpino is one of the major medieval hilltop towns in the area of Italy called the Ciociaria, the name given to the fertile land that lies south of Rome but north of Naples, situated inland in the hills in the heart of Italy.

The Ciociaria region is within easy reach of both Rome and Naples and their respective airports. A day's shopping in Rome is a common pastime, while an even shorter drive brings you to the charming beaches south of Rome. Alternatively, drive east, and the mountains of the Abruzzo National Park await with horse trekking in the magnificent beech forests, and sparkling mountain lakes and rivers where you can swim in the heat of the summer. And at the other extreme of temperature, although Arpino itself is temperate, less than an hour's drive brings you to the winter ski slopes.

Often overlooked, both by tourists and by those foreigners in search of an Italian home, in favour of the more publicized regions of Tuscany and Umbria, the Ciociaria remains largely an unspoilt gem with beautiful scenery and medieval hilltop towns. A home or second home in the Ciociaria, in the hilltop towns of Arpino, Veroli, Alatri or in the rolling countryside that surrounds them, will afford you a setting where over two thousand years of history combine with an idyllic rural Italian lifestyle, where you can still discover the 'real' Italy and take time out from the busy crowds of the larger tourist cities, while being less than ninety minutes journey from central Rome or either of Rome's two airports.


Via Romana Srls

Via Romana Srls is an Italian-incoporated company and offers a package of services to facilitate all aspects of the purchase and restoration of Italian property by overseas clients. The Via Romana team comprises Alison & Katherine Holland working in collaboration with various licensed agencies including the Alfano Consulting Agency, Immobiliare Grasso di Alessandra Grasso and Casantica Restauri Srl.

Alison Holland is a UK Chartered Accountant who, as an investment banker, lived and worked in various European countries, the US, Australia and Singapore, before settling in Italy. Alison has property valuation qualifications and much experience of selling high-end real estate. Katherine Holland is the photographer for the business.

The Alfano Consulting Agency is headquartered in Roccasecca and is one of the largest and most important real estate agencies in this area of Lazio. It is owned by Dottore Alfano who is the President of the Federazione Italiana Mediatori Agenti d'Affari, Frosinone.

Immobiliare Grasso di Alessandra Grasso is a long-established real estate agency in Sabaudia, a beautiful coastal town with beaches and lakes, 90 kilometres south of Rome.

Casantica Restauri Srl. is owned by a highly-experienced master builder and a civil engineer, and the company specialises in all aspects of the restoration of centuries-old properties including technical design and drawings and the obtaining of all necessary authorisations, permits and registrations throughout the restoration process.

More information from this agent

Nearest Airports*
Ciampino (INTERNATIONAL), 53.1 miles
Capodochino (INTERNATIONAL), 63.8 miles
Leonardo da Vinci (INTERNATIONAL), 71 miles
*Distances are straight line measurements. This feature is currently in beta.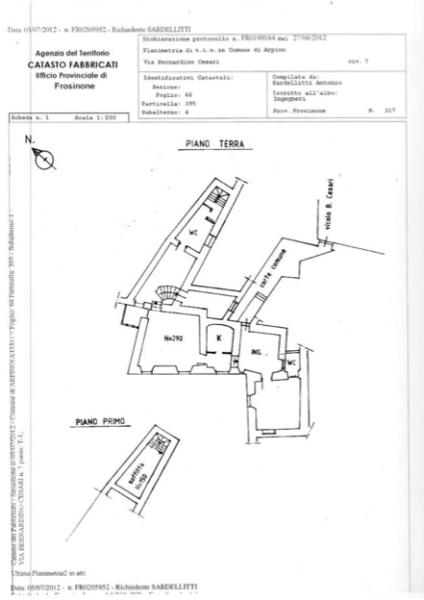 Virtual tour