1 bedroom flat for sale
Georgia - T`bilisi
like this property?
Call:
03339 396442
Key features:
24/7 Reception
24/7 Security
Convenience Store
Parking
Gardens
Full description:
Archi Saburtalo is an excellent choice for anyone looking for an affordable apartment located in the popular and upmarket Saburtalo area, which is a very popular buying destination for many foreigners.

The project is a single tower building, which stands 22-storeys tall. Towering over the other buildings in this generally low-rise part of the city, apartments on the upper floors will enjoy beautiful views.  The project started construction in the summer of 2017 and is scheduled for completion in April 2019.

In total, the project will contain 217 apartments and will cover an area of 21,454m2.  This sizable plot means that there is space for a beautiful garden area, which is totally secure, so is an excellent area for children to play.  The lower three floors of the project are allocated to parking.  Reserved parking spaces are available for purchase in the garage at an additional cost of $5,000 each.   The development will also include a variety of retail outlets in the the ground floor units, which means that residents here will be able to complete their daily shopping without need to venture out from the project.

One of the major reasons why the Saburtalo area is so popular is the fact that Tbilisi's second metro line runs through the area.  Archi Saburtalo occupies an excellent, quiet location in Saburtalo right at the end of the line, just 500m from Tbilisi's newest metro station, which was opened in October 2017.  The area immediately surrounding the project is generally low density, with many green areas between the buildings.  The project is within 200m of two universities - Sokhumi and Iberia, which means there are good long-term rental opportunities here to students studying here.  Also within easy walking distance is a major Fresco supermarket and also two hospitals.

The apartments at Archi Saburtalo come in all of the most popular sizes.  The one-bedroom apartments here are all spacious, started at 52.5m2, going up to 70.7m2.  The two-bedroom options start at a highly affordable 69.2m2, going up to a large 134.8m2.  There are also just three remaining three-bedrooms apartments here, with a minimum size of 92.6m2 and a maximum of 117.8m2.

For such a highly desirable and upmarket location as Saburtalo, prices at Archi Saburtalo are highly affordable.  Starting prices here are just $700/m2 for apartment here delivered to 'White Frame' standard.  These will require finishing before they can be lived in, which will cost a minimum of $200/m2.  So, in total, finished apartments here are available from just $900/m2.

This gives the following starting prices for finished apartments:

52.5m2 One-Bedroom Apartment - $49,875

69.2m2 Two-Bedroom Apartment - $64,356

71.2m2 Three-Bedroom Apartment - $87,970

Even better news for buyers on a tight budget are the payment terms.  Buyers need to pay just 30% upon contract, with the remaining 70% payable in monthly installments through the course of the build.

If these terms are still outside your reach, Archi Saburtalo is one of the few projects in Tbilisi where it is possible for buyers to obtain a home loan, via the developer's partner, VTB Bank.  For those looking to buy an apartment on credit, terms would be 30% upon contract, with the remaining 70% paid over a 10-year period.  The current interest rate on USD loans is 10% per annum.

This means that it is possible to purchase an apartment here for $11,813 down, with monthly installments of just $364.25 (not counting the cost of finishing).

For anyone looking for an affordable apartment in one of Tbilisi's best residential areas, within easy walking distance of the Metro network, Archi Saburtalo is an ideal choice.

Nearest Airports*
Tbilisi (INTERNATIONAL), 8.9 miles
*Distances are straight line measurements. This feature is currently in beta.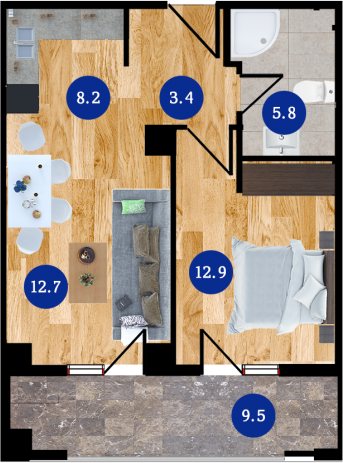 Video tour