4 bedroom house for sale
Italy - Carovigno, Brindisi, Apulia
like this property?
Call:
03339 397333
Key features:
1 hectare land for sale with PLANNING PERMISSION
You can build either 1 house 150 m2 or 2 houses
With POOL PERMISSION
INSIDE OLIVE GROVE of mature olive trees
Excellent location with SEA VIEW
Producing 50 liters of EXTRA VIRGIN OIL for the owners
EXCELLENT letting POTENTIAL
5 minutes to local town with restaurants, cafes and shops
5-10 min to the beaches of the Adriatic Sea
15-20 min to Brindisi international airport
Full description:
GREAT OPPORTUNITY to buy land with planning permission.
The price for the two parcels of land with permission to build on totaling one hectare is 39,500 euro for all.
Close to the Adriatic sea, less than 10 minutes to local town with all amenities and less than 20 minutes to Brindisi international airport.
There will be sea view from the roof terraces!
The location is excellent; 5 km to San Vito dei Normanni, 9 km to Carovigno, 5 km to the beaches and 15-20 minutes to Brindisi International airport!
There is a wide selection of beaches; the famous Nature reserve Torre Guaceto is just down the road, you find Torre Santa Sabina delightful also with a few sea side restaurants and street market
Architect owners have after several years now finally obtained permission to build either one single villa with one pool or two separate villas each with a pool.
It is located a few km from the sea at Serranova and along the SP 36 with limited traffic and gives excellent access both to the sea and to Carovigno.
The land with olive grove.- producing about 50 liters extra virgin oil a year - is one hectare (2,5 acres). It is divided into two separate legal titles;
No 1 is 4,800 square meters. It is possible to build a house of 72. sq. m net; 44 sq. m net + a so called deposito, an area dedicated as "storage" of 28 sq.m net + a technical room, swimming pool (40 sq.m) and verandas.
No 2 is 5,200 sq. m and here it is possible to build a house of 48 sq. m net + an outbuilding of 30 sq. m net + a technical room + pool (40 sq.m) and verandas.
If you decide on having two houses they could have independent access from the main road
In the case of the purchase of the two land to build a single house, clearly the size will correspond to the sum, then a house of 150 sq m, divided into 92 sq. m residential area + "storage" of 58 sq m.
There is also possible to built a full sized basement, a technical outbuilding of maximum 20 sq m and a 200 sq m veranda.
Another possible plan is to build one main house with 44 sq m living area, 2 double bedrooms en-suite of a total area of 120 sq m. Plus two outbuildings of 32 sq m each- which both could be used as self contained residential units.
There are endless solutions, depending on the height of the rooms, so you can have:

house of 102 gross sq. m + 65 sq. m gross deposit; or

house of 120 sq. m gross +75 sq. m gross deposit.

For example, it's possible to build:

1 house of 120 TOTAL gross sq. m + 120 sq. m basement
1 outbuilding of 70 sq. m TOTAL gross
1 technical room of about 12 square meters
TOTAL 202 sq. m+ 120 sq. m basement, plus

verandas
one swimming pool 40 sq. m

OR

2 houses (one 64 gross sq. m, the other 56 gross sq. m) + basements
2 outbuildings (one 38 gross sq. m, the other 32 gross sq. m )
2 technical rooms of about 6 sq. m (one for each house) +
TOTAL 202 sq. m + 120 sq. m basement, more

verandas +
two swimming pools , maximum 40 sq m (one for each house).

The asking price includes the Architect owner's fee to draw up the project for the final authorizations (building permission), once you have decided that to build for kind of house ( or houses)
The taxes, municipal and regional charges (about 9.000 euro) are not included in the asking price and is to be paid by the new owners.
Fixed priced builder's contract can be made available and the architect is available to run all administrative works during the construction work.

LIFE STYLE AND WHAT DO DO IN THE AREA
Everyone in the local residential area and the Serranova village know each other and you can expect a visit from the local farmers bearing gifts of locally grown produce.
The area has many small towns, local restaurants and bars that serve locally caught fish.
You and your guests may come to the villa and location for different reasons. Some come to take in the winter sun and chill out, others what to just crash out at the beach or pool. You may cycle and walk taking in all the Roman history from the area.

If you go to the beach late at night you might see the locals, wading into the water to catch sea life. It is funny watching them with little lamps strapped to their heads, their net on the back, olive oil in an old washing up liquid bottle and a spear. They squirt a little drop of olive oil on the surface and the squid go crazy!!!

The surrounding area has no building more than two storeys; so no large hotels, condos or apartments blocks.
Torre Guaceto is a nature reserve of 22.000 sq. km. Serranova is the centre of the reserve. There is a visitor's centre on the main street that tells you all about the area.
Torre Guaceto offers a wonderful light and noise pollution free environment. Still within ten minutes you can be in the lively seaside resorts of Santa Sabina and Specchiola. The beaches are ideal family places. Shallow coves and protected areas make the visit to the beach a pleasure. The beaches are deserted in the winter and very rarely busy at other times. July and August get busy with Italians from the north but the whole experience of watching Italian families interact is excellent.

The ancient forest of olive trees surrounding Serranova are magnificent and it's fantastic to cycle or drive through. The trees roots come out of the ground like twisted legs and the branches look like arms. The thick trunks are scored and have large knots almost looking like faces, it reminds you of the trees in the Lord of the Rings.
When you drive through the nature reserve close by you are almost deafened by the noise of the crickets siting in the trees.

If your holiday is not just for sun but you are interested in walking and cycling. Unlike other areas of Apulia Serranova and Torre Guaceto is flat land. There is one main dual carriageway down the coast and the rest of the roads are unchanged for hundreds of years.

The olives are harvested in December to February and are handpicked to ensure they produce the best grade of extra virgin olive oil.

The owners take the olives to the local Cooperative in Serranova to be pressed. You can visit the Cooperative and see the olives been processed.

Extra Virgin Olive Oil should always be kept in a dark bottle and should be from one source. It will say on the label if it is from a single source. Blended olive oils can be from anywhere and be any grade and from any country so watch ou

Serranova is a versatile area ideal for families looking for a holiday of sun, sea and activities. Santa Sabina and Specchiola are sea side resorts full of fish restaurants and shops. Northern Italians choose Puglia as the most popular destination. Walkers and Bikers can enjoy the wonderful sand dune beaches of Torre Guaceto, Lecce, Brindisi and Alberobello. Those looking for more modern history can visit the WW11 landing sites at Gallipoli or Taranto.

Holiday in southern Italy in April and May. The warm temperature combined with the evening rain turns the hedgerows and fields around Torre Guaceto and serranova into a spectacular site of colours. Wild flowers of all shapes and sizes.The beaches are small and exclusive and there are no hotels or fast food places in site for 20 km Bliss!!!! In the summer mobile food and drink units go to the beach, the best of both worlds.

Apulia rises in altitude the further north you go. The area around Torre Guaceto from the very southern tip of the heel up to Serra Nova is very flat. Once you get to Ostuni the landscape changes.


WHAT MORE TO SEE:
The house has the advantage of being not far from main areas of world interest such as the mile long caves of Castellana; the archaeological excavations of the Roman Egnatia by the Adriatic coast line; the Trullo houses of Alberobello- an UNESCO World heritage site: the beautiful white town of Ostuni, located on top of a hill with fantastic seaviews; the medieval town of Oria; the wealthy baroque town of Martina Franca; the petite and charming Cisternino, the Zoo Safari Park of Fasano (lots of fun for children and adults alike); the caves of Polignano a Mare, well known also for its tasty ice cream; Grottaglie famous for its ceramics and old stone carvings; and last but not least the famous baroque city of Lecce which is called the Florence of the South. Lecce can be reached in 15 -20 minutes and has countless medical churches and a great richness of architecture. In town there is also the famous Roman amphibian theatre which is used for music and drama performances in the open during the summer season. Lecce is a wonderful town for long walks, enjoying the fantastic atmosphere, bars, outside restaurants and, naturally, great shops.

Further to the south, inland Salento have a number of historical charming villages with ancient history. The advantage to stay in a village is to be able to socialise with Italian neighbours, to walk to the café and buy a newspaper and a cup of coffee in the morning and having all amenities within reach day time and night time. The town houses often come with a garden and roof terrace. and its fascination to open the simple door from the street - and inside almost like a little palace with a garden!
In Sternatina and Martigignano to the south of Lecce antique Greek is still spoken by the villagers.
Maglie is like a mini Lecce and with many fine buildings. Muoro Leccese is smaller and also represent a small town/village with a fine architectural history. Cutrofiano popular for French holiday home ownerships. Ruffano has many fine old buildings for sale, waiting to find new owners and to be restored. Surano has a small town centre with very nice antique buildings for sale. Spongano again is a small village surrounded by olive groves. Here you can see secluded great villas and country retreats owned by foreigners and families from North Italy who come to relax in rural Salento.

The east coast of Salento is rougher than the south west and for people who enjoy the sea and fishing. Somewhat more elegant than the east coast. Castro is beautiful with its location on top of the cliff by the sea and many villas with direct access to the sea. Santa Cesarea Terme is a spa resort, very popular with a beautiful setting and bay.

The cost from Santa Maria di Leuca to Gallipoli has many fine sandy beaches. The villages are perhaps not the prettiest but room for the beach life, pizzerias, and restaurants and disco music summer time.
Santa Catarina well known also for its many fine villas in the area, some antique.
The sea outside of Porto Cesareo further up the coast is probably the most beautiful and fantastic sunsets.

GETTING THERE:
By air there is a choise of two international airports, served by Ryanair, Easyjet , BA and others, both easily reached; Bari in the North by car on the motorway in approximately 1 hour 15 minutes and nearby Brindisi in the South in approximately 15-20 minutes.

MORE TO SEE IN APULIA:
Bari being the commercial capital city with 250 000 inhabitants' offers the best shopping, a grand opera house, called the Petruzzelli teatro; a large medical city centre with many museums. Just north of Bari lies a little town called Giovinazzo a true gem, right by the sea. Further north is Molfetta Outlet, a famous shopping galleria and 20 minutes further is Traini, a sophisticated town with a beautiful half moon bay & marina. Continue north to Castel del Monte, which is the mystical castle built by Frederic II in the 14th Century.
Within a 2,5 hour drive to the North of Bari lies Gargano, the peninsula called the spur of the Italian boot. Gargano forms a large nature and wild life Reserve and offers hiking and scenic trips around the peninsula. From here there are daily boat trips to the small Tremiti islands.

LIFESTYLE AND CULTURE:
The Italian lifestyle means many things but especially socialising; the home is used for sleeping and breakfasts, the Italians go out for enjoyments and dining. There are so much you can experience, like early morning markets in the small towns. music festivals, religious carnivals, the beach life, historical tours in the main towns, cooking classes, learning a bit Italian at language schools in Lecce, dining at the many country and sea side restaurants, night clubbing at the beach clubs of Capitolo.

SPORTS:
As Apulia is a peninsula and surrounded by the two seas- the Adriatic in the north and the Ionic in the south - water sports dominate in the area; sailing, yachting, water skiing, kite-surfing swimming & beach life. Scuba diving and fishing is available in Santa Sabina. Torre Guaceto nature reserve also extends out to sea so the coastline presents a heaven of sea life, ideal for snorkelling.
Golf is available with five good courses and San Domenico is world class (PGA 2014 Challenge Final). Tennis, horseback riding, hiking and bicycle tours are other options for the active minded. Squash clubs are located in Bari, Bitonto and other places.

THE WEATHER:
Southern Italy is warm and friendly and the temperature in Serra Nova is temperate all year round. Even in the cold of January it doesn't drop much below 15c. Serra Nova has a micro climate
The temperature in Apulia is very temperate. The summer months can get to 40c ideal for those sun lovers. May, June and July, Sept tend to be 25 to 30c. March, April and October in the 20c.

Winter temperatures; Nov, Dec, Jan, Feb. ranges from 10c to 25c, it depends on the sun. We have had weeks of endless sunshine during the "Winter". Places like Ostuni, Fasano and Cisternino are very hilly and can even have occasional snow falls. The temperature can differ between these cities by 10c.

Being south, Apulia has warmer weather than Northern Italy and even in the "winter months" of December to February the average number of sun hours per day is 4 and in June-August 10-11 sun hours per day! This means you can enjoy a long season of nice weather in Apulia. When you plan to buy a holiday home in Apulia think of that you will spend a lot more time outside than in the inside compared to at home. Therefore you will need plenty of terrace space, pergolas etc at your Apulian property and also cooking facilities outside is very practical.

The water temperature in beginning of May is in average 19 degrees, up to 27 degrees in August/September and 19 degrees in November. This means you & family will spend time at the beach. Where ever you are in Apulia you can reach the beaches within 30 minutes

WHU BUY IN APULIA:
Apulia has until recently been called the hidden treasure of Italy, unknown to most tourists who come & stay in Rome, Florence, Venice and at the Italian Riviera. However, all this is rapidly changing because of massive investments in the infrastructure, such as the improved motorways, enlarged airports and the introduction of low cost airlines such as Ryanair and Easyjet. The property prices are low in Apulia and low means value for money at bargain prices for the international buyers. We see more and more foreign visitors coming to Apulia and in our opinion investments will show good growth in value because of the increased demand. Also from north Italians as Apulia has become the most popular holiday destination for Italians. But rest assure, no tourist villages will ever be built because in Apulia the cost line is protected and people are against modern developments which do not fit into this historical landscape. Therefore, with increased demand for a fixed and limited number of properties prices are bound to rise.

WHY BUY FROM CASAPUGLIA?
Firstly we are an English speaking agency based in the middle of Apulia with local experience and can guide you to get the right property at the right price for you.
Secondly we have personally inspected every property that we recommend to buy and do not list hundreds of properties but a smaller selection of properties which we believe offer good value to the buyer. In Apulia many properties are offered at unrealistic prices but we say no to sellers who want us to list properties for sale at silly prices.
We have many years of international property experience, including 10 years in London, and see investments in Apulia through an international perspective. We have been active in several EU property markets and specialise in property management to ensure well maintained property for growth in property value.

We have a comprehensive range of local services:
- acting for the buyer - and not for the seller - by searching the market for the right property, negotiate the price and give advice through the buying process leading to completion of the purchase
- property management; we look after your property when you are away and ensure it is in perfect condition when you arrive. We will prepare a maintenance plan for annual maintenance and repairs of you property, which is essential to maintain and increase the property's value
- project management; we can act as you local representative and manage any renovation or refurbishment. We will also advise on any value added measures which could further enhance the capital growth of your property.
- lettings- we can assist you in the letting of you property and check in your tenants, deposit taking, checking out & inventory control.

Refer also to our webpage www.casapuglia.com.

We look forward to hearing from you soon!




Nearest Airports*
Brindisi - Salento (INTERNATIONAL), 14.4 miles
Bari Palese (INTERNATIONAL), 56.7 miles
*Distances are straight line measurements. This feature is currently in beta.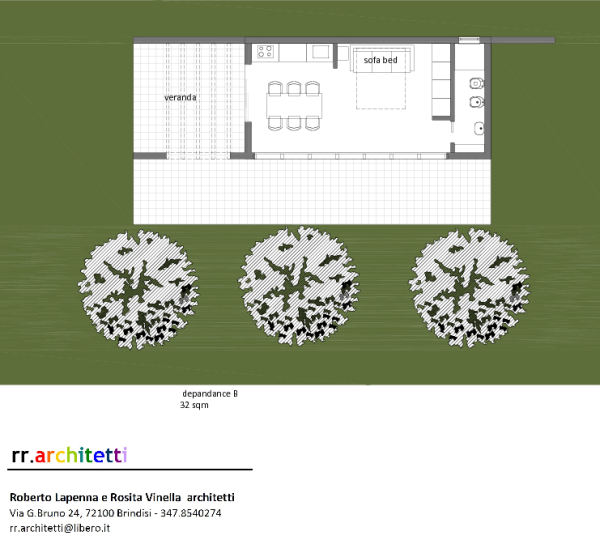 Video tour