1 bedroom flat for sale
Georgia - T`bilisi
like this property?
Call:
03339 396442
Key features:
Children's Playground
24/7 Security
Convenience Store
Parking
Football Pitch
Fountains
Gardens
Riverside Location
Tennis Courts
Restaurant
Full description:
Dirsi is the largest and most ambitious residential community that Tbilisi has seen over the past decade.  Commencing construction in 2012, Dirsi is forming an entirely new 'mini-city' on the banks of the River Mtkavari just ten minutes' drive from the very heart of the capital and just 20 minutes' drive from Tbilisi International Airport.

The first phase of construction at Dirsi was completed in August 2016 and consists of a total of 2,691 apartments spread among 11 different residential, high-rise buildings.  Once Phase Two is completed, the present size of Dirsi will double to a total of 4,898 apartments in twenty different buildings, making it by far the largest development in the city.

Residents at Dirsi all enjoy belonging to their own private community.  For anyone with children, then Dirsi is an ideal location.  This gated community is totally safe and there are many children's playgrounds spread throughout the site.  Additionally, there is also an on-site kindergarten operating here.  There are also plenty of on-site leisure activities available for adults to enjoy, with tennis courts, basketball, volleyball and football pitches all available here for the use of residents.  Spread throughout the project, residents can enjoy many green, garden areas, fountains and also stroll down the riverbank, enjoying the views of the River Mtkavari and the mountains on the opposite side.

As the size of the community here increases, so does the amount of facilities on offer to residents.  The most recent additions to the site are an Italian restaurant and pizzeria, plus a branch of Georgia's leading supermarket chain - Goodwill.  Once the Second Phase of the project is completed, even more facilities will be built on the vast site that Dirsi is located upon.  Planned for the site are more schools, a hospital, shopping mall, a trade center and even a theme park - giving residents at Dirsi a totally unrivaled selection of facilities right on their door-steps.

There are a wide variety of apartment sizes to choose from at Dirsi.  These start with compact - and incredibly affordable - studio apartments starting from just 30.38m2.  There are a large selection of one-bedroom apartments to choose from, ranging from 50m2 right up to 88m2.  Finally, there is also a good selection of affordable two-bedroom apartments available, ranging in size from 96-99m2 and available in a wide variety of different layouts.

Despite the excellent location of Dirsi with fast journey times to the city centre and the large amount of facilities on site, prices at Dirsi are among the most affordable in Tbilisi.  As a result, purchasing an apartment here is an excellent investment.  With all of the apartments in the First Phase now complete and ready for immediate occupation, this is also an excellent project for anyone looking to receive Permanent Residence in Georgia, as this can be applied for within a few weeks' of purchase.

Please note that all apartments at Dirsi are supplied on a 'White Frame' basis.  To calculate the price of a turnkey apartment, add approximately ₾490/$200 per m2 to the price (₾540/$220 per m2 for small apartments under 50m2).

Nearest Airports*
Tbilisi (INTERNATIONAL), 8.9 miles
*Distances are straight line measurements. This feature is currently in beta.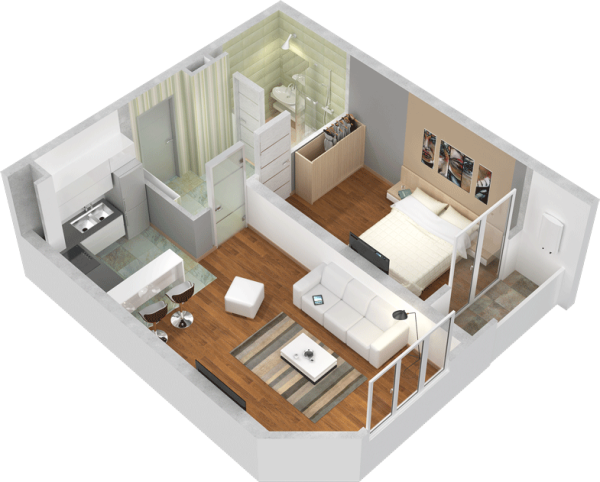 Video tour