1 bedroom flat for sale
Georgia - T`bilisi
like this property?
Call:
03339 396442
Key features:
24/7 Reception
24/7 Security
Concierge Service
Parking
Swimming Pool
Riverside Location
Spa Centre
Restaurant
Gardens
Fitness Centre
Full description:
For anyone looking for the most luxurious residential project in all of Tbilisi, they have found what they are looking for at King David Residences.

King David Residences is truly a landmark development in Georgia's capital, comprising one of two beautifully-designed towers located right in the very heart of the city, on the bank of the River Mtkvari between Heroes Square and Queen Tamar Bridge.  The majority of Tbilisi's many attractions are located within a 10-15 minute drive of this very central location.

Winner of the European Property Awards 2016-17, King David Residences is part of a mixed-use development which includes leisure and entertainment facilities at the base of the project and with King David Business Centre as the second tower.  The Business Centre offers the most luxurious office space in the city and will be home to such companies as Samsung Georgia.

Standing 32-storeys high, King David Residences is the taller of the twin towers and is the second tallest building in Tbilisi after The Biltmore Hotel, offering stunning views over the city from the majority of the floors.  The project will be ready for occupation in December 2017.

By being part of a mixed-use development, residents at King David Residences get to enjoy all of the project's facilities right on their doorstep once they are completed at the end of 2018.  These facilities include a large indoor swimming pool, a fully-equipped fitness centre and five different restaurants, including a rooftop restaurant at the top of the tower.  Residents will all receive substantial discounts on the prices for these facilities.

The Residences are totally separate from the rest of the project, with 24/7 security for the building.  All residents here will receive the same truly luxurious treatment that could be expected from a five-star hotel, including a spacious reception and lobby area, a concierge service and  laundry to name but a few.

Whatever your requirements in terms of space and number of bedrooms/bathrooms, you are sure to be able to find exactly what you are looking for at King David Residences, because all of the apartments here are supplied on a White Frame basis.  This offers buyers the maximum in flexibility as they are able to work with an architect in order to create an interior layout which is totally unique and matches all of the buyers' requirements perfectly.  For those looking for large spaces, two or more apartments can be combined in order to create apartments fit for a King.  In addition to the regular apartments, there are also duplex and penthouse options for any buyer who is really looking for the ultimate home in Tbilisi.  All apartments at King David Residences come with floor-to-ceiling windows in order to maximize the perfect views from each apartment and to ensure the maximum amount of natural light floods each apartment.

Prices at King David Residences depend upon the views - both in terms of the facing of each apartment and the floor that the apartment is located on.  Prices here start at ¿3,750/$1,500 per m2, rising to ¿6,000/$2,450 per m2 for perfect views from the top of the tower toward Tbilisi's historic old town centre.  Prices for finishing apartments here will depend very much upon each individual buyer's requirements, but will start around ¿750/$300 per m2.

For more information on purchasing an apartment at Tbilisi's most exclusive Residence, contact us today with your requirements and we'll provide you with bespoke options that will create your perfect home in the heart of the city.

Nearest Airports*
Tbilisi (INTERNATIONAL), 8.9 miles
*Distances are straight line measurements. This feature is currently in beta.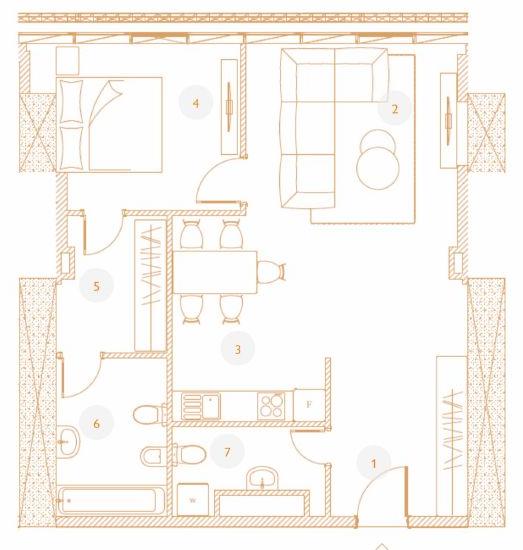 Video tour