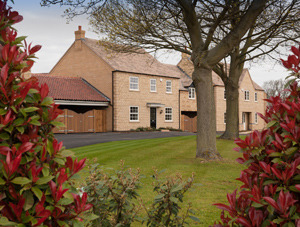 Description
Burghley Place is all about its fabulous location. Nestling in the pretty village of Barnack, where the sound of horse hooves are often the only sound to break the rural quiet, Burghley Place is a thoughtful blend of sandstone homes to the front, and homes with terrific views over the spinney and open fields to the rear. It's a country lover's paradise.

Specification
More convenient living
-Pretty homes, many of them stone fronted
-Live in the much sought after village of Barnack
-At the edge of the countryside with open fields to one side


A fantastic location
-4 miles from Stamford and 2 minutes from the A1
-Live close to the Hills and Hollows nature reserve
-Great schools in the village and in Stamford


The build so far

Despite building works still ongoing around the edge of the development, it's clear that people who've already moved in are extremely proud of their homes. Perhaps it's the way the development fits so well with the stunning local area - the stone fronted houses mirror the warm, honey coloured stone that's so prolific in nearby Stamford.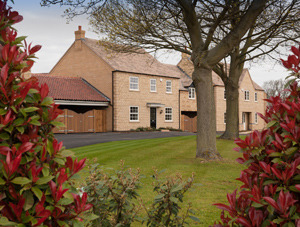 Leisure facilities
Fancy an equestrian lifestyle in the heart of farming land? Then Burghley Place is for you. * With just 41 homes, Burghley Place is a small and quiet development * This is a great place for commuters – you're minutes from the A1, while Stamford train station serves London Kings Cross * Barnack has a lovely pub, shops a post office and a thriving cricket and bowls club

This is a village living at its best. Barnack has a great pub, The Millstone, which is always welcoming and the place to go for fabulous food. With shops, a post office and proud sports clubs, Barnack is a village with a strong sense of community. If you're looking for a bit more action, Stamford is the place to be. It's less than a ten minute drive, and has a cinema, theatre, great restaurants and bars, and a wonderful mix of charming independent shops in keeping with this ancient market town.
Local shopping
Plenty of shops – Burghley Place may look and feel very rural, but you have plenty of shops including a Waitrose and a Tesco and a lovely bustling high street in nearby Stamford.
Schools and education
Some great schools – Barnack Pre-School has excellent Ofsted reports. Barnack CE Primary School has an excellent reputation. Barnack is also in the catchment for the sought after Arthur Mellows School in Glinton, with a daily bus service.
Nearest schools:
Barnack CofE (Controlled) Primary School

(0.3 miles)

Copthill Independent Day and Nursery School - Primary

(0.8 miles)

The Uffington Church of England Primary School

(1.7 miles)
Transport links
Burghley Place is conveniently located close to the A1, A43 and the A47. Both nearby towns of Peterborough and Stamford offer a good train service. From Peterborough, you can get access to major areas such as London. Leicester is key city within a commutable reach.

Nearest station:

Stamford
(3.1 miles)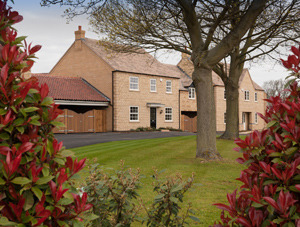 Opening hours
Our sales office is open from Thursday to Monday from 11am - 6pm
Call directly
Tel: 01733 459693 Local call rate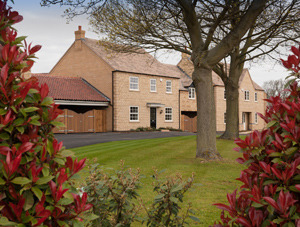 About David Wilson Homes

David Wilson Homes is not just a housing developer, we're a company that builds homes. At every stage of the process; from designing and planning to the final finishing touches, we keep in mind the emotional and practical priorities of the people who will be living in our properties.

This customer-centric approach has been at the root of our success for over forty years. We began in a small village in Leicester and today are recognised as one of the country's leading house builders, operating in thirteen regions, from Scotland to Wales and down to the South East of England. All our regions are supported by an extensive customer service team to guide buyers through what, in most cases, is the biggest financial commitment they will ever make.
As part of the Wilson Bowden Group, we established our reputation through the building of large executive properties but today our uncompromising pursuit of excellence extends into a wider portfolio of homes including apartments and townhouses.

At the heart of our company lies the Wilson Way, an attitude which demands all our people, whether they be land buyers, site managers or marketing staff, deliver their very best at all stages of the business. We believe detail is everything and consequently our team takes time to source materials of the highest standard to fashion homes of unparalleled quality.

The David Wilson Difference

Only David Wilson Homes offers buyers a 5 year warranty, covering almost everything we fit as standard meaning there'll be no unexpected bills for the first 5 years. Our 5 year warranty is in addition to the 10 year NHBC warranty offered as standard.

We can help get you moving

Whether you are a first time buyer, moving up or downsizing, we have a range of schemes available to help get you moving to your dream David Wilson home today. Something to sell? Cut out the agents fees and the hassle of selling your current property with our 100% Part Exchange scheme. Taking your first step on to the property ladder? Ask us how you could own your own home with a much smaller deposit with FirstBuy. Our Sales Advisors and Independent Financial Advisors are on hand to help answer any of your questions.

See it? Scan it!
this QR code for this agent's
new homes for sale