May 2017
Another price record is set as the under-elevens keep the market moving
Price of property coming to market rises for fifth consecutive month, up 1.2% (+£3,626) to a new record
Typical family homes see biggest price rise, recording a 5.4% year-on-year jump
Home-owners with children under eleven keep the market moving, as new Rightmove research shows they are twice as likely as the average person to be moving home*
Election run-up and Brexit uncertainty failing to knock market momentum with year-to-date sales agreed 2% higher than the previous election year of 2015
Overview
Overview
Prices continue to be under-pinned by buoyant demand in 2017, with this being the fifth consecutive monthly rise. The price of property coming to market has risen by 1.2% (+£3,626) this month to a national average of £317,281, setting a record for the second month in a row. Pre-election periods typically cause a pause in activity, but this price growth and strong year-to-date numbers of sales agreed indicate that many are undeterred. The strongest sector for price growth appears to be typical family homes.
Miles Shipside, Rightmove director and housing market analyst comments: "Whilst all-time high asking prices or economic and political uncertainty could be deterrents to would-be home-buyers, this month shows another strong set of figures. Demand is exceeding supply in many parts of the country and continues to push up the prices of newly-marketed homes. Spring is in the air and home movers are springing up the housing ladder."
This is the fifth consecutive monthly price rise, and whilst 1.2% is up slightly on last month's 1.1% it is more muted than the 2.0% and 1.3% recorded in February and March of this year. The number of sales agreed by estate agents remains robust, being 2% higher in the year to date than the same period in the previous election year of 2015. They are down 2% on the same period last year, though 2016's sales agreed numbers in the first quarter benefitted markedly from the buy-to-let rush as investors sought to beat the April 1st deadline of additional stamp duty.
Shipside observes: "We normally see a high proportion of market activity in the first half of the year, and in spite of potentially disruptive events the established pattern is continuing. It remains to be seen how much momentum may drop away in the second half of the year with stretched affordability a problem for potential buyers, though competition among lenders who are keen to lend will help some to push their budgets higher. Those with the greatest motivation to move are often those with growing families, with their need for space or access to schools outweighing uncertainties that might cause others to delay their future housing plans."
Rightmove research shows that home-owners with children under eleven years old are twice as likely as the average person to be moving home. Their typical target property types are three bedroom homes and four bedrooms excluding detached property (categorised as second-stepper in Rightmove's data). The price of property coming to market in this sector has seen the biggest increase over the last twelve months, up by an average of 5.4% (+£13,960) to £270,953.
Shipside notes: "As well as that shrinking house feeling, parents with young children also have the pressures of travelling times to amenities as well as the weekday school commute. These have to be balanced against under-pressure finances, even more so when the sector with the property type that suits them best is seeing the biggest price jump. What seems to be happening is that moving pressures are understandably taking priority over electioneering and Brexit worries. For many in this group, it seems that moving is definitely on their manifesto."
Agents' Views
Nick Leeming, Jackson-Stops & Staff's Chairman, comments: "Any uncertainty generated by the snap-general election has failed to deter most buyers and sellers from entering the housing market. A week after Mrs May's surprise announcement we asked our branches how buyers and sellers had reacted to this; were they running scared, pulling out or holding back? The consensus was that the vast majority of people hardly batted an eyelid and just wanted to get on with it, the drivers for selling and buying had not changed in their eyes, and Rightmove's research reflects a spring market seemingly not dampened. Our branches in the home counties across Surrey and Kent are seeing particularly strong interest from second-steppers. These are typically young families who bought their first home in London around four to five years ago, some will have taken advantage of the Help to Buy incentive, and nearly all would have benefited from a significant equity increase in their home. Areas like Dorking, Reigate, Tunbridge Wells and Sevenoaks appeal as locations to take a step up the ladder to a more spacious family property, with easy access to green spaces, good schools, and excellent transport links to central London. Spring, heading into early summer, is an ideal time for young families to start considering a move, particularly as the school year winds down."
David Westgate, Chief Executive of Andrews Property Group, comments: "This month's 5th consecutive rise in asking prices seen by Rightmove's House Price Index is not surprising news, especially if you are currently house hunting. However, we are, along with other agents starting to see a slight cooling in some areas and readjustment in the market place. Many thought that this would initially be caused by next month's general election, which, has historically deterred home movers from continuing their pursuit for their next home whilst MP's are canvassing. The good news is that this hasn't put off home movers looking at the next step on the property ladder and the fundamental elements of a strong market are still in existence to boost buyer activity."
*Rightmove research amongst 2,272 users who recently sold a property, are in the process of selling or planning to sell in the next six months, April 2017, showing that families with children under 11 make up 31% of property sellers. Population data profile taken from Rightmove's market tracker Q1 2017 which showed that families with children under 11 make up 14% of the population, making them twice as likely as the average person to be selling.
Regional Trends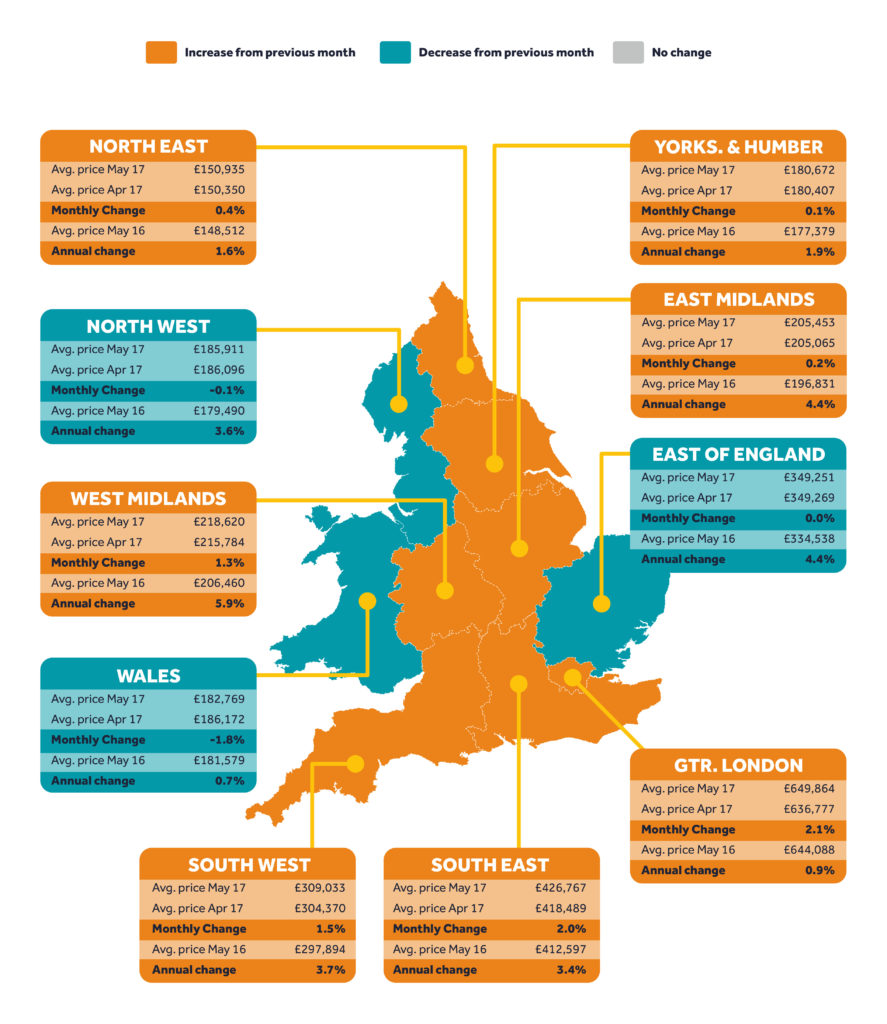 National Trends
London Trends
New seller numbers up and asking prices hit new record in spite of election
Price of property coming to market in London at all-time high, albeit only surpassing previous peak by £92
Monthly rise of 2.1% (+£13,087) to £649,864 though annual rate of increase remains subdued at 0.9%, with Inner London at +0.6% and Outer London at +1.2%
As election nears, London's new seller numbers are up by 4% month-on-month in contrast to the national picture where they are at an overall standstill
Overview
The price of property coming to market shows a monthly rise of 2.1% (+£13,087), pushing the Greater London average up to a record high of £649,864. However, with the London market exhibiting seasonal volatility in some months of the year resulting in some extreme swings, the annual rate of increase is a more consistent reference point. This remains subdued at 0.9% overall, with both Inner (+0.6%) and Outer London (+1.2%) seeing little year-on-year change. Parts of the market continue to re-adjust to stretched affordability, increased stamp duty and slower rates of price growth. However new sellers in the capital seem to be showing less hesitancy to come to market than many other home-owners elsewhere in the country. Month-on-month new seller numbers are up by 4% in London, which is a contrast to the overall national statistics where the number of sellers deciding to market remains unchanged.
Miles Shipside, Rightmove director and housing market analyst comments: "More properties have come to market than in the previous month, despite the approach of polling day often causing potential sellers to delay. In addition, the average asking price of newly-marketed property has hit an all-time high, at just shy of £650,000. Time will tell how close these sellers get to their asking prices, but the uncertainty associated with an election has not deterred them from trying in increasing numbers and at an increased average price. While some sectors and areas of the London market are finding it harder to sell, this election, unlike the one in 2015, does not introduce uncertainty over the unknown factor of a Mansion Tax. The market knows what taxes are due, and while they are very substantial in the upper sectors, we are well over two years through the process of re-adjusting to their effect."
Best and worst performers in London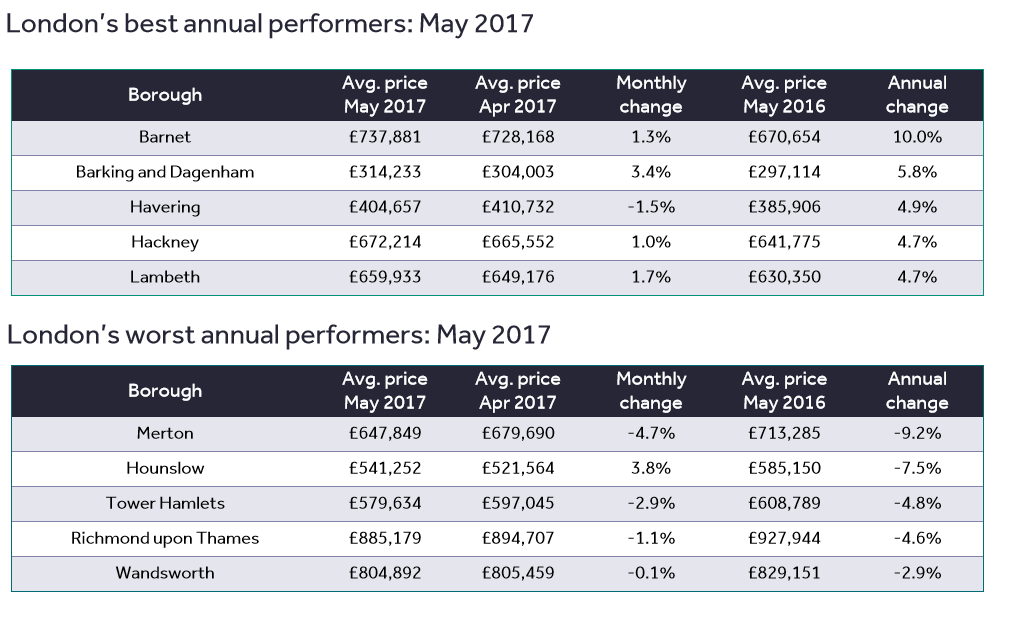 Breakdown by London Boroughs
Full Report