January 2017
Window of opportunity for first-time buyers in new year
Steady start to 2017 with 0.4% (+£1,086) rise in the price of property coming to market, very similar to the 0.5% rise recorded in January 2016
Encouraging early signs of home-mover activity, with visits to Rightmove since Boxing Day up by 5% even when compared to last year's buy-to-let surge
Window of opportunity for first-time buyers this new year with more choice and negotiating power:

Available stock for sale of two beds or fewer currently up 1.9% versus previous year
Fewer buy-to-let investors to compete against and sellers more open to lower offers as sales agreed in this sector down 13.2% in December 2016 compared to previous year
Overview
Overview
Rightmove data for the turn of the year shows a steady start to 2017's housing market. The monthly increase in the price of property coming to market at 0.4% (+£1,086) is very similar to the 0.5% rise recorded in the same period 12 months ago. Early indicators of housing demand also appear robust, with Rightmove traffic compared to a year ago up by 5% since Boxing Day, which is traditionally when movers start to search en masse. This increase in search activity is notable given that a year ago market activity was buoyed by the November announcement that second-home stamp duty would apply from April 2016. With this year having no such dynamic there is a new year opportunity for first-time buyers to fill the void left by buy-to-let purchasers.
Miles Shipside, Rightmove director and housing market analyst comments: "The 0.4% monthly and 3.2% year-on-year price increases are indicators of the continued market momentum from the autumn. Demand for a suitable home is such that visits to the Rightmove website are still up by 5% year-on-year, despite being compared to a period that was boosted by high demand from buy-to-let investors rushing to beat the stamp duty deadline. Year-on-year comparisons for transactions in the first quarter of 2017 should also allow for the distortion of last April's additional stamp duty tax deadline, as transactions were up 40% in the first quarter last year."
New year opportunity for first-time-buyers with more choice and negotiating power:
With markedly fewer buy-to-let purchasers than this time a year ago, the number of sales agreed in the typical first-time-buyer sector of two bedrooms and fewer was down 13.2% in December compared to the same month in 2015 (sales agreed in this sector are still up 0.8% when compared to December 2014 which was not distorted by the buy-to-let rush). As a result, available stock for sale in this sector is up 1.9% compared to last year, offering more choice for first-time buyers. This contrasts with the same period a year ago, when available stock fell by 18% as active buy-to-let purchasers reduced choice and limited buyers' ability to negotiate.
Shipside adds: "Those planning to buy their first home in 2017 have more choice of properties and less competition from other buyers than their counterparts a year ago. It's a possible learning point for aspiring first-time buyers that a year ago buy-to-let purchasers acted more quickly and closed deals at a faster rate, appearing not to take a Christmas break. Admittedly they had the financial incentive of a deadline to motivate them, but first-time buyers still have time to act and currently have the incentive of stronger negotiating power to try and mitigate the upwards trajectory of property prices."
A restraining force on potential first-time buyer activity is increasingly stretched affordability. Their favoured target sector of two bedrooms or fewer has seen the biggest price rises both month-on-month (+2.6%) and year-on-year (+6.4%) of any sector, partly a legacy from last spring's buy-to-let surge.
Shipside advises: "Some sellers of first-time-buyer properties may be being over-optimistic with their pricing, giving an opportunity for budget-strapped first-time buyers to negotiate, especially if they act now while there's still more choice available."
Agents' Views
Kevin Shaw, national sales director at estate agency Leaders, says: "It is clear that first-time buyers are outnumbering buy-to-let investors right now. We have seen an increasing number of one-bedroom apartments, which historically would attract first-time buyers and investors in equal numbers, snapped up by the former. This is largely because first-time buyers have had numerous offers accepted over the asking price so are obviously determined and able to secure these properties in the current market. Investors are understandably focused on the price as this drives the yield and generally do not want to get into a bidding war to secure these properties. It is a similar story with modest freehold houses in town centre locations, which would typically attract investors. But in recent months the majority of viewers have been private first-time buyers."
Mark Manning, Director of Manning Stainton in Leeds, Harrogate, Wetherby and Wakefield said: "As we got off the train onto the 2017 platform it was difficult to know who might be there to greet us. Were we to expect a lonely welcome and a continuation of the subdued market we saw at the end of the year or a swathe of new sellers ready to greet us. Fortunately, the answer appears for now to have been the latter. New seller enquiries are 26% up on the same time last year giving the strongest indication that we may see a slight ease in the lack of supply in the market. Now this will be welcome news amongst first-time buyers who have registered in strong numbers and are waiting for much needed new stock to come to market. Combine this with a comparative reduction in new investors and landlords of 32% over the last quarter compared to the same quarter a year ago and this may well be the year of the first-time buyer."
Regional Trends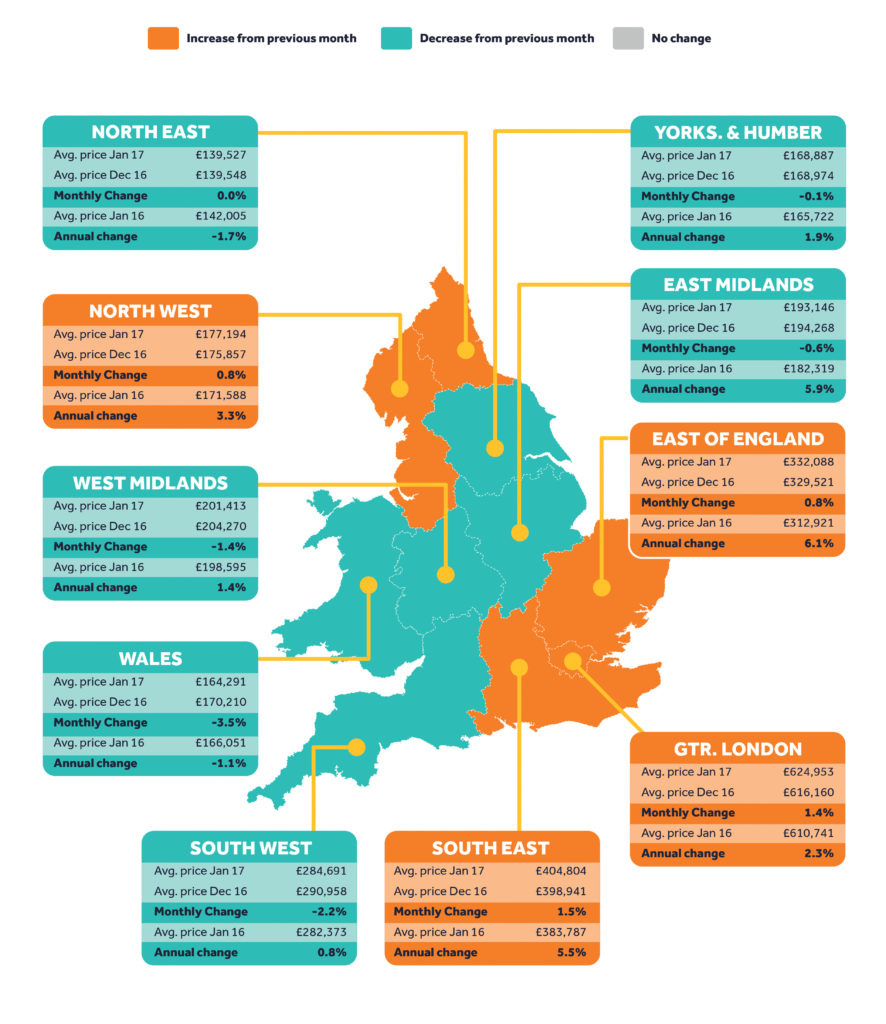 National Trends
London Trends
New instructions down 14% as Londoners lose that moving feeling
The price of property coming to market rises by 1.4% (+£8,793) this month, a typical seasonal rebound as the Christmas price lull starts to dissipate
New seller numbers have yet to pick up, with the number of properties coming to market this month down by nearly 14% compared to the same period a year ago
Inner London prices remain subdued with a 0.6% monthly increase, whilst Outer London continues to out-perform with a 2.2% rise
Overview
The London market is considerably affected by seasonal factors, with price falls being typical in November and December, and a rebound in January. This year is no exception, with a rise in the price of property coming to market of 1.4% (+£8,793).
Miles Shipside, Rightmove director and housing market analyst comments: "Owners of more expensive properties tend to shy away from coming to market in the couple of months before Christmas, exaggerating some of the price falls, especially with volumes also being lower. With the new year upon us, more have started to come to market helping prices to swing back into positive territory. There are price rises in both Inner (+0.6%) and Outer (+2.2%) London though Outer London remains more buoyant as buyers seek more house for their money further out from the centre. However, this year the pick-up in prices has yet to be matched by a pick-up in the number of new sellers."
There seems to be a marked reluctance this year compared to last year for home-owners to put their property up for sale, with 13.7% fewer homes coming to market in London. While 2016 overall saw a relative surge of new sellers with 4.3% more than in 2015, driven by some trying to cash-in before prices fell, 2017 has started with a marked lull.
Shipside observes: "Last year saw a rush of owners trying to exit at what they perceived as the top of the market, though in truth those in Inner London were already a year too late. Owners now seem well aware of the more challenging conditions, with the high stamp duty costs and Brexit uncertainty perhaps making them hold back from trying to sell. Whilst it is too early to say that this is a trend that will continue for the rest of 2017, for the moment some Londoners seem to have lost that moving feeling."
There are some large monthly price swings at a borough level, though with low volumes at this time of year we would caution against placing too much reliance on these and instead looking at the annual rate.
Agent's View
Robert Nichols, Managing Director at Portico in London said: "With volume typically leading price, we do expect property prices to soften this year – especially in prime central London and the most expensive boroughs. We have already seen a year on year price drop in Westminster, and it is possible that this price correction could ripple out to greater London. We do however still expect certain hotspots in the outer London Zones – like East Croydon, Forest Gate and Leyton – to experience price growth – though perhaps not at the level we've seen in previous years. If you're planning on purchasing an investment property this year, make sure to buy in an area undergoing infrastructure investment or gentrification. That way, even in a weak market you'll still stand to profit from a boost in both rental yield and capital growth."
Best and worst performers in London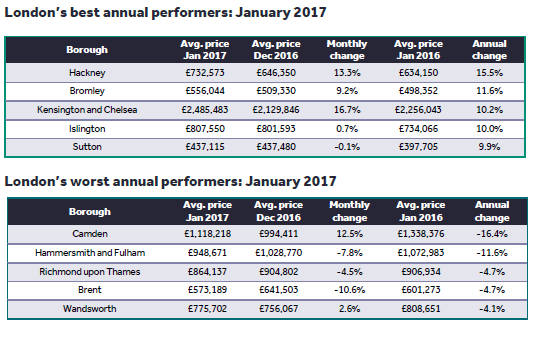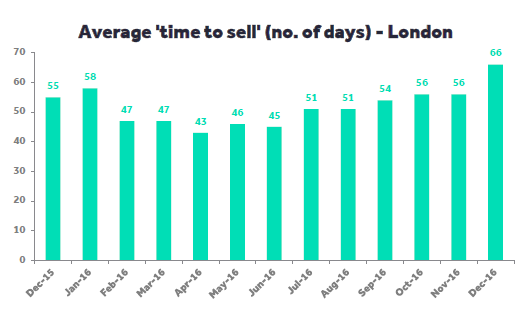 Breakdown by London Boroughs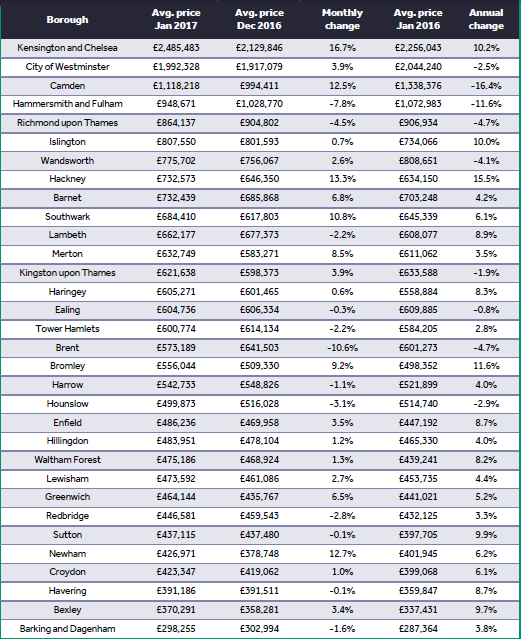 Full Report