September 2016
Bottom-end post-Brexit bounce squeezes first-time buyers
Price of property coming to market rebounds by 0.7% (+£2,277) after falling 2.0% over previous two months
First-time buyers in danger of being marooned by rising prices cutting them off from home-ownership:

Monthly jump of 3.3% (+£6,240) in price of newly-marketed property with two bedrooms or fewer
New seller asking prices now almost £20,000 (+10.5%) higher than a year ago in this sector
Higher prices mean higher deposits and repayments, negating the benefits of falling mortgage rates

Broadly positive picture overall as the market continues to shake off post-Brexit vote uncertainty:

Seven out of 10 regions see asking price rises or standstills this month, compared with eight falls last month
First full week of September sees visits to Rightmove up 8% on same period in 2015
Overview
Overview
The average price of property coming to market in the last month has risen by 0.7% (+£2,277). This is a partial rebound from the fall of 2.0% (-£6,249) seen over the two previous months. The rise is lower than the +0.9% recorded at this time of year in both 2014 and 2015, but it contrasts with the four preceding years, 2010 to 2013, which suffered marginal price falls. Whilst a broadly positive picture at a headline level, the detail starkly illustrates the continuing affordability plight of first-time buyers who typically dominate the lower-end property sector. This sector of two bedrooms or fewer has seen an average increase in the price of newly-marketed property of 3.3% (+£6,240) this month and 10.5% (+£18,450) over the past year.
Miles Shipside, Rightmove director and housing market analyst comments: "Some of those trying to get onto the property ladder may have wistfully listened to speculation of lower prices in a post-Brexit Britain. While the referendum result has created additional downwards price pressure in some upper segments of the market that were already slowing, those who do not own a home and arguably have the greatest housing need are now finding it harder to achieve their goal in the post-Brexit-vote aftermath. In their favoured target sector with two-bedrooms or fewer average asking prices have jumped by over £6,000 in the last month as we enter the typically active Autumn market."
The first-time buyer property sector had already seen significant upwards price pressure this year due to a surge in buy-to-let sales before April's additional stamp duty on second homes, and a subsequent shortage of available stock for first-timers in May. This latest rise of 3.3% pushes the annual rate of increase to 10.5%. In contrast the next rung up the ladder, second-stepper properties with three or four bedrooms (excluding four-bedroom detached), has increased by just 0.5% this month and a much more modest 5.2% year-on-year. The upper end 'top of the ladder' sector with four bedrooms or more is up by 1.2% this month and just 2.7% in the last 12 months.
While Help to Buy has encouraged much-needed building of more entry-level homes, this is the sector that has historically had the greatest demand and therefore requires the greatest supply. Churn in this sector has also been diminished since the turn of this century as buy-to-let landlords, having heavily concentrated on buying up smaller homes as a long-term investment, typically do not sell as often. Aspiring first-time buyers still have a strong desire to get onto the housing ladder rather than rent, fuelled by cheaper mortgage rates often making buying cheaper than renting, and are now seeing affordability become increasingly stretched.
Shipside warns: "The rising tide of prices is marooning more and more first-time buyers, out-stripping their ability to meet stricter lending criteria and afford the required deposits and monthly repayments. Increasing numbers are being cut off from home-ownership altogether and while schemes are in place to help, the additional demand they create is not matched by available and affordable supply.  With an average rise of over 10% in prices of typical first-time buyer properties over the last 12 months, minimum entry prices in some locations will go above what lenders are able to lend to most aspiring first-time buyers. Ironically the post-referendum uncertainty has made some sellers of larger and higher value homes more willing to negotiate, making it easier for those already on the ladder to trade up. There appear to be no such positives at present for those hoping to get onto the property ladder, especially as agents report more investor activity attracted by better returns than available elsewhere."
Overall this month's data is broadly positive with seven out of 10 regions recording either a monthly rise in new seller asking prices or a standstill, compared to eight out of 10 price falls last month (see map on page 6). There has also been an uplift in Rightmove website visits (+8%) in the first full week of September, after the end of the holiday season, compared to the same period in 2015.
Shipside adds: "The market continues to shake off the effect of post-Brexit vote uncertainty, though more so in the lower end sector. Buyers are still looking and enquiring, but there are limits on their willingness or ability to pay over the odds so sellers should be wary of over-pricing unless their local market can really justify it."
Regional Trends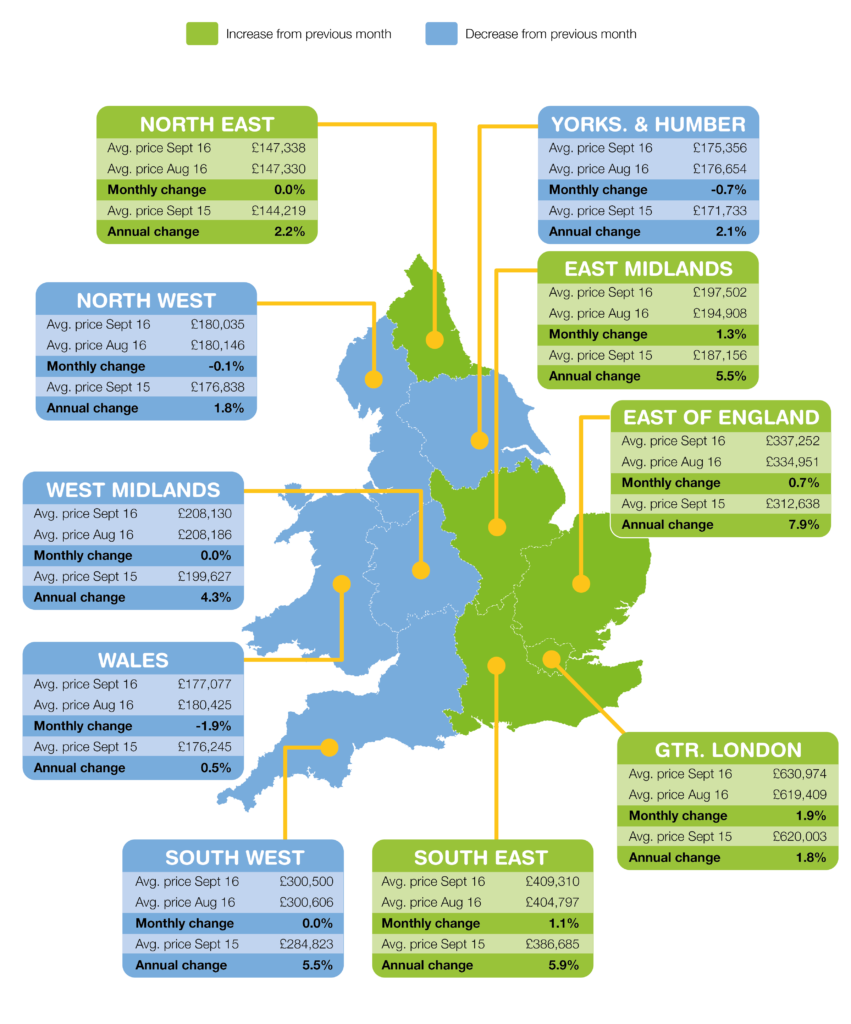 National Trends
London Trends
11% rise in cheapest borough and 11% fall in most expensive sum up London's travails
Price of property coming to market in London rebounds by 1.9% (+£11,565) this month, recovering some ground after four consecutive monthly falls
The price recovery is exaggerated by seasonal volatility, with more owners of expensive properties coming to market after the end of the summer holidays, pushing up the average
Annual changes in most expensive and cheapest boroughs summarise the extreme divergence at play in the capital's housing market

Kensington and Chelsea (average new seller asking price of £2,054,707) shows 11.7% fall year-on-year
Barking and Dagenham (average new seller asking price of £296,989) up by 11.0% year-on-year
Best and worst performers in London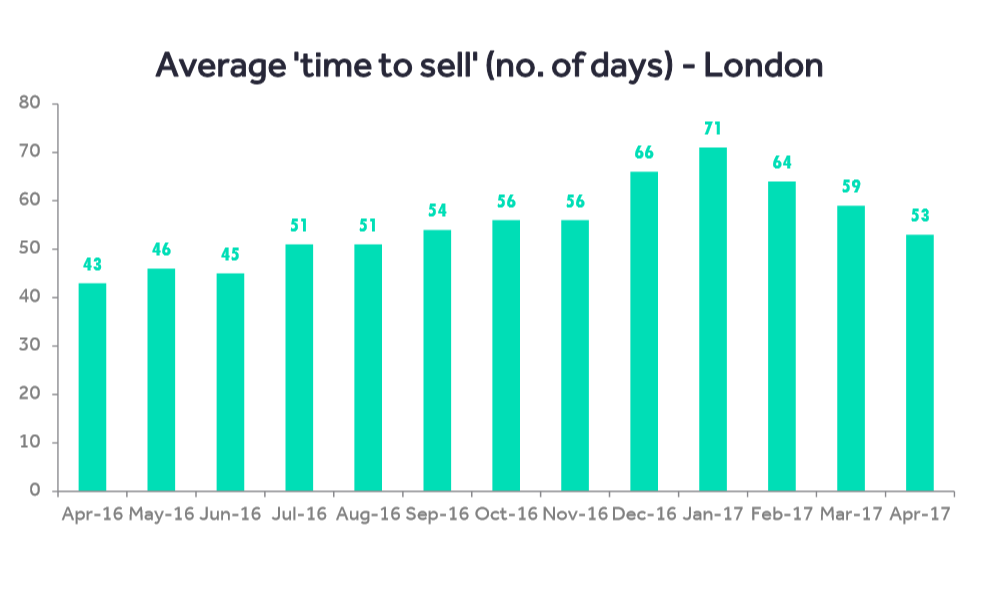 Breakdown by London Boroughs
Full Report