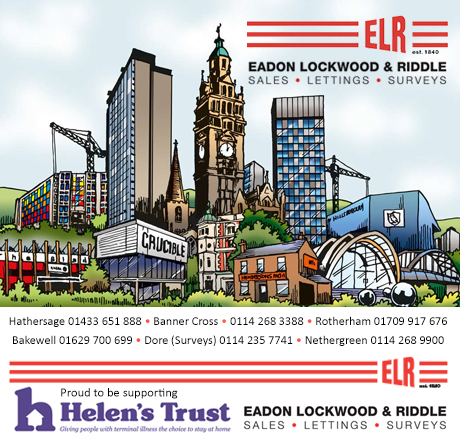 Title
WEEKLY NEWS FROM ELR
paragraph

WEEKLY UPDATE - 4th of July 2016

Hello again, just like the Americans must have felt all those years ago on July the 4th it seems like we are all in a state of shock that Brexit actually happened, in or out either way I don't suppose many of us saw that coming, in Sheffield 136,000 people as opposed to 130,000 people voted for the UK to leave so we were definitely showing our 'Northern Powerhouse' colours. It will certainly be interesting to see how this will affect our industry but for now things seem to be 'business as usual'. Rightmove intel states that in the last 2 weeks ELR have been instructed to sell more properties (14) than any of our other competitors across our key areas (S7, S10, S11 and S17) and crucially we are also top of the table for selling property as well with 10 sales agreed. We have 5 more instructions geared up and nearly ready to go and the office has sold another 2 properties this morning so it seems that the good people of Sheffield are happy with their decision after all and the perceived slow down isn't happening here. Lets see what happens next week though! Maybe if you are thinking of buying or selling you may consider asking us to come out and give you some much needed advice, we would of course be keen to hear from you so please don't hesitate to get in touch.

We will be back in touch next week, all at Banner Cross.

paragraph

Our sales directors 7 favorite things in Sheffield

1 - Beautiful downtown Bramall Lane! Like all fans I'll never forget my first visit to watch Utd, it was a night match, the grass looked so green, the ground so big and it was a real assault to the senses. I have spent many a happy time there over the years, the atmosphere on a big game day is incredible and much better than many so called superior stadiums. I love singing 'you fill up my senses' at kick off and I can't wait until my son is old enough for me to take him down 'the lane' and enjoy it the way I have and do still. UTB!

2 - I was born in Dore, I live in Dore and I work in Dore. Dore Village is in my blood, my Mum still lives here, I got married in the church and my office is right in the centre. I love the Village And have seen it change so much over the last 40 years. My 1st job was as a paperboy on Causeway Head Road but I covered for several other rounds and in doing so I discovered all the 'hidden gem' properties that I now get asked out to value and sell. When you combine that with all the exploring I did on my bike as a boy, the secret gennels that criss cross the village and all the other places I shouldn't have been going It has given me a superb knowledge of the area and I find this really helps in my job when out at peoples houses. Dore is where I am at my most comfortable when I'm valuing property and because I know a lot of people in the area its always easy to find willing buyers.

3 - Blackamoor. Blackamoor was always the go to place when I was younger, out on walks with my family or again with friends on our bikes and It's here that I now take my reluctant children at the weekend when I want to stretch my legs. The Moor is always beautiful, whatever the season. Be it in Summer when the Bracken is at head height and the trails are hard to follow, or in Winter when the rain comes down sideways or its covered in snow it's always somewhere to visit and another of those hidden gems, it always astounds me that the Moors aren't full of people as the views are fantastic, I love the contrast between the natural beauty of the moor and the city of Sheffield which is visible from some of the higher areas. My favourite times to visit though is in the late Summer when the Blackberries and Blueberries are out and we can be out all day. A stop off in The Cricket Inn or The Crown is always included and I can't honestly think of many things that are better than a day spent in this way.

4 - The Cutlers Hall on Church Street. I first went here for an NSPCC Ball while at school and was amazed by its main staircase and the grandeur of the whole place with everyone dressed in Black Tie. I have since visited on numerous occasions with Solicitors for the law society do, The Sheffield Clubs Christmas lunch and a couple of great weddings and have always enjoyed the surroundings and architecture. It reminds me of a private members club in New York or London (something Sheffield desperately needs in my opinion) and is a great setting for any fine occasion.

5 - The Botanical Gardens, I love this place, my earliest memories of 'The Botanics' were when my Gran used to take us to see the Piranha in the Victorian Glass Pavilions before they were renovated and of course the bear pit which always fascinated me as a young child. Since the lottery funded renovations these Pavilions are now beautifully restored and house some fine plant specimens and I now take my own children to the bear pit which now has a very realistic bronze statue of an actual bear. There is also a Riddle Trail to follow which takes you around all the best sites like the Pan statue, bear pit and ponds. My wife introduced me to the 'Music in the Gardens' about 8 years ago and I loved being surrounded by the lovely plant life while sitting down, eating a picnic and listening to live music. This mini festival has got larger as the years have gone by and I am looking forward to watching James and UB40 play this year however I really did enjoy the earlier shows as they were a lot more laid back and there was also a lot more room for the picnic table!

6 - Loving food I also appreciate a great restaurant, Sheffield has got better and better in recent years and the choice is staggering. I do love Sharrowvale and Nonnas on Ecclesall Road though. The atmosphere in Nonnas is always great and this continues on the food side of things, I think it's a fabulous Italian restaurant and have never been let down with the food or service. I celebrated my 40th birthday here with my wife this year, I regularly go with my Mum for lunch, I took my eldest daughter there for cake on her birthday and have spent many nights drinking with my friends here in the evening either inside the busy bar area or outside 'people watching' on the terrace.

7 - Padley Gorge and Grindleford Café - Another place where we go to walk in all weather conditions, the Summer brings large crowds out and it becomes Sheffields Beach so I prefer it when it's a bit colder. When I was young we used to catch the bus from The Dore Moor Inn and walk down from The Surprise or The Fox House and base ourselves at the head of the gorge on the massive boulders watching the fast flowing black water tumble by. These days it's more likely that we will catch the train from Dore station to Grindleford and walk up the gorge on one side and then back down the other, stopping off at the café with all its bluntly written signs about ordering for some hearty food and refreshment before getting the train home.
Contact us