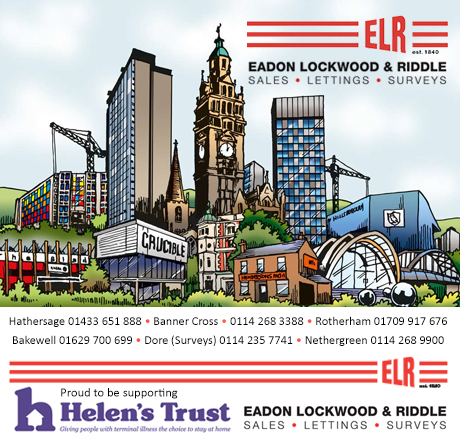 Title
WEEKLY NEWS FROM ELR
paragraph

Hi, glad you could join us again for a few more insights into the market.

This week has seen a frantic rush to get some really quite special properties on to the market before our valuer heads on his holiday.

James was lucky enough to be instructed on 'The Woods' at Grenoside, S35 at the beginning of the week. The property will surely raise a few eyebrows from those wishing to have a residence in the countryside with is 40 acres of private woodland, manege and stables providing equestrian facilities and all being captured by our incredible drone footage (HD video tour available on ELRs own website).

He also faced stiff competition when listing 7 Riverdale Road, another large Edwardian property set in immaculate grounds however the setting here is a little different and will appeal to those wishing to be closer to the shops, bars and schools as this one is located in the cosmopolitan suburb of Endcliffe on the edge of the park.

In Dore, Mr and Mrs Heslop have finally found a bungalow to downsize to (with a little help from ELR of course) so their lovely and much extended home of the last 30 odd years has come to the market and offers plenty of versatile accommodation including 5 double bedrooms and numerous reception areas, all only 5 minutes walk from the village amenities.

Speaking of downsizing why don't you come and visit number 10 Storth Park if this is something you may be considering? A spacious 3 bed 1st floor apartment may well suit those wishing for a change of lifestyle and the views are pretty good too!

James already has 5 properties listed for June including a cracker in Bents Green with a huge annexe and a development opportunity overlooking the park in Totley and with viewings already commencing on all these properties prior to them officialy going on the open market why not give us a call or send us an email to register your details with us and be the first in line?

Speak soon

All at Banner Cross

paragraph

The market seems particularly fierce at the moment, with estate agents all vying for limited instructions and the buying public having a much reduced pool of available properties to choose from. This is all equating to attractive rates for today's sellers and even more attractive results when they go to market as the sheer demand for these few 'priceless' properties is leading to most of our new stock achieving offers of way over the asking price and very often going to the dreaded 'best and finals'.

In Dore we are still statistically the top performing agent by a country mile, since the beginning of June 2015 ELR have SOLD 42 properties in S17 3 compared to just 19 by our closest competitor. We also LISTED 43 properties in the same period with the same competitor LISTING just 32.

Figures (unlike some estate agents!!) don't lie and clearly show we are giving the right advice, list the properties at the right price and are obviously selling them better than most.

Our success in the region is evident with SOLD boards on numerous roads and we feel that the results are a testament to the whole team. James Ross (our Director/Valuer) has lived in the S17 postcode all his life and is ably supported by an incredible team of sales staff who boast an impressive sales ratio of turning listings into completions 89% of the time. These figures are way over the national average of a paltry 55% and the ratio falls even further when you look at how online agents fare but let's face it this isn't really a surprise as would you fancy doing your own sales progression just to save a few pounds?

James feels that rather than his obvious skills in getting the property on to the market it is actually his negotiating team (who have over 50 years' experience in dealing with every tricky nuance a chain can throw at them) who deserve most of the kudos for our superb figures and that when you choose your agent you should look beyond the sales person who calls to value your property promising big sales prices and low fees and ask yourself if they are supported by people like Vicki Greenstreet and Lis Shimwell and if they aren't give the Dore experts a call on 0114 2683388 or speak to James direct on 07773821068

We will be back in touch again next week.

paragraph

ELRs take on Leicester City Football club

With Leicester fulfilling every true sports fans dreams and overcoming massive odds of 5000-1 in winning the Premiership on Monday night it has left all at ELR with a huge smile on our faces and we would of course like to extend our heartfelt congratulations to all involved at Leicester football club.

James Ross, our director of sales at Banner Cross couldn't help but notice several similarities between ELR and Leicester City and we couldn't help but copy you in on a few of his amusing stats since the 2015/2016 football season kicked off and wanted to share his insights with our Rightmove customers.

James broke down the bands of pricing in our industry into what he thought could be considered a fair reflection of the football league tables and decided that in the housing sector the £600,000 plus asking price band would represent a rough equivalent to the football leagues Premiership.

With only 13 local agents having sold properties in this band in the last 9 or so months it makes our league table a little easier to compete in than the Premierships 20 teams however we do have our own heavyweights like both the Manchester clubs, Liverpool and the best of London to contend with and certainly value more houses than Leicester will have played games so we feel this is fair.

You can perhaps draw comparisons with some of our competitors to some of these mentioned teams, for example, we have our own Chelsea to contend with (the current leading agent for all listings in our areas) who could perhaps be portrayed as last season's champions but on the slide. We can also imagine another firm who are owned by Countrywide and sport a red and white design in their marketing as maybe an Arsenal type of team, strong leadership, always around but never really crossing the line and living on past glory! Alex Ferguson once called Manchester City 'The noisy neighbors' when their improved budget and ownership allowed them to compete with his beloved Manchester United and we feel that this would sit very well with our competitors in the Dore area who are a relative newcomer to selling houses in Sheffield but seem to have carved themselves out a niche at the top end of the property listings, albeit massively under performing this season.... We feel that with our own red and white corporate colours and a proud history of working in Sheffield since 1840 we should however be classed as Hallam F.C, the world's oldest football team as let's face it we don't want to upset the other half of the city by pledging our allegiance to either of our better known footie teams! (Red and white wizards for the record)

Just like Leicester who were flirting with relegation this time last year ELR have had our own ups and downs in the league and not even 10 years ago were seen somewhat as a 'sleeping giant' by our peers and customers in the estate agency sector. Under performing, lacking direction, like an Ostrich with our heads in the sand and maybe with a few too many big egos cluttering our bench could be an apt observation and also in danger of being compared to some of our competitors.

With teams sorted James then looked at our core markets of S7, S10, S11 and S17 and did a search for 'sale agreed' properties in the £600,000 plus market since August of last year reflecting the length of the current football season.

With 62 properties having been sold in this period, ELRs own team of 11 staff at Banner Cross have managed between them to sell an impressive 16 of these choice properties and are therefore flying high at the top of the league with a mighty 25.8% market share (our closest competitor has sold a paltry 10) just like The Foxes. James didn't want to go into too much detail on the opposition as he didn't feel this was fair and didn't want to rub salt into their wounds however we would say that the top 3 does not reflect what the public or even what he would expect (with our equivalent of Chelsea and Arsenal not included), just like the top 3 in the Premiership at present.

Leicester have won the league not through having a team of superstars, they have won the league because the team have worked so well and effectively for each other throughout the year and being prepared to play on even when injured and keeping so many clean sheets. James feels that this is also reflected at ELR, the structure we have from listing a house through to getting it completed is expertly handled by the staff at Banner Cross, with few sick days, a great team spirit, minimal complaints and erm.. flashes of genius making our team top of our own league with no egos getting in the way.

At Leicester, Vardy may bag the goals but he's supported by an incredible team ethos and work rate that puts him in the right position at the right time. James may claim he is ELRs Jamie Vardy (or even Claudio Ranieri when he buys the office pizza at Christmas) when he puts the houses on the market but that's only because our team have got him in the right place at the right time and the promises he makes our clients (of which there are a lot) all have to be backed up by the Robert Huth's and N'Golo Kante's (see the rest of the team on our 'meet the team page'!) in our team to make sure they are met.

With only 2 games to go at the top of the table Tottenham couldn't handle the pressure on Monday night and gifted Leicester the title but actually ELR Bannercross surely took the title a few months ago with these impressive stats and it just goes to show how far we have come since the dark days of 10 years ago when we were admittedly not at our best. With experienced and motivated staff, excellent direction by the 'hands on' team of directors and a different style of selling which gets great results ELR are proving that we are firmly back to our best and hopefully with the support of the Sheffield public we will stay at the top of the table for years to come!

This is obviously all a bit of fun but the sold figures in these areas (just like Leicester's 7 point winning margin) don't lie so if you are reading this and are considering buying or selling why don't you contact the 'Leicester City' of the Sheffield estate agent scene, ELR Banner Cross and see how we can help you, UTB.
Contact us