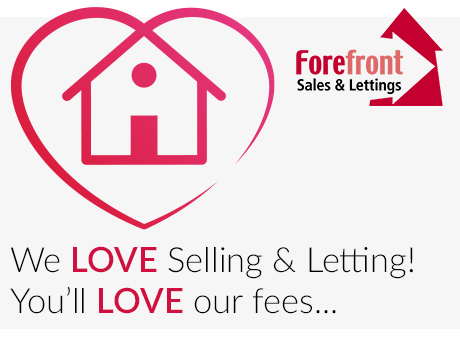 Title
Forefront, Your LOCAL INTERNET agent!
paragraph

SELL from £600 - LET from only £300

LOCAL expertise - LOW internet fees.....

......Now you can have the best of both worlds!


Are you looking for the local knowledge and expertise of a traditional high street estate agent but without the extortionate and inconsistent fees? With the majority of buyers and tenants finding properties via the internet why pay the high street fees when you can have the same, if not better level of service at a fraction of the cost?

So what options are available?

Although often reasonably priced, many internet agents lack the local knowledge and personal estate agency service that you are looking for. Traditional high street agents offer a local service but often have higher or inconsistent fees with varying levels of value for money.

So what if there was another option? One that gave you the best of both worlds? Well now there is!

FOREFRONT....No compromise required!

Here at Forefront we have developed our LOCAL Estate Agency business to perfectly blend people, knowledge and technology to provide a level of service that rivals traditional high street agents without the nasty financial sting.

Keeping our fees competitive in comparison to online only estate agents and offering outstanding value for money has been at the Forefront of our business model and continuously provides outstanding results for our Vendors, Landlords and Tenants.

Forefront offers flexibility to both our Landlords and Vendors with a choice of four levels of service. The option you choose will depend on how hands-on you choose to be! Plus with our completely transparent fees that INCLUDE VAT, you can be assured that there are no hidden extras.

Our fully responsive website automatically optimises the visitors viewing experience on all smartphones, tablets, laptops and PC's. Staying at the Forefront of technology ensures our customer's properties receive maximum exposure and our buyers and tenants have a user friendly experience.

With over 20 years' experience in the Swindon property market, Forefront offer affordable solutions that will save you money, whilst providing the security of a personal, local service unavailable through national online agents. There really is no need to compromise when you can have the best of both!

We're confident that you won't find a better quality of service at such competitive prices so why not get in touch with us today and book us to market your property.

Contact us