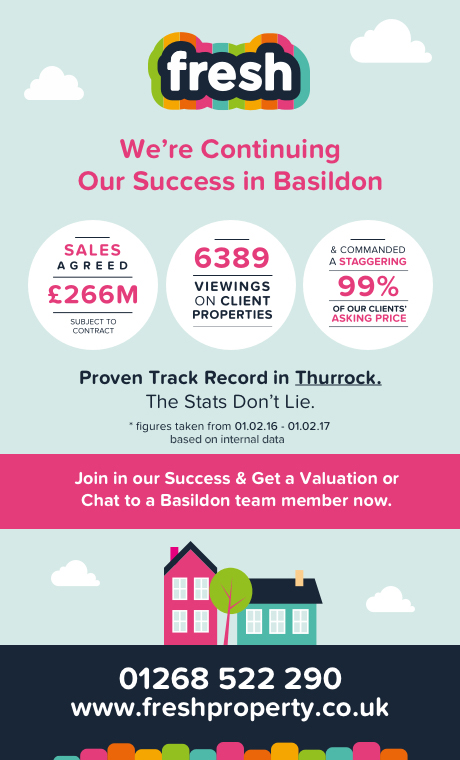 paragraph

Fresh, Basildon and Thurrock's fastest growing agent was established in 2010 starting out with an initial objective of being unique from competitors and to be known in the local area for doing things differently. As one of the most recognizable brands in the area, we're committed to providing exceptional customer service with an emphasis on professionalism, results and integrity. We continue to challenge traditional estate agency through service and technology with a state-of-the-art website, strong high street presence and unrivaled marketing. As a local business, we're also committed to being a responsible and active member of the communities in which we operate working with numerous schools, charities and local organisations. We specialize in Sales, Lettings, Property Management and Financial Services.

paragraph

The Power Of Our National Network

Fresh is part of one of the fastest growing estate agency networks in the UK.

In excess of 800 offices
Marketing 65,000 properties
The number one independent Estate Agency Network

We're networked with over 800 Estate Agents nationally, marketing 65,000 properties between us, and with a natural migration of buyers and tenants moving from London, over 100 of our networked offices are based in those areas.

paragraph

The Power Of Our Local Network

Our advanced technology allows us to market your property to buyers across our entire network of offices. This means that every sales and lettings person in our entire company can offer your property to their buyers and tenants which gives you a huge advantage, as we often sell or let properties from one office to buyers or tenants from a neighboring office.

paragraph

We can provide you with access to the lucrative national and international market through our prestigious showrooms at the National Property Center in London's Park Lane.

paragraph

Our unique London property roadshow exposes our properties to a new, large and serious house buying market. Investors who attend these roadshows are ready to buy now. The Roadshow has been created with one aim in mind - getting you the highest price for your property.

paragraph

Local Knowledge as Standard

At Fresh local knowledge comes as standard, and that means better advice and better marketing which in turn leads to better results. For sellers and landlord's, local knowledge as standard means we're able to achieve the highest possible price for local property and for buyers and tenants, it means we're able to steer you towards finding your perfect home.

paragraph

Stylish High Street Offices

Fresh created a different style of office than that of our competitors to be more eye-catching, current and trendy as a strategy to entice more buyers and tenants and attract a greater level of business. Pop in to one of our offices

for a coffee to discuss your property needs.

paragraph

We've listened to the public and adapted how we trade by working around our clients, not ourselves. It means we're available to carry out appointments or be on hand to give advice outside of traditional working hours when other agents tend to be closed, giving you an advantage in a competitive market.

paragraph

Open House Property Previews

New-to-market properties are highly sought-after which is why we've developed Open House - a marketing programme designed to ensure that you're maximizing the price of your property and potential buyers and tenants are given the precious opportunity of seeing properties before they hit the open market ensuring they won't miss out on their dream home.

paragraph

Very few Estate Agents are licensed through The National Association of Estate Agents (NAEA)

or get any training to deal with the biggest asset most people own, their property! All of our Directors are NAEA

members and have continuous training and courses to attend throughout the year to keep up to date with legislation for your peace of mind.

paragraph

Our head office in Basildon houses our specialists in customer service, administration work, Property Management and after-sales progression, which provides a vital support service to enable our front of house estate agents to focus on what they do best: selling and letting property!
Contact us