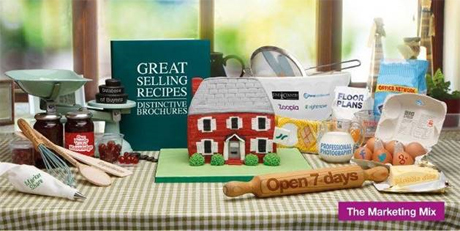 Title
Jones Robinson Estate Agents
paragraph

Jones Robinson - Estate Agent in Newbury

The Jones Robinson Marketing Mix

Our unique marketing mix enables us to guarantee our clients the best price for their property. We follow the perfect recipe, using all of the right ingredients and combining them with our incomparable local knowledge and experience to give the perfect result.

Quality ingredients such as being open seven days a week, Rightmove and Zoopla internet exposure, superior market share, access to a huge data base of buyers and distinctive brochures are incredibly important. These alongside our association with Fine and Country and the access we have to their national and international network mean that we are in a position to triumph in any task.

paragraph

Voted the best....by you!

Jones Robinson has been helping people move home in West Berkshire and East Oxfordshire since 1998, and in that time we have become the area's leading agent - with a reputation for excellence and exemplary customer care. However, don't just take our word for it. Our clients voted us the Best Estate Agent in the South East (Gold award, Newbury office) and Best Estate Agent with 2-5 offices (Silver Award) at the 2012 www.allagents.co.uk Estate Agent Of The Year Awards. Our two accolades of were based purely on 12 months of monitored customer feedback left on the UK's largest directory and review site dedicated to the property industry.

paragraph

The Jones Robinson team is dedicated to making your property transaction as swift and stress-free as possible. Whether you're renting your first home, downsizing to a smaller house or buying an investment property, Jones Robinson will support your every step, liaising with mortgage lenders, other agents and conveyancing solicitors. Our trio of senior directors - David Jones, Charles Robinson and Paul Hodgson - have over 70 years of amassed experience between them, and they have built an agency brimming with professional staff ready to help

paragraph

We take our professional standards very seriously. As well as a rigorous in-house accountability programme, we align ourselves with the Royal Institute of Chartered Surveyors (RICS), the Association of Residential Letting Agents (ARLA), the Tenancy Deposit Scheme (TDS) and the Deposit Protection Scheme (DPS).

paragraph

More Homes for Sale and to Rent in Newbury

If your New Year's resolution is to find a new home - whether it's to buy or rent - your first port of call might be the online property portals. While it's instinctive to head to Rightmove or Zoopla, the best way of finding your dream home is actually by registering directly with estate agents operating in the area you wish to move to. Why?

By registering with an agent like Jones Robinson, you could receive first refusal on properties before they make it online and have been viewed by the masses.

'Where's the catch?', you may ask. It's all about registering with estate agents that have the largest selection of homes for sale and to rent, increasing the chances of you finding your next property. Choice is going to be the 'watch word' in 2016, as home owners decide whether it's the year to sell up or rent out. This choice affects the supply and demand of homes in our local market.

Charles Robinson, a Director at Jones Robinson, says: "For buyers and tenants, choice revolves around estate agents who have the largest 'slice' of the market giving people the most choice. We're thrilled to say we're the estate agent in Newbury, Thatcham and Hungerford with the biggest slice of the local sales and rental market - figures produced by Rightmove from new instruction data collected between January and November 2015. Simply put, we're the local agent more likely to show you to the front door of your next new home, as more sellers and landlords come to us over every other local estate when they want to move or let their property."

Register with Jones Robinson today for homes for sale and to rent in Newbury, Thatcham and Hungerford.
Contact us