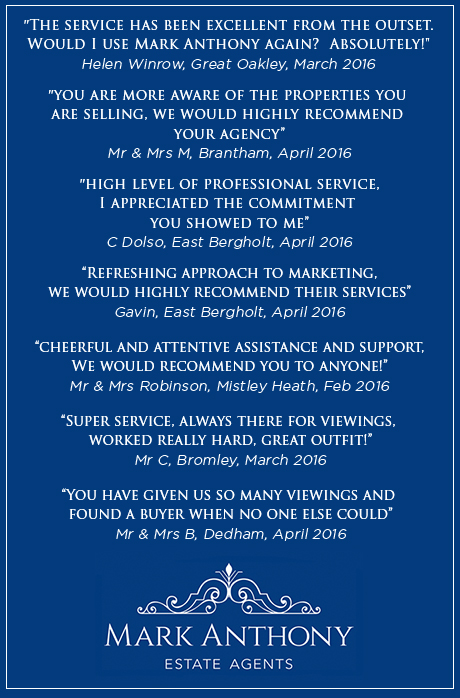 Title
What makes us different?
paragraph




Mark Anthony is a unique independent estate agency based in Langham, Essex and Park Lane, London.

We are a carefully selected member of the Guild of Professional Estate Agents and participate in the Ombudsman Scheme, providing peace of mind and verified levels of trust and confidence.

The team at Mark Anthony provide a very personal and bespoke service for residential property sales and purchases. Our uniqueness stems from dealing with every kind of situation in the trade.

The experience gained over 32 years has given us an education that cannot be bought. We believe that education and experience are what makes the real difference. We are succeeding where others have failed, a lot of this is down to strategy, common sense and salesmanship. As you can see from our testimonials, communication is also a vital ingredient.

Our combined experiences mean that there is very little we haven't already dealt with in the past. Knowing decisively what to do and when to do it gives us a huge advantage.

At Mark Anthony, we wanted to sort through the good and not so good of the property process and offer only the best.

We believe most things revolve around the housing market in this country and as such it has an incredible impact on people's plans and dreams. So to become an integral and positive part of that process is very rewarding.

Buying and selling a property is one of the most important stages in anyone's life. To be able to make that process as stress free and straight forward as possible means we are genuinely making a real difference.

From the outset, we have been successfully selling property, efficiently and modestly and as you can see our testimonials speak volumes.



Contact us