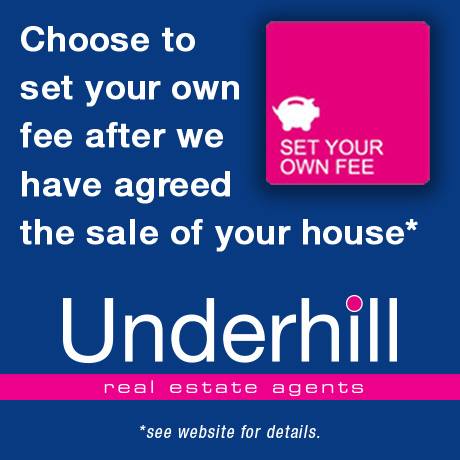 Title
Underhill Real Estate Agents
paragraph

Hello, and thanks for opting to find out more about our company. We are Underhill Real Estate Agents, an award winning Independent Estate Agent with a unique approach to residential property sales.

Flick through the property pages.... Do you pick the blue agent, the green agent, the yellow agent... they all seem the same! But we are genuinely, and radically, different in how we do business. We think you'll like it, so here's a taster...

Set your own fee! - No tied-in contracts! - Cash-backed Service Level Guarantee!

Please read on to find out more.

We launched in Exeter in 2004, where we have dedicated sales and lettings offices, and we started up in Dawlish in 2007. We specialise in residential sales, lettings and property management in South Devon. We are committed to fairness, integrity and quality of service, and have made that the bedrock of all our business activity.

You can reach our Exeter sales team on 01392 434172. Our lettings team are on 01392 477775. Our Dawlish office is on 01626 866900.

Thanks for calling Underhills!

paragraph

We are a SERVICE BUSINESS. This might seem obvious, but it is a very different approach to our competitors. Let us explain:

Almost every estate agency company acts as a sales business. They pay staff in commissions. They fix fees up-front, and often insist on exclusive contracts for a minimum term. Sometimes they even pay staff for referring other services, like mortgage brokers or lawyers. But we don't think that your house is just a commodity. We don't think that 'retail sales' is the best model for estate agency.

Your house is your home, and moving home can be a challenging and stressful experience. Our job - our duty - is to make it as easy and as stress-free as is humanly possible. Of course we need to sell your home, for the best price and with the least fuss: after all, we don't get paid until the sale is completed. But what we are providing is not just some slick sales rep: we are providing guidance, advice, support, expertise, and peace of mind. That's not something you can chalk up 'commission' for.

Indeed, in our customer-centred approach, if someone needs a cash incentive to do the right thing for our clients, then we won't be employing them. Our staff are paid salaries, not commissions, and our staff targets are based on service quality, not on sales.

paragraph

Service is our Priority... and we can prove it!

Now, we know that all of our competitors promise excellent service, and we are sure they aspire to that. But we wanted more than just words and aspirations. We wanted a clear commitment that leaves you, our client, in control. So, we created policies and practices to make it a reality - including our unique 'set your own fee' approach.

With every other agent, if you choose to instruct them to sell your home, your contract will determine the price you pay. That marks the start of your client relationship. In other words, you set the price before you know what you are paying for.

'Set your own fee' is completely different. With Underhills, you agree a price range, but you only choose how much to pay once we have sold your house. That means we have to impress you at every turn, and you don't decide on the price until the work is finished.

We've backed that up by removing fixed contracts altogether. If you aren't happy, you can give us notice at any time. Finally, we will give you a guarantee of our service levels, and if we don't live up to our promises, we will cut even the lowest bill in half.

It's easy to talk about great customer service - but we are the ONLY business to show that commitment through these unique and extraordinary policies. Our critics said it couldn't possibly work... but we're into our second decade and still going strong!

paragraph

...but we still have to deliver! Here's how...

Of course! Market appraisals ('valuations') are free. Listing your property for sale is free. Creating standard details, press and internet advertising - it's all free. We only get paid if we successfully negotiate the sale of your home.

So - we do all the things you'd expect:

an extensive internet advertising to reach a global audience

a positive engagement with social media such as facebook and twitter

a strong presence in the local press

an excellent database of active buyers, whom we call, email and post details to regularly.

engagement with various community events and sponsorship

prominent

From our very beginning, we have been a market-leader in adopting new marketing techniques and technologies, and coupling them with good, old-fashioned hard work and local knowledge.

In our internet age, we sincerely believe that a focussed, committed, local team in a family firm, where every customer is a neighbour and of great importance to the business, can and will out-perform bigger, impersonal, corporations and chains, where each house is just another product on the production line, and the directors and senior managers are remote strangers.
Contact us