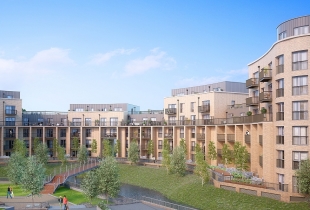 Description
New South Quarter is a landmark development of some 900 contemporary apartments close to the heart of vibrant Croydon. It's set around the River Wandle, adjacent to Wandle Park. There are excellent transport links into London and a great range of shops, pubs and restaurants close by. Westfield Shopping Centre is opening in 2018 as part of Croydon town centre's £1 billion regeneration project.

• A range of studio, one and two bedroom apartments
• Contemporary architecture and award-winning landscape design
• Balcony or terrace to most apartments

While your home at New South Quarter is perfect for entertaining, you'll also be assured of a lively social life thanks to a wide range of bars, restaurants, gyms, sports clubs and open spaces locally – and you're only a short journey* away from everything that London has to offer.

• Excellent transport links including a tram on your doorstep*
• Near Croydon's lively town centre for shopping and dining
• Westfield Shopping Centre opening in 2018

Our exclusive** warranty
When you buy a home with Barratt London, you buy with complete confidence, because along with an unrelenting commitment to build quality we include a free and exclusive** 5 year warranty. Covering almost everything FITTED AS STANDARD, this warranty allows you to make accurate estimates of income without having to budget for repairs. Barratt Developments Plc is the only developer to offer this warranty and it comes in addition to the standard NHBC 10 year structural warranty.

Managing and maintaining your surroundings with BRAM
Barratt Residential Asset Management (BRAM) is a not-for-profit management company set up by Barratt London to exclusively manage and maintain the surroundings of your development. This means taking care of communal areas by doing jobs like changing light bulbs, repainting walls, mowing grass and undertaking repairs to lifts and communal boilers. BRAM will ensure your development is presented to a high standard at all times and that all services and facilities are maintained. Winner of 'Best Customer Satisfaction Initiative' at the 2013 Housebuilder Awards, BRAM will take care of your home's surroundings long after you've moved in, allowing you total peace of mind when you buy a new Barratt London home.

*All travel times are approximate. Source: tfl.gov.uk and maps.google.co.uk.

**'Exclusive', 'we' and 'us' refers to the Barratt Development Plc Group Brands. Warranty is available on virtually all of our developments and properties. Terms, conditions and exclusions apply. Please refer to the Barratt London website for details.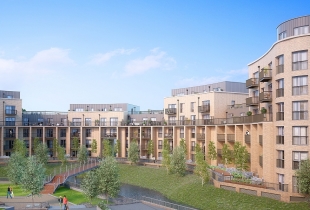 Leisure facilities
At New South Quarter you're well connected to central London, Surrey and Gatwick Airport.

Close to the buzzing centre of Croydon, choose from a vast array of shops, amenities and entertainment venues.

The London Borough of Croydon's moving forward with the redevelopment of the town centre, investing £1 billion into the project, to include a brand new Westfield Shopping Centre.

East and West Croydon will link with a 24-hour pedestrian route and exciting leisure and retail facilities will be introduced, including new restaurants, a multi-screen cinema and a bowling alley.

Shopping
With two large nearby shopping centres and retail parks at Purley Way and Valley Park and a Westfield Shopping Centre opening in 2018, you'll surely be in retail heaven. Enjoy the historic market, offering bargains on everything from groceries to household goods.

Theatre & culture
Fans of drama, comedy and music are well catered for, with major venues in the town centre including Fairfield Halls, Ashcroft Theatre, Warehouse Theatre and Croydon Clocktower.

Countryside
It's not far from Croydon to the landscapes of the Surrey Hills and North Downs, providing miles of scenic farmland and woodland dotted with charming villages, criss-crossed by footpaths and bridleways.

The South Coast
A rail journey of around 40 minutes* from East Croydon station takes you to Brighton, the most vibrant resort on the Sussex coast, with countless bars, clubs and specialist shops as well as its famous beach and pier.

*All travel times are approximate. Source: tfl.gov.uk and maps.google.co.uk.

Nearest schools:
Parish Church CofE Junior School - Primary

(0.4 miles)

St Andrew's CofE Voluntary Aided High School - Secondary

(0.4 miles)

Parish Church CofE Nursery & Infant School - Primary

(0.4 miles)
Transport links
With the centre of Croydon only five minutes* away and central London about half an hour*, your daily commute is easy. There's a regular train service from West Croydon, and a fast train to London from East Croydon. Or simply jump on a tram at Wandle Park Station right next to the development. You're also ideally positioned close to the M25 (9.2 miles away)*, the M23 (7.7 miles away)* and Gatwick Airport (17.6 miles)*.

*All travel times are approximate. Source: tfl.gov.uk and maps.google.co.uk.

Nearest stations:
Wandle Park
(0.1 miles)
Waddon Marsh
(0.3 miles)
Reeves Corner
(0.4 miles)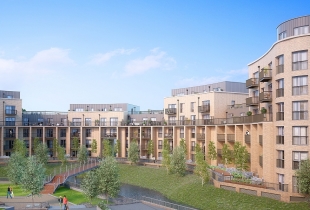 Opening hours
10am to 6pm daily

We're located off Purley Way opposite John Lewis adjacent to Wandle Park Tram with interchanges at Wimbledon, Mitcham and Croydon. You can get to East Croydon in 15 minutes from London Bridge, 16 minutes from Victoria and 23 minutes from Charing Cross. We're ideally positioned near the M25 (9.7 miles away), the M23 (8.3 miles away) and Gatwick Airport (20 miles).*

*All travel times are approximate. Source: tfl.gov.uk and maps.google.co.uk.


Call directly
Tel: 0843 103 4888 BT 4p/min
Site plan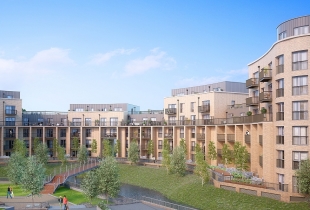 Barratt London. The capital's leading developer.

Barratt London is one of the leading developers in the Capital. For over 30 years we've been at the forefront of residential development in London and have completed over 27,000 new homes. Over the past 10 years we've completed 14,000 new homes with a total turnover of £3.2 billion. We possess the knowledge and track record to deliver in a complex and challenging environment. Our aim is to continue to grow the business over the coming years with a focus on targeted acquisitions within Zones 1 and 2. We pride ourselves on designing the right homes for the right location and building the highest-quality buildings using experienced and respected architects and designers.

Our expertise has been enhanced by the establishment of Barratt Residential Asset Management (BRAM). Established in 2012 to ensure that the quality of the developments we deliver is maintained over the long-term, BRAM will be responsible for the management of all our future developments ensuring that all our residents now and in the future will receive the highest quality service and the developments we build are maintained to the highest standard.

Barratt London's committed to quality design and we're working with award-winning architects to create well-designed buildings that will positively enhance the built environment. We've recently won several national Housing Design Awards, including buildings designed by Allies & Morrison, Maccreanor Lavington and Glenn Howells. We're also the proud recipient of several consecutive 5 Star Housebuilder Awards.

Other developments from Barratt
See it? Scan it!
this QR code for this agent's
new homes for sale