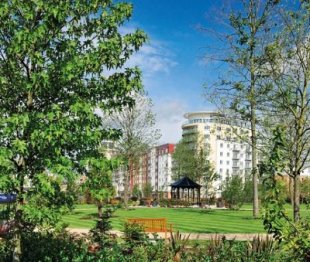 Description
Beaufort Park - Contemporary Style - Exquisite Living

Reclaiming over 25 acres of the historically important but long neglected RAF Hendon Aerodrome site, Beaufort Park is a groundbreaking new mixed use development designed with imagination and style. Most important of all, Beaufort Park has been designed to be flexible enough to offer a variety of apartments.

Varying in size from studio, 1 and 2 bedroom apartments to 3 bedroom apartments and penthouses, every apartment has been designed to bring stylish, contemporary homes well within the reach of London's ever-growing communities. With superb transport links, excellent purpose built facilities and sensitive environmental planning, Beaufort Park is set to become a thriving self-contained neighbourhood in its own right.

A central landscaped park area - and an elegant Mediterranean-style boulevard of cafés, restaurants and retail units - adds to the sense of a brand new community giving new life to the area.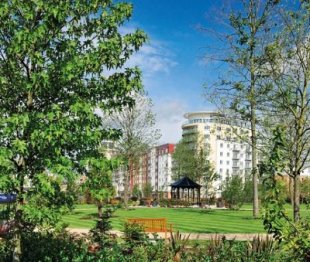 Leisure facilities
Breath of fresh air

Every community needs greenery and parkland. With its sensitively landscaped parkland, tree-lined streets and pleasing views, Beaufort Park is truly a place in which to breathe.

At its centre is a series of interlinked open spaces, each with its own character and personality, and each complemented by long vistas that help create a distinct mood of airiness and calm. Even Market Street, the spacious retail and restaurant area at the heart of Beaufort Park, is graced by a line of trees.

Parklife

Just as the great parks of central London offer instant escape and relaxation to a busy populace, so Beaufort Park has delightfully planned and exquisitely maintained green space at the core of its design.

Regents Park

London's most elegant Royal Park originally a hunting ground for Henry VIII and designed by John Nash in 1811 is skirted to the north by the Regent's Canal and includes a boating lake, a professional Open Air Theatre, botanic gardens and the 36 acre London Zoo.

The London Planetarium and Madame Tussauds are close by in Baker Street.

Highgate Woods

Situated just north of Highgate village, Highgate Woods is a surviving part of the ancient Great Forest of Middlesex and one of the most tranquil spots in the whole of London. The world famous Highgate Cemetery in Swains Lane a breathtaking collection of tombs and catacombs - is a short walk away.

Healthy living

Keeping fit and staying healthy often depends on taking all the opportunities available to you. In North London there's no excuse not to keep in trim, with sports clubs devoted to anything from five-a-side football, tennis, rock-climbing and much else.
Local shopping
The Art of Shopping

Outside the West End, no part of London can boast such a multiplicity and variety of shops as its north western corner. The London Borough of Barnet alone, which includes Hendon, has the second largest retail floor area in the capital after Westminster.

Spoilt for choice

Within a five mile radius of Beaufort Park, shopaholics and casual shoppers alike can experience the superb mix of stores that comprise Brent Cross Shopping Centre, the specialist independent shops and antique markets of Camden and Hampstead, the pleasures of large, established and well managed shopping malls in Edgware and Barnet.

European retailing

Brent Cross, of course, is the jewel in North London's retail crown, comprising a total of 110 stores and eateries. Extensively refurbished in 1995, it is soon to undergo a complete 21st century revamp, incorporating a new car-free street network and a new emphasis on lifestyle shopping.

Where Brent Cross really scores is in the quality and range of its shops and especially the presence of the most familiar and prestigious names in European retailing, from John Lewis to Benetton, Marks & Spencer and Monsoon, to Kookai and Karen Millen.
Schools and education
Perfectly located for London's universities and schools

London is home to the world's leading universities and private schools, attracting students from across the country and around the world.

Located less than 30 minutes from the West End by Underground, Beaufort Park is ideally placed to meet the accommodation needs of students studying in any of the Central London universities or at the adjacent Middlesex University.

If you are a parent considering buying an apartment for your son or daughter to use whilst studying in London, Beaufort Park is the perfect choice. Similarly, if you're looking for a buy-to-let opportunity and are targeting the student market, an apartment at Beaufort Park could prove an ideal investment.

Nearest schools:
Sunnyfields Primary School

(0.4 miles)

St James' Catholic High School - Secondary

(0.4 miles)

Colindale Primary School

(0.5 miles)
Transport links
Well connected

Beaufort Park is ideally positioned to take advantage of the superb transport links nearby. Within just a few minutes' walk of the development is Colindale Underground station on the Edgware branch of the Northern Line, providing direct connections throughout London, including major railway stations at Euston, King's Cross, Waterloo, Charing Cross and London Bridge; to West End shops and theatres via Tottenham Court Road; and to the heart of the City of London at Moorgate and Bank.

The West End, only 30 minutes away

The normal journey time from Colindale to West End or City stations is around 30 minutes. Interchanges at Euston, King's Cross, Waterloo and London Bridge put the whole of the Underground network within your reach.

Night access

Bus routes serving Colindale include no's. 32, 142, 204, 292 and 303, while the N5 and N16 night buses provide direct through-the-night links with Trafalgar Square and Victoria respectively.

Avoid the congestion charge

And if getting into London is smooth, getting out could hardly be easier. The main arterial routes out of London – the M1, A1, A41 and A5 are all close by, while London 's orbital M25 motorway is within a 15 minute drive. The nearby A406 North Circular Road gives access to the west and east of London while avoiding the Congestion Charge zone.

Minutes from the city & the UK and beyond

When it comes to linking communities by public transport, London is one of the most integrated and best connected cities in the world. With newer connections such as the Jubilee Line and extensions to the Docklands Light Railway, London 's transport infrastructure broadens horizons and commuting possibilities still further.

Life at Beaufort Park is convenient, thanks to established Underground and road links, the rest of Britain really is at your fingertips.

Nearest stations:
Colindale
(0.5 miles)
Hendon Central
(0.9 miles)

Hendon
(1.0 miles)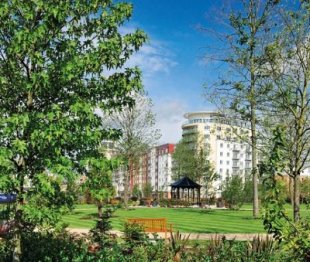 Driving directions
For those using Sat Nav, please enter postcode NW9 5JJ.

From Central London: Travel north on the A41/Hendon Way towards Brent Cross and on to Hendon. At the traffic lights by Hendon Central underground station continue straight on the A41/Watford Way dual carriageway for approximately 1.5 miles, turning left onto Aerodrome Road at the traffic lights on the junction with Greyhound Hill. The Beaufort Park Marketing Suite is located approximately 800 metres on your right.

From the north: Travel south on the M1 to junction 1. Exit at junction 1 and follow the A406 North Circular Road east, turning left on to the A41/Watford Way. At the traffic lights by Hendon Central underground station continue straight on the A41/Watford Way dual carriageway for approximately 1.5 miles, turning left onto Aerodrome Road at the traffic lights on the junction with Greyhound Hill. The Beaufort Park Marketing Suite is located approximately 800 metres on your right.

Parking is available in the Marketing Suite car park.

By Bus
Bus routes serving the local area include no's. 204, 303, 632, 642 and the new 186 bus route from Northwick Park Hospital to Brent Cross via Beaufort Park. Please follow the link to the bus map above for further details.

By Tube
Take the Northern Line (Edgware branch) to Colindale Station. On leaving the station, turn left and walk along Colindale Avenue. At the roundabout, Aerodrome Road is on your first right. The Beaufort Park Marketing Suite is a short walk down Aerodrome Road, on your left hand side.
Please note there are some weekend engineering works currently taking place on the Northern Line For your convenience during these works, please contact our marketing suite and speak to one of our sales consultants who will collect you from Cricklewood station or Mill Hill Broadway.

By Rail
Euston, King's Cross, Charing Cross, London Bridge and Waterloo stations are all conveniently located on the Northern Line providing direct links to Colindale underground station.

Opening hours
Marketing Suite:

16-18 Aerodrome Road, London, NW9 5GW
Open Weekdays 10am-8pm,
Weekends 10am-6pm

Call directly
Tel: 020 3284 1441 Local call rate
Site plan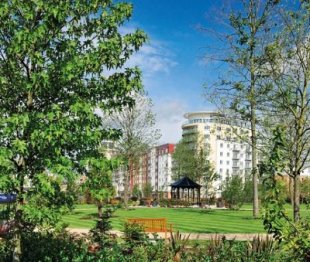 St. George

St George specialises in high quality, mixed-use regeneration in London, partnering new homes, apartments and penthouses with retail and leisure amenities for residents.

The company is dedicated to creating sustainable communities that meet all customers' expectations for their lifestyle and opportunities in the capital. With an enthusiasm for urban density and vibrant, dynamic schemes that allow public access but are also sensitive to ecology, heritage, and the built environment in general, St George has created some of the most high profile locations in London today, many with riverside locations.

These desirable schemes have dramatically transformed large swathes of brownfield land in inner London, reviving the city landscape and riverside and establishing thriving new communities of new homes, apartments and penthouses.

Always striving for excellence, St George has consistently developed in scale and innovation. Using early experiences as a springboard, St George has grown from a relatively small scale housing developer, into London's largest and most sophisticated mixed-use developer that integrates sustainability into every facet of its schemes.

Berkeley Group

Choosing a home is one of the most important decisions of our lives and it's vital to get it right. Come home to Berkeley, and you can be confident that you have made the best decision.

Over the last twenty-five years, Berkeley has built a reputation for creating homes that surpass expectations in terms of design, quality of construction, and our vision for sustainable development. Across London and the Home Counties, our developments encompass new homes, contemporary urban apartments, refurbished historic buildings, traditional family homes and innovative mixed use schemes - all guaranteed to express the essential Berkeley values.

Many of our developments combine leading edge design whilst maintaining and renovating key elements from our architectural heritage. From highly complex developments, that combine residential, retail and leisure facilities, to key worker apartments or the more traditional rural communities - Berkeley continues to provide quality, style and sustainability.


Other developments from Berkeley Group
Fulham Reach - Fulham Reach, Distillery Road, London, W6 9RU (7.5 miles)
Chelsea Creek - 9 Park Street Chelsea Creek London SW6 2FS (8.6 miles)
Industry affiliations
| | |
| --- | --- |
| | NHBC is the standard setting and leading consumer protection body for new UK homes. NHBC's 10 year Buildmark warranty covers over 80% of new UK homes |
See it? Scan it!
this QR code for this agent's
new homes for sale