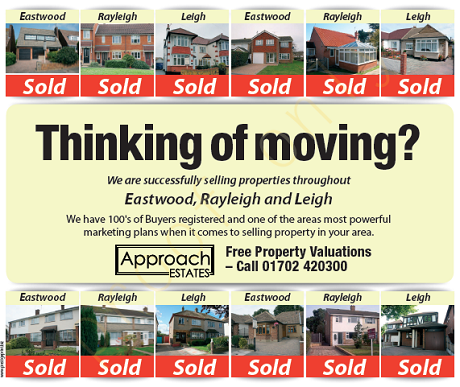 paragraph

Established in May 2010, Approach Estates is one of the areas fastest growing Sales and Letting Agents. Successfully selling property throughout Eastwood, Rayleigh, Leigh and the surrounding areas.

Managing Director Richard Perrott has put together a team of not only experienced, but qualified professionals, able to offer our clients the confidence when buying, selling or letting one of your biggest assetts.

paragraph

Free Property Valuations - 01702 420300

These will be carried out by one of our experienced valuers, Richard or David, both with a combined experience of over 25 years, selling property throughout Essex.

Our Market Appraisals offer you:

* A realistic price of what you will achieve on the property, based on sold comparable properties.

* A full break down of moving costs.

* Tips on how to increase your chances of selling and achieve the best possible price.

* A proposed marketing plan for your property, to ensure you achieve the best possible price within the time frame required.

* If you are currently on the market we will re-evaluate your current agents marketing to see how it can be improved.

To book a convenient time for either Richard or David to visit please call 01702 420300

paragraph

Property Management - Lettings

Approach Estates offer a full property management servive, offering crucial advice to landlords, and able to advise them on every aspect of the renting process.

Full reference and credit checks on all our tenants using the HOMELET Service. Quarterly inspections.

We also offer a RENT GUARENTEED SERVICE.

Call now for a FREE Valuation and cost breakdown - 01702 420300

paragraph

We are members of The Property Ombudsman

Using a TPO registered Estate Agent to buy or sell your home. All estate agents are required to register with an Estate Agents Redress Scheme that has been approved by the Office of Fair Trading (OFT) and which investigates complaints against estate agents. The Property Ombudsman (TPO) is one of the schemes approved by the OFT.Many estate agents have in addition voluntarily agreed to follow The Property Ombudsman Code of Practice for Residential Estate Agents, approved by the OFT under its Consumer Codes Approval Scheme. Estate agents signing up to this Code of Practice are required to provide additional consumer protection that goes beyond that required by law. They can be recognised by the joint TPO/OFT approved code logos which they display. Registered agents, who do not voluntarily accept the Code of Practice obligations of the TPO scheme, are not entitled to show the OFT approved code logo.
Contact us