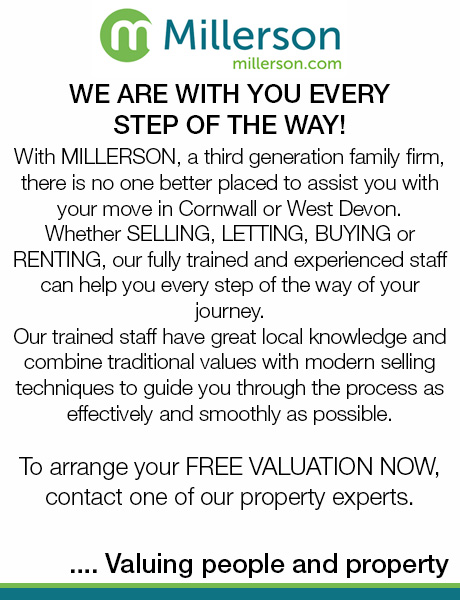 Title
Over 1000 landlords trust us with their properties

paragraph

Over 1000 landlords trust us to let and manage their properties. Why don't you?

Millerson has been letting and managing properties since 2005. The portfolio we manage has quadrupled during this time and we now manage a very large portfolio of properties throughout the whole of Cornwall and West Devon. Our strategically placed offices in Launceston, St Austell, Perranporth, Redruth and Penzance are all in prominent locations and this enables us to maximise our coverage of this broad area whilst being completely aware of the diversity of properties in each part of the county. We are local and have local knowledge of the property market.

WHY LANDLORDS CHOOSE US

We have invested heavily in our lettings department and modern, intelligent software which means the minute your property is uploaded, our system will automatically text or email the relevant applicants looking for a property just like yours. And that's on top of advertising your property on Rightmove, Zoopla and PrimeLocation as well as social media.

Unlike most other agents, we offer a No Let No fee service as we are so confident that we will let your property quickly and to the right applicant. If we don't you don't pay us a penny. What's more, we have a current FREE PROPERTY MANAGEMENT OFFER for a limited time only as we have tenants waiting for properties. For landlords with a property portfolio who are thinking of changing their letting agent, we offer a hassle free transfer service where we take care of every element for you.

We supply all our landlords a free floor plan which tenants prefer to see when searching for a rental property.

All our property management is dealt with internally so your tenants do not have to deal with an imperonal call centre.

Our professional lettings team are all fully trained on all lettings legislation including new legislation regarding legionnaires disease risk assessments, How to Rent, new rules and regulations regarding issuing a section 21 notice, smoke and carbon monoxide alarms, Right to Rent to name but a few.

We are members of the Property Ombudsman and Deposit Protection Service. These memberships provide sellers, buyers, landlords and tenants with an assurance that they will receive the highest level of customer service in accordance with current regulations. We are also committed to providing an excellent service to our landlords and offer various lettings packages to meet your needs, all at competitive prices. If none of these packages suit you, we will design a bespoke package for you. We take pride in matching the right tenant to the right property and all our tenants are thoroughly vetted by a professional referencing company prior to the commencement of a tenancy.

Choose Millerson to let and manage your property. Whether you are a landlord with a large or small portfolio, or this is your first lettings venture, call us and our professional dedicated team will be delighted to assist you.

Katie Law - Lettings Business Development Manager

"We employ 17 members in our team all of whom have a wealth of experience in both lettings and property management. One of the most important parts of our business is out lettings operation which boasts a portfolio of well over 600 properties, the majority of which are long term tenancies as our service standards are outstanding and our tenant retention is high which means less void periods for our landlords".

Contact us