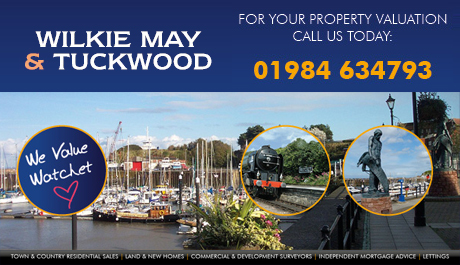 Title
Wilkie May & Tuckwood - Watchet
paragraph

Stuart O'Donnell - Branch Manager

On my drive into work I never tire of my first view of Watchet which nestles on the north coast of Somerset. I pass the church of St.Decumans which stands proud at the top of the hill, and as I drop down towards the town centre I am greeted with a lovely coastal view looking over the Bristol Channel to Wales. Many people's first impression of Watchet is the ever popular West Somerset Steam railway and the steam trains that chug out of the station then along the coast passing through attractive villages towards the Town of Minehead. Watchet's n arrow streets offer coffee and antique shops, convenience stores, and the very popular Market House Museum taking us back in history and showing Watchet through its fascinating past.

paragraph

With the old meeting the new one can amble along the newly built marina and Esplanade which forms the backdrop overlooking the harbour full of sailing boats. This historic harbour dates back 1000 years and was raided by the Vikings. Watch out for the weekly local farmers market and the very popular annual events of the music festival and carnival held every July. Commercial boats offer off-shore fishing trips around the bay and the bronze statue of Yankee Jack keeps a careful eye on all the various attractions.

paragraph

Newcomers to the town love the relaxed pace of life and the friendliness of local people always with a welcoming smile. As Watchet nestles close to the Quantock and Brendon Hills there are splendid long walks close by, either in the open countryside or along the mineral line which was once used to transport Iron Ore from high up in the Brendon Hills down to the Watchet Harbour, this is now a popular walk for local people.

paragraph

There is a regular bus service to Taunton, the county town, and which is 17 miles away, with its main line rail and motorway connections.
Contact us