August 2016
2016 shapes up as a year of two halves
Statistics from over 90% of the market show price of property coming to market falls by 1.2% (-£3,602), in line with the 1.2% average drop over the last six years at this seasonally subdued time of year
Larger homes taking longest time to sell and suffering largest drop in price, with first-time buyer and second-stepper type property doing the best
Number of days to sell increases the most in London and South East in the last two months, as summer slowdown follows on seamlessly from Brexit uncertainty, slowing down speed of sale more in London and its commuter belt
2016 on course to be a year of two halves:

Activity skewed to first half of year with buy-to-let surge boosting property transactions to 12% higher than 2015
With July buyer enquiries to agents 18% down on election-boosted 2015 though up 4% on 2014, the outcome of the second half of 2016 hangs on the strength of the traditional autumn market rebound
Overview
Overview
The price of property marketed in the last four weeks is 1.2% (-£3,602) lower than the previous month. Whilst it is usual for sellers who come to market in the summer holiday season to price more cheaply, there have only been larger drops in two of the last six years since 2010. With the timing of Brexit uncertainty coinciding with both the seasonal slowdown and continuing the lull following the first quarter buy-to-let surge, 2016 will be a year of two halves. How different they are will depend upon the strength of the traditional market rebound this autumn, especially at the upper end of the market and within the London commuter belt, which currently appear to be the most subdued.
Miles Shipside, Rightmove director and housing market analyst comments: "Many prospective buyers take a summer break from home-hunting, and those who come to market at this quieter time of year tend to price more aggressively. This summer is also affected by both Brexit uncertainty and the aftermath of the buy-to-let rush in March to beat the stamp duty deadline. Most sellers seem to recognise that buyers may want some extra encouragement to get them to put their towel on a property to reserve it as well as on their sunbed! The average fall in new seller asking prices at this time of year has been 1.2% over the last six years, so this month's fall is exactly in line with the long-term average. The largest price falls at this time of year were -2.0% and -1.3% in 2014 and 2010, with the smallest fall being -0.8% in post-election boosted 2015."
The sector that would benefit most from an autumn pick-up is made up of larger homes with four bedrooms or more. They are taking the longest time to sell, with an average of 74 days from being advertised on Rightmove to being marked as sold subject to contract by estate agents. This 'top of the ladder' sector is also suffering the largest drop in new seller asking prices this month, with a fall of 2.9%. First-time buyer (two bedrooms or fewer) and second-stepper type properties (typically three bedrooms) are performing the best, with an average time to sell of 58 days and price drops of 0.5% and 0.4% respectively.
The southern regions, on average more highly priced than other parts of the country and more influenced by the dynamics of the London market, have had the biggest jump in the number of days to sell in the last two months. Some agents, especially in London and its commuter belt, report that the summer slowdown has unfortunately followed on seamlessly from May and June's Brexit uncertainty. Time to sell in London has increased by five days between May and July, South East and the South West are up by four days, while the East of England region is up by three. While the average number of days it takes to sell a property is still longer in the north, all of the northern regions have seen either no change or just a day plus or minus over the same period.
Shipside observes: "It will be welcome news for some northerners that the traditional north-south divide may be taking a rare turn in their favour. London has seen its price boom curtailed by punitive stamp duty and over-stretched affordability and has been in re-adjustment for a year or more, mostly affecting Inner London. At this time of year interest from buyers of more expensive properties that typify much of London and its commuter belt tends to tail off more, as they are often discretionary movers. Having waited for the referendum result, it now seems that some are also waiting until the summer holidays are over before reviewing their course of action."
As predicted when the April deadline was set for the additional tax on second homes, many transactions that might have occurred later in the year have been brought forward. This resulted in the first half of 2016 recording property transactions (as reported on 21st July by HMRC for England and Wales January to June) up by 12% on the same period in 2015. The outcome of the second half of 2016 hangs on the extent of the summer slowdown and the strength of the traditional autumn market rebound. July buyer enquiries to agents are 18% down on election-boosted July 2015, though are 4% up on July 2014 which is a better basis for like-for-like comparison. Buyer enquiries to estate agents were down from June to July, but by a modest 5% to 1.6 million.
Shipside says: "There is pent-up demand with potential buyers still enquiring in very large numbers though obviously more muted compared to 2015's post-election highs. While the summer sales slowdown has come early in some locations with the run-up to the referendum subduing activity in May and June, there are still hundreds of thousands of buyer enquiries every week. Buyers can often get a better deal at this time of year if estate agents match them up with motivated sellers. By autumn we should get a clearer view of the strength of any post-referendum hangover, though that also depends on buyers' confidence to turn this interest into action. The latest interest rate cut making already cheap-to-borrow money even cheaper should act as an added boost to confidence."
Regional Trends
National Trends
London Trends
Summer slowdown and more property choice push prices down by 2.6%
Price of property coming to market falls by 2.6% (-£16,301), though in the last six years there were larger falls of 3.1% in 2014 and 2010 at this seasonally subdued time of year
London is the largest falling region in the country this month with the main driver being Inner London, dropping by 3.6% (-£29,188)
Outer London suffering less from seasonal slowdown but still falls by 1.5% (-£7,566)
8% more properties coming to market than in August 2015 must compete for holiday-distracted buyers' attention
Pre-existing market weakness, Brexit uncertainty, and summer slowdown combine to increase average time to sell from 46 days in May to 51 days in July
Best and worst performers in London

Breakdown by London Boroughs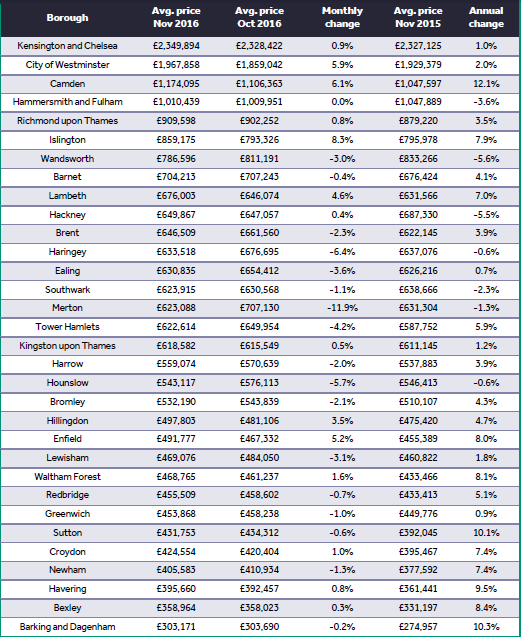 Full Report