Properties for sale

View
all properties for sale
from Calabria Property Consultants S.R.L, Scalea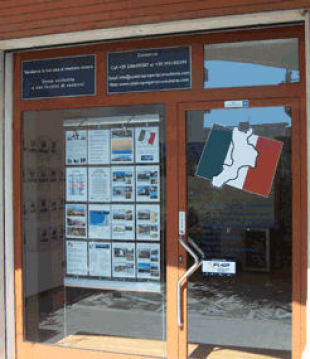 Calabria Property Consultants (formerly Scalea Property Services Ltd) was set up in 2003 by David Thorpe and Tony Hackett after purchasing apartments in Calabria. They found the whole process very difficult and wanted to make things easier for other people to discover this beautiful area of Southern Italy.

Our biggest challenge is that most non-Italians do not know where Calabria is and would never think of visiting, however the area has something for everyone and the prices are the lowest in Italy.

Calabria Property Consultants have a network of agents in the area and can easily find the ideal property to fit any budget. Please check our website for the latest viewing trip offers and take advantage of the relaxed atmosphere during our 2-3 day trip.

Reluctantly David has decided to return to England to be closer to his family since becoming a father. Tony now has the unenviable task of continuing to move the business forward.

We ensure the buying process is smooth and trouble free with support for our clients from start to finish throughout the purchase and we don't forget about you once you'v'e bought a property.

We have an extensive range of services, meetings and nights out to cater for those who have found their dream home in the sun. Along with our bi-monthly newsletter plenty of information is on hand to support all our clients wishes. If you wish to subscribe to our newsletter please add subsribe to newsletter in subject.

Our office is now open in Scalea you can find us at Hotel Continental, Viale Primo Maggio, Scalea next to the train station.

Why choose Calabria Property Consultants?

VARIATION OF PROPERTY: There are many other companies offering viewing trips to Calabria. However if you look a little closer you will see that they are all selling the same new build properties on the same developments (still fields!). We on the other hand have REAL PROPERTIES that you can walk into and see. We have the widest range of property available:

New builds (already finished or nearly finished)
Off-plan projects
Resale properties
Historic properties
Renovation projects
Land (Buildable or Agricultural)

STANDARD HONEST PRICING: To be involved in all these different types of property requires a much higher skill level and a greater knowledge of Italian property law, we are experienced in dealing with all types of property and always give good advice.

We charge a minimum of €1000 or the 3% standard Italian agency fee and believe in honest up front charges which means that you pay no more than a local would pay and the prices are kept low. We do not take a property on our books if the price is not a fair price.

Each seller has to demonstrate to us why their property is worth a certain amount, we always work on your behalf to keep the prices low.

WE'RE HERE: We are not sitting in an office in England somewhere! We live and work in Calabria and fully understand the properties, Italian law, different areas and Italian culture. We all speak fluent Italian and we are all a part of the Calabrian community:

NO PRESSURE: Our service is an advice based service and we never pressure clients, we would rather not sell a property but guarantee that you have a good time in Calabria and return home happy with the service that you have received. We never view in groups, we do not spend all day and night with you; your free time is just that! Our reputation is everything and we would never jeopardize that for anything. We enjoy what we do and our clients really benefit from our honest up front advice and assistance.

COMMUNITY: We like to share our success with you and the local community so meeting up with clients for a meal and an evenings entertainment has proven very useful. Clients come to discuss their experiences swap information and generally help each other out. The local bars, restaurants and shops offer a great service and quality and appreciate your trade.

PRICE: All of the above is offered at the incredible price of €0 based on 2 people sharing a hotel room (twin or double). For additional rooms and transfer seats the following supplements apply:

Triple room upgrade €20 (3 beds, ideal for 1 or 2 extra Children or 1 extra Adult)
Extra single room €40
Extra double/twin room €50
Extra seat on transfer €20 for children, €40 for adults.

BUYING PROCESSES: If you decide to buy a 3% or a minumum of €1000 agency fee is payable on closing, also 10% government tax and notary fees. Therefore please always allow 15% on top of the purchase price for closing fees the same anywhere in Italy. (Click for buying process in detail) Our after sales service includes the following:

Opening local bank account
Obtaining Codice Fiscale (Italian tax code)
Translation at the Italian notary
Full buying assistance from start to finish
Basically everything you need to buy a property in Italy, from deciding to buy to having the keys!