Properties for sale

View
all properties for sale
from Maison Perfect, St Pierre des Nids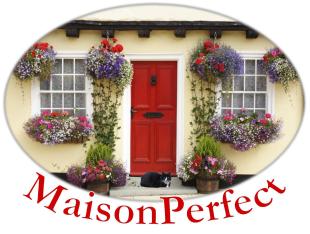 Welcome to Maison-perfect – your local representative in the gorgeous Normandy-Pays de la Loire area. Whatever your idea of a French home is, whether it takes the shape of a renovation project, a cottage, a town house, a gîte complex, or even a castle, we are here to help you every step of the way in finding your perfect property in France.
Please see our website for more details and all our property listings: www.maisonperfect.com
Contact us - your dream home may just be an email or phone call away….

Maison-perfect works as a team; we specialise in a select area covering the departments of South Orne and North Mayenne/Sarthe. We will always endeavour to offer a personalised, speedy and friendly service. As a team we can speak fluently with French and English clients, making for a smooth path to your Maison-perfect.

We have been living and working in this area for several years now, so we know it well – just as we have come to learn (sometimes the hard way !) all the do's and don'ts when looking for / buying / renovating or moving into a new home in a foreign country.

In the area we cover, nature has lavished the landscapes with some exceptionally breathtaking scenery.
Whether you seek a quiet pace of life "far from the madding crowd" or the bustling excitement of some "bright lights, big city" – our area offers it all!

Nature lovers will be spellbound by the impressive array of beauty spots and the abundance of wildlife to be found locally. Just to name a few:

- The Mont des Avaloirs – Western France's highest point, culminating at some 417 metres.
- Bagnoles de l'Orne – reputed for its thermal baths and casino
- The Forêt d'Ecouves – the largest forest in Western France
- The Haras du Pin – known as the "Versailles for horses" and dating back to Louis XIV is today an internationally renowned stud farm.
- Saint Cénéri-le-Gerei – classified as one of France's 100 prettiest villages
- The Alpes Mancelles – a magical area of picturesque villages, hills and bubbling river valleys clad in woodland

Historical places, architecture, châteaux, restaurants and activities also abound – right on our doorstep or just a short drive away:

- Alençon, thriving centre of commerce, well known for its lace and as the birthplace of St. Thérèse of Lisieux
- The world-famous town of Le Mans reputed for its circuit and Roman history.
- Caen, Falaise & Omaha beach, but also less well-know places such as Coudehard where the last Battle of Normandy was fought
- Camembert and its deliciously reputed cheese
- The Mont Saint-Michel cradled by the sea
- And so many more places to see and things to do: Walking, cycling, swimming, tennis, horse riding, off roading, golfing…

Maison-perfect is your local Cabinet Peltier representative in Western France.