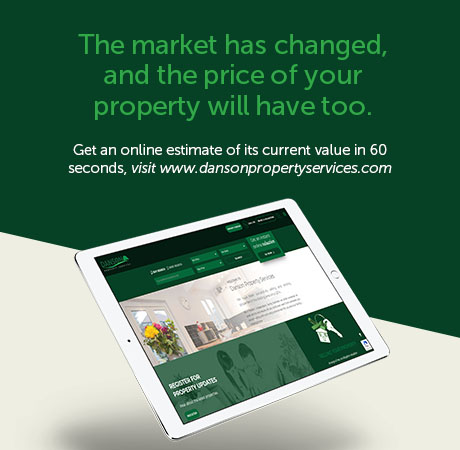 paragraph

Selling or renting your property is a big decision - just like setting up your own business - and to most, moving is a potentially stressful time - but we move every day, so to us it's second nature and we'll be there to meet, advise and plan, market, negotiate and then guide you through each step, whatever your needs and timescales. If there is a bump in the road, we'll step up and address it, not brush it under the carpet.




Danson Property Services specialise in the selling, renting and management of residential property in Welling and surrounds. As a family run independent company, still run by its founder, we have the power to say yes to whatever it is that is important to you and your family when it comes to making these big decisions. You call the shots, not us. Doing things a little differently to most, we believe we're able to get that fine balance of being good sales people, but also offering excellent customer service, and not that stereotype that people often associate with our industry and rightly dislike.




On sales, we set a standard and offer a service, many others wouldn't dare replicate ...




- Professional photography, FREE, on all sales properties - Why? Because a picture tells a thousand words, and better photos mean more enquiries, viewings, and a greater probability to negotiate the price of your sale upwards due to increased demand.




- All viewings accompanied, always, FREE - Why? Because your buyer will have quesitons just like us, and we want to be there to answer them, and because you are employing us to act in your best interests, and to us there is no emotion, its business, and we can therefore negotiate better for you and get more honest feedback from potential buyers, both good and constructive.




- No sales contract to sign with tie-in periods and clauses - Why? Because that contract isn't for your benefit, its there to protect the agent. They're covering themselves in case they don't deliver. We don't need that, we work with you to ensure best results, and if you aren't happy, you can walk away, something we don't want - so how do you think that will translate to effort, service and proactivity?




- Excellent communication with mobile numbers for key staff - Why? Because if there is a problem, or you have a question, we want your call, day off or not, unlike most who will wait for the dust to settle and pick it up on their return to the office.




Best presentation, best service, best practice = best results.




There are no guarantees in life and certainly not on pricing or timescale, as it will be the buyer that influences that, along with our influence, but the one guarantee we do offer is our best, with nothing to sign or pay up front, and highly motivated staff well renumerated to only be paid on results. With that, and the points above, we believe we offer you the best probability of success - quickly, smoothly and effortlessly, from you at least.




Give us a call today regarding your property requirements. We trust you'll find our approach refreshing.
Contact us
Check out our available properties
You can see the properties we're currently marketing for rent by clicking the button below:
View properties