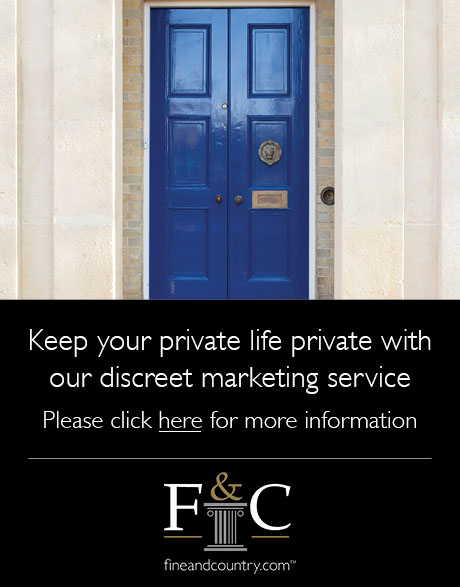 Title
'Making Your Property a Bestseller'
paragraph

Fine & Country Property Consultants

At Fine & Country we offer a refreshing approach to selling executive homes, combining individual flair and attention with local expertise (independent estate agent) yet within a strong international network, with powerful marketing capabilities. Having many years experience selling exclusive properties we are aware that they require a tailored approach to marketing, so our bespoke service adopts a lifestyle approach to the promotion of your property, combined with effective and efficient sales processes.

The more prestigious a property, the smaller the number of potential buyers. With this in mind we create a marketing strategy to target a suitable geo-demographic profile of potential buyers. We know from our extensive experience, people buy as much into the lifestyle of a property and its location, as they do the bricks and mortar, therefore our on-line and off-line marketing is both dedicated and extensive, with a range of publications; 'Refined' our national publication and 'The Collection' are regional publications. We also have coverage in The Chichester Observer, Hampshire Chronicle and Portsmouth Evening News as well as The Sunday Times, Saturday Telegraph, Times 'Bricks & Mortar' and the Evening Standard. We have a dedicated media centre, which ensures that our properties appear in many national and international publications, not only those listed above but also the Wall Street Journal and Epoch Times, to name but a few. With the ever increasing importance of new technologies, in the way people read the news, the media centre has become increasingly active on-line animating our comments on social network sites such as Facebook, Twitter, Pin-interest, Google Plus and Linked-in pages.

Our Park Lane office provides direct access to the lucrative London market and frequently hosts property exhibitions displaying distinctive homes from across the country.

We have an extensive network of offices across the world, as far away as New Zealand and several more in key locations across Europe. This extensive coverage and local expertise has been recognised at the International Property Awards, where we have been awarded The Best Real Estate Marketing for an astonishing 5 years in succession.

We are members of the National Association of Estate Agents (NAEA), the Association of Residential Lettings Agents (ARLA), the Hampshire Association of Estate Agents Association (HAEA) and the Portsmouth Property Association (PPA), as well as The Property Ombudsman (TPO).

paragraph

Our Emsworth office was opened in August 2014 covering South East Hampshire and West Sussex. Manager, Anne-Marie Green, has been an estate agent, operating at the upper end of the market in Hampshire for the past 23 years. She led and managed the residential operation in Winchester of a renowned international property business, before launching the Fine & Country brand in Hampshire

At Fine & Country we pride ourselves on a genuine commitment to personal service, with a growing reputation as estate agents that consistently perform to the high standards that our clients demand.


A survey carried out by Survey Monkey in August 2017 showed that 98.96% of previous customers would recommend our services.

paragraph

Fine & Country Foundation

The Fine & Country Foundation was launched in July 2014 to help combat one of the largest social issues in the UK, homelessness. The causes of homelessness are misunderstood and disregarded and the people become homeless for a whole range of complex and overlapping reasons such as family breakdowns, mental and physical health reasons or debts. The Foundation is dedicated to bring together all Fine & Country agents to raise awareness to the cause of homelessness, whilst supporting the homeless charities.

For more information on the work of the charity is doing or to see how you can help please visit www.fineandcountry.com/foundation.

paragraph

Fee- Free mortgage advice service

Finding the right mortgage can be a tricky task with so many choices to make. That's why Fine & Country has partnered with L&C, the UK's largest fee-free mortgage broker to offer you expert advice and help when looking for your mortgage.

Why use L&C?

Fee Free award winning mortgage advice

Access to over 90 lenders

Advice over the phone & online 7 days a week

No credit checks carried out

For fee free advice contact one of L&C's advisers on 0800 923 4014.
Contact us
Check out our available properties
You can see the properties we're currently marketing for sale by clicking the button below:
View properties